Bannockburn
| Bridge Of Allan Brewery Ltd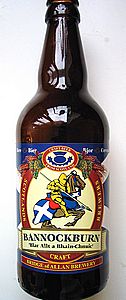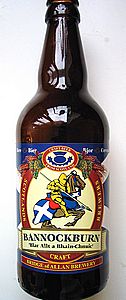 BEER INFO
Brewed by:
Bridge Of Allan Brewery Ltd
Scotland
,
United Kingdom
bridgeofallan.co.uk
Style:
Scottish Ale
Alcohol by volume (ABV):
5.00%
Availability:
Year-round
Notes / Commercial Description:
No notes at this time.
Added by wl0307 on 11-07-2005
HISTOGRAM
Ratings: 6 | Reviews: 6
None found.
More User Reviews:
3.53
/5
rDev
+13.1%
look: 4 | smell: 3.5 | taste: 3.5 | feel: 3.5 | overall: 3.5
500 ml bottle, bought in Edinburgh. ABV is 5.0%. Orange to amber colour, decent off-white head. Sweetish malty aroma with notes of marmelade, hints of oak and fortified wine. The flavour is also sweetish and fruity, hints of oak, moderate hops in the finish. Not bad, but a bit too much on the sweet side.
305 characters
3.15
/5
rDev
+1%
look: 3 | smell: 3 | taste: 3 | feel: 3.5 | overall: 3.5
500ml bottle bought from The Vintage, Antrim..
Poured a clear light coppery colour.. White head poured pretty tight and thick then faded to light layer... some faint wispy lacing...
Aroma - Pretty strong biscuity malts, light caramel sweetness, juicy fruits (apricots, pears, apples), the faintest of smoky / tobacco notes, some cardboard notes come through as the beer settles down, hay, very faint hops, some grassiness.... On initial impressions this beer smelt pretty good but the longer it's in the glass the more corn / adjunct notes come through...
Taste – Light peppery hop bitterness, definite tobacco notes, light biscuity malts, watery fruits (pears, apples, light lemons), sea salt notes, floral traces, very little sweetness, sweetcorn notes, grassy...
Feel - Pretty sharp and dry... Light bodied... Not really that drinkable - too many macro notes come through to be enjoyable...
Overall - Pretty poor brew... maybe worth a try once...
965 characters
2.53
/5
rDev
-18.9%
look: 3 | smell: 2.5 | taste: 2.5 | feel: 2.5 | overall: 2.5
Standard 500ml brown bottle purchased from the Vintage in Randalstown.
Straw coloured with a slight haze, thin wispy head.
Peachy flavour with a slight boozy vodka mouthfeel. Not very pleasant. No hops to speak of. very one dimesional.
not impressed at all. £1.89 and would not purchase again
302 characters
3.75
/5
rDev
+20.2%
look: 3.5 | smell: 3.5 | taste: 4 | feel: 4 | overall: 3.5
Purchased a 500mL bottle of this at the Wallace Monument near Stirling, Scotland, while visiting back in June.
Poured a clear, golden-yellow with a small white head that disappears quickly. Not much aroma to this, but what's there is pleasant and malty with no hint of adjuncts or skunk. Smells very fresh. Very biscuity/bready flavour with hardly a hint of hops except for some faint floral notes. Caramel and toffee flavours strengthen as it warms. Good body and oily mouthfeel make this a fairly drinkable beer. However, it doesn't seem like a Scottish Ale to me - more like a good English pale or strong ale.
Regardless, not a bad beer at all. Looking forward to the rest of the brews I picked up in the same place, all from the same series.
748 characters
2.62
/5
rDev
-16%
look: 2.5 | smell: 3 | taste: 2.5 | feel: 2.5 | overall: 2.5
Golden coloured and clear with a thin white lacing for a head that leaves a soapy lacing for a head after a couple of seconds.
A mild, fruity aroma that is a lot like a standard golden ale with nothing to make it stick out from the pack. A mix of hops & fruit, pleasant but not outstanding.
Typical for a golden ale with a mild fruity taste but this one was a little watery and light on flavour for my liking.
Smooth on the palate with the slightest tang but the fact it was too watery was a major draw back here.
An average, mildly fruity golden ale that is quite enjoyable & would have been much better had it not been so watery. Still a decent enough drink but it could have been better.
1001 Beers to Try:
http://abarwithnoname.wordpress.com
751 characters
3.15
/5
rDev
+1%
look: 3.5 | smell: 3.5 | taste: 3 | feel: 3 | overall: 3
According to the brewery's website, this beer is named after the famous Scottish military victory in 1314, at Bannockburn, over the English army, which "were massacred and many fell and drowned, so many that the story goes that you could walk 'dry foot' across the river."... well, I don't quite get why such description of extreme violence is inserted here to describe a beer which is "a pale golden colour with a thick tight head"??? surely not to put off people's thirst for beer rather than blood? Anyway... the BB date is 01/04/06
A: in a straight pint glass it pours a slightly hazy, tawny hue, with a very thin beer head dissipating pretty fast, leaving a rim of foam; lightly carbonated.
S: intense aroma mixed of preserved peaches or peach-themed perfume, an exotic smell of calcium-pills, deeply buttery+biscuity note, like the typical Scottish ale's deeply scented maltiness... more sharp fruitiness and flowery scent plus a drop of aromatic honey as well as resiny hops. Overall it smells quite rich, but not OTT.
T: the Scottish ale's exotic and wild-honeyish malt flavour hits the palate upfront, backed by a lightly fruity backbone of hops but remains quite understated; light-bodied in the aftertaste, with a bit of resiny, herbal as well as nutty touch, sadly leaving an unwanted sugary ending taste.
M&D: overall the mouthfeel is a bit too light, with a thin body slightly spiced up with fizz it's saved from being too boring and stale. But this beer's overall flavour is slightly off the point and its performance falls behind the brewery's other better beers on offer.
1,596 characters
Bannockburn from Bridge Of Allan Brewery Ltd
Beer rating:
3.12
out of
5
with
6
ratings