William Wallace
| Bridge Of Allan Brewery Ltd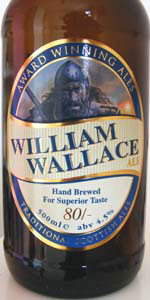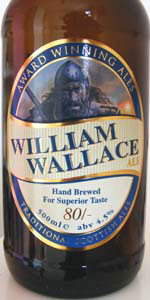 BEER INFO
Brewed by:
Bridge Of Allan Brewery Ltd
Scotland
,
United Kingdom
bridgeofallan.co.uk
Style:
Scottish Ale
Alcohol by volume (ABV):
4.50%
Availability:
Year-round
Notes / Commercial Description:
No notes at this time.
Added by Sammy on 11-11-2007
HISTOGRAM
Ratings: 13 | Reviews: 11
None found.
More User Reviews:
3.6
/5
rDev
+10.4%
look: 3.5 | smell: 3.5 | taste: 3.5 | feel: 3.5 | overall: 4
Thanks Crwills. Listed as a scotch. Light colour, with significant lace. Very smooth despite above average carbonation. Mild scotch taste with some bitterness.Mouthfeel is average . Talent can do something at low ABV. Caramel mid-sip and well-balanced. Could be received as a mild bitter.
288 characters
3.6
/5
rDev
+10.4%
look: 3.5 | smell: 3.5 | taste: 3.5 | feel: 3.5 | overall: 4
500ml bottle bought from The Vintage, Antrim
Poured a deep clear copper colour. Slightly off white head poured fairly thick and foamy with a frothy topping then faded quickly to patchy covering with thick edging that climbs up the glass... some light lacing lines...
Aroma - Lots of caramel maltiness, quite nutty, some buttery hints, toffee apples, toasted bread, light vegetal traces, citrusy and grassy hop notes...
Taste pretty much mirrors the aroma... lots of nutty caramel hints backed by light grassy hops... some apples and light ripe banana fruitiness, burnt butter...
M&D - Quite smooth... light / medium bodied... A good sessionable brew at only 4.5%...
Overall - A pretty good brew... worth a try..
717 characters

3.33
/5
rDev
+2.1%
look: 4 | smell: 3.5 | taste: 3 | feel: 3.5 | overall: 3.5
A: Copper-brown/amber, light tan head, some retention & lace.
S: Grainy, brown sugar, light fruityness.
T: Grainy, light bread, brown sugar, light fruityness, caramel.
M: Light to moderate body, smooth, moderate carbonation.
D: Light-weight & sessionable, but not overly enticing.
284 characters

2.65
/5
rDev
-18.7%
look: 3 | smell: 3 | taste: 2.5 | feel: 2.5 | overall: 2.5
Quite carbonic throughout. Some initial reasonable head retention but this was not sustained. Reddish brown in colour but it would seem as though the malt and hops just seem to cancel each other leaving a sort of neutral taste at best. More of a jessie that a William Wallace really.
283 characters
3.75
/5
rDev
+15%
look: 3.5 | smell: 3.5 | taste: 4 | feel: 4 | overall: 3.5
Brought this back from the William Wallace monument near Stirling in Scotland, and shared with a bunch of folks at northyorksammy's quarterly tasting.
Poured a moderate amber with a yellow-white head. Strong caramel, malty aroma that carries into the flavour. Brown sugar in the flavour as well, and hints of cappucino or latte coffee. Mild toasted flavours as it warms up a bit in the sampler glass. Very solid mouthfeel. I liked this one a lot.
447 characters
3.85
/5
rDev
+18.1%
look: 3.5 | smell: 3.5 | taste: 4 | feel: 4 | overall: 4
Pours clear rose with brown tones and a loose tan head that fades fast. Chocolate, earth and cherry on the nose, but all very faint. Prune juice and port barrel sour fruit, some cocoa, buttery middle, bark and used tea bags to finish. Medium, soft, creamy.
Looks light, sips dark. Very drinkable for big flavors and for the style. Session, please.
348 characters
2.84
/5
rDev
-12.9%
look: 4 | smell: 2.5 | taste: 2.5 | feel: 3 | overall: 3.5
Poured from a 500mL bottle into a pint glass.
A: Calm ruby; clear; slight head. Nice glow.
S: Sour, grainy, and metallic. But honestly, it's not as bad as it sounds. There is a faint, nutty maltiness.
T: Hm. Not terrible, but not very good. Thin and a bit sharp. The main taste is shockingly brief. The endtaste has a wonderful bit of nuttiness, and the aftertaste is dry with the distinct flavour of cigarette ash.
M: It's okay. A bit carbonated, a bit dry. The aftertaste throws me.
D: Not recommended, but worth trying. It's a unique Scottish ale with a pretty awesome name. I probably wouldn't buy it again, but I certainly.
633 characters

3
/5
rDev
-8%
look: 3 | smell: 3 | taste: 3 | feel: 3 | overall: 3
Purchased from my local supermarket in a 500mL bottle. Poured into a standard pint glass. Marked best before March 2013
A: A nice amber red color. One finger, light cream colored head which quickly gives ways to just a light coating of bubbles.
S: Not an overly odiferous beer. The most noticeable aromas are chocolate and cherry, and there is a little hint of toffee in there as well.
T: It's mostly chocolate malt flavors with subtle hops in the aftertaste. Sweet with almost no bitterness.
M: Very low viscosity, very lightly carbonated.
Overall, this beer is markedly average. It's drinkable, but not delicious. Wouldn't make a bad winter session beer.
661 characters
3.5
/5
rDev
+7.4%
look: 3.5 | smell: 3.5 | taste: 3.5 | feel: 3.5 | overall: 3.5
A reddish copper colour that is quite still looking and forms a thin, soapy lacing around the top of the glass.
Quite malty smelling with some caramel and a far bit of toffee. It is rather sweet smelling with some brown sugar and some dark fruits.
Similar to the smell with a strong, sweet malt taste up front some background caramel and even lighter toffee. Not a whole lot else going on here but it is a nice tasting beer.
Medium bodied and quite smooth with nice, mild carbonation. It is a little dry towards the end but not overly.
A pretty nice beer and a good example of the style, it is fairly sweet & goes down well. It's not an outstanding beer but a nice enjoyable drink.
1001 Beers Blog: http://abarwithnoname.wordpress.com
739 characters
3.5
/5
rDev
+7.4%
look: 3.5 | smell: 3.5 | taste: 3.5 | feel: 3.5 | overall: 3.5
In bottle, at Bonham's, Glasgow, Scotland
41 characters

4.05
/5
rDev
+24.2%
look: 4 | smell: 4 | taste: 4 | feel: 3.5 | overall: 4.5
500ml bottle of 80 Schilling from friend who came back from Scotland - thanks Matt.
Nice deep amber, very clear body with ample carbonation. Tight fluffy off-white head sits low on top.
Ripe fruit brings in the malt: toffee, sweet feed grain, caramel. No discernible hop character nor alcohol. Maybe a dry butterscotch smell.
Caramel, raisin, pie crust - all in moderation with nothing sticking out more than the caramel. . Toasted (not roasted) grain. Not cloying or clingy, but just malty. Practically gargling it after it warms, you pick up a faintly spicy and must hop. So that's what is keeping that from being a mucky dessert beer!
Well that; and this is pretty low gravity, and we do have some check and balance. The carbonation and what must be some hops and/or alcohol are keeping this moving for a Scottish though I would not call it clean.
Quite a simple, malty, drinkable beer.
Had someone poured this into a cup and told me it was an Irish Red, I would have been just as happy and not known the difference. A nice malty session beer to sip without conflict or too much thought, though after 3 or 4 I would go into hop withdrawal.
1,148 characters
3.75
/5
rDev
+15%
look: 3.5 | smell: 3.5 | taste: 4 | feel: 3 | overall: 4
Odd that I'm the first in Scotland to review this since it is in most the supermarkets here. Pleasant ruby red colour. Head dissipated to the rim very quickly. I smell rhubarb and chocolate.
I thought the nose might be misleading but there is a certainly a tart edge to this brew which goes alongside the maltiness I would expect in an 80/-, elevating it above most I've sampled. I'm very fond of this although the feel is a bit odd, like a cask with a little mineral water mixed in. That said I could happily knock a few of these back, not that I'll be going beyond my standard beer a night...
595 characters
William Wallace from Bridge Of Allan Brewery Ltd
Beer rating:
3.26
out of
5
with
13
ratings