Nimbus Strong Pale Ale
| Atlas Brewery Ltd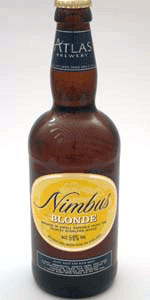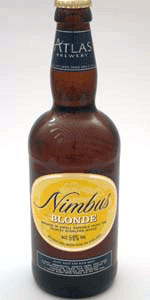 BEER INFO
Brewed by:
Atlas Brewery Ltd
Scotland
,
United Kingdom
atlasbrewery.com
Style:
English Pale Ale
Alcohol by volume (ABV):
5.00%
Availability:
Year-round
Notes / Commercial Description:
No notes at this time.
Added by BeerAdvocate on 01-05-2005
HISTOGRAM
Ratings: 14 | Reviews: 11
Reviews by abeeronthebeach:
More User Reviews:
2.94
/5
rDev
-20.5%
look: 4 | smell: 2.5 | taste: 3 | feel: 3 | overall: 3
Brown 500ml bottle, best before Feb 2010, drank Mar 09. Poured into a pint sized vase shaped glass.
Looked like a good pilsner, but with a bigger head. A deep golden yellow colour, with bubbles rising up to the well formed and impressive head.
Very little aroma for me, not even any hop esters or malts. The label claims three different types of hops are used, obviously none of them are for aroma, they don't name them.
The hops don't come into the taste much either, there is a hint of citrus fruits and the beer is fairly dry and crisp, but not hoppy in any shape or form, unless my tastebuds have left me again.
Drinkable and un-offensive, is about the best I can say about it. No heavy body or richness to it, just a warm day beer. It wasn't as good as it looked.
772 characters

3.53
/5
rDev
-4.6%
look: 4 | smell: 3.5 | taste: 3.5 | feel: 3.5 | overall: 3.5
500ml. Lager glass. Enjoyed on jul´11. Pale straw color. Chill haze. Dense & close, small size bubbled, froth. Lasting thick head. Some spots. Floral & subtle bready aromas. Tasting is quite rough, dry bitter. Medlar & green apricot palate. Medium body, moderate carbonation. Earthy buttery finish. Worth to try.
313 characters
4.29
/5
rDev
+15.9%
look: 4 | smell: 4.25 | taste: 4.5 | feel: 3.75 | overall: 4.25
3.48
/5
rDev
-5.9%
look: 4 | smell: 3.5 | taste: 3.5 | feel: 3 | overall: 3.5
pizzeria paradiso served this out of their engine
hazy gold color; with a great creamy head. lacing is decent
there's a massive lemon character in both the aroma and flavor. the aroma is also heavily grainy (nice, though). some saison-ish peppery thing. the hops, i think, produce the lemon flavor, and also lend a very earthy character. there's a slight tartness from the hops, too, but not like any lacticity
it's an english ale but the hops remind me of orval
471 characters
3.35
/5
rDev
-9.5%
look: 3 | smell: 3 | taste: 3.5 | feel: 3.5 | overall: 3.5
On cask at Max's.
Poured a slightly hazy, light orange-brown color. Medium sized head.
Very mild aroma, slightly citrus in nature, with a bit of bread.
Well balanced and mild in flavor. Citrus/lemon up front, supported by the malt (again, sweet wheat bread, very mild in character). A bit of spice/pepper at the finish, but very tame.
Light in body, with low to medium carbonation. Refreshing.
Overall, easy to drink, but not a headturner. I wouldn't seek it out. Perhaps the worst thing to say about it came from a friend of mine who usually drinks Miller Lite. After I had talked him into Green Flash Extra Pale, he tried this beer. His comment was "Kinda tastes like water". And on that note, review done.
723 characters
3.46
/5
rDev
-6.5%
look: 4 | smell: 3 | taste: 3.5 | feel: 4 | overall: 3.5
Bright clear lemon with creamy steady snow white head with a few trailers. Light flinty grain, but a mostly dead nose. Corn silk and waxy melon with lean citrus peel hops. Grapefruit juice finish and long dry linger. Light, crisp, a bit of cling. Floral nose and buttery doughy malts come out as it warms.
Very summery and drinkable but not complex at all. Bit less sessionable at +4%. I've had better, both in maltier and hoppier directions. Commercial description says it's Kolsch-like, which makes sense - I'd go to a "B+" by that measure.
543 characters
4
/5
rDev
+8.1%
look: 4 | smell: 4 | taste: 4 | feel: 4 | overall: 4
Light golden colour with a dense, creamy head. Sweet malts and a zesty hop background. Well balanced scent, a nice mingling of malt and hops.
Smooth, malty taste. Hints of butter, yeast and barley. Light citrus flavours hide in the back. Easy drinking, and despite being labelled as a strong pale ale, this is very drinkable.
326 characters
3.53
/5
rDev
-4.6%
look: 4 | smell: 3.5 | taste: 3.5 | feel: 3.5 | overall: 3.5
On pouring this beer it looks straight out like a good old fashioned pilsner with a 2 finger head which leaves a little lacing around the glass and on smelling this beer the biggest thing i can smell is HOPS HOPS HOPS with a little malt and passionfruit but i definately love the smell and look of this beer and on the taste the hops really stand out with a little malty/passionfruit finish i do like this beer but i did expect more from the reviews from my mates gave it but netherless a nice beer which would be most enjoyable on a hot summers day.
550 characters

3.53
/5
rDev
-4.6%
look: 4 | smell: 3.5 | taste: 3.5 | feel: 3.5 | overall: 3.5
From memory this stuff was heavier than the Latitude, but not quite as malty as the Three Sisters.
Remember it being quite heavy in the mouth, and pretty filling for a cask. But it was also easily drinkable, and decently strong for a cask too
Oulled from cask, Isle of Mull, Scotland
285 characters

3.87
/5
rDev
+4.6%
look: 4 | smell: 3.75 | taste: 4 | feel: 3.75 | overall: 3.75
It's now owned by Orkney Brewery, in its own "Atlas Range".
Pours hazy golden/light orange, with a small foamy head.
Smells of citrus, vanilla, exotic fruit and green hops.
The hops really shine, overpowering the pale malts almost entirely, elaving just a light grainy taste. Lots of citrus (lemon, tangerine, orange, grapefruit), some exotic fruit notes also (low pineapple, some passionfruit), a bit of apricot and even fainter peach. Spicy throughout, with a pinch of pepper and vanilla. Finish is full of green bitter hops, more than mild, perfect expect for some low tobacco leafy and metallic notes in the aftertaste.
Mouthfeel is nicely carbonated, but also buttery; it goes down nice, very thirst quenching. Aftertaste a bit rough if you're not prepared for the hops.
A rougher English ale with a nice showing of hops, but not perfectly balanced. There are many beers in this style that i would prefer, but i wouldn't refuse a Nimbus either way.
953 characters
3.72
/5
rDev
+0.5%
look: 3 | smell: 3.5 | taste: 4 | feel: 4 | overall: 3.5
Tasted by half pint at the Junction Tavern (Tufnell Park, North London), during their three-day mini-beerfest., 3-5 Feb. Dispensed by gravity straight from the firkin.
A: lightly cloudy, dark straw hue, with tiny bits floating in the liquid... coming with a fluffy head with o.k. retention; minimum-carbonation.
S: orangey citrussy and spicy at the same time, resting on top of a touch of fruit-candy and soft pale malts. Very settled and soft aroma...
T&M: grapefruity-hops and juicy pale malts are balanced quite nicely--slowly yielding a lightly flowery and citrussy hoppy overtone; lightly fruity finish, with mild touches of spice at the back. Very lively texture on top of softly hoppy flavour on the palate, while the soothing maltiness prevails and covers the whole palate~~
D: a lively and balanced English Pale Ale--very quaffable!
848 characters

3.84
/5
rDev
+3.8%
look: 4 | smell: 3.75 | taste: 3.75 | feel: 4 | overall: 4
Poured into a shaker pint glass, produced a nice rocky head with really good retention and lacing. Colour is a nice medium blonde gold.
S- lemon, mint, and a nice dry hop character, with a clean barley maltiness. Some pepper, citrus hops (lemon oil), really clean and balanced, true to style.
T- biscuit and bready malt, satisfying lemon bitterness, mildly toasty on finish. A bit of malty sweetness comes through to provide some counter, maybe some light apple fruitiness. Interesting flavour combinations, all woven very tightly together in an easy drinking EPA. Very clean finish.
M- a little soft carbonation, smooth light mouthfeel. More rounded bitterness then some examples, leave a fuller herbal/pepper bitterness on the finish. Really drinkable.
This is a nice beer, a lot of the citrus bitterness and interesting subtle flavours make this quite tasty and interesting. Light and a tasty session option. It's not terribly complex, but true to style and quite tasty and refreshing. Worth trying.
1,006 characters
Nimbus Strong Pale Ale from Atlas Brewery Ltd
Beer rating:
3.7
out of
5
with
14
ratings