A-Crop Blacklight

Zaftig Brewing Co.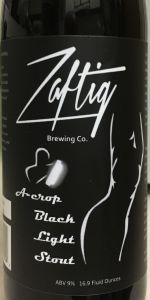 Write a Review
Beer Geek Stats:
| Print Shelf Talker
Style:

ABV:

9%

Score:

Avg:

4.13

| pDev:

6.3%

Reviews:

9

Ratings:

From:

Avail:

Rotating

Wants

Gots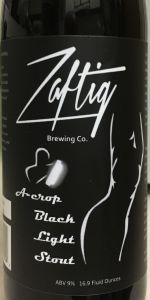 Notes: This full-bodied stout features rich dark chocolate and roasted tones, balanced by caramel notes and mild bitterness from Centennial and Perle hops.

4.16
/5
rDev
+0.7%
look: 4 | smell: 4.25 | taste: 4.25 | feel: 4 | overall: 4
This was a Tavour purchase & it saddens me to report that I have cut ties with their service. They have chosen to go with Quick Courier Service (QCS) & QCS has proven to be as flexible as an I-beam. They will only deliver in two inconvenient windows, both during weekdays, making it very difficult for me to accept delivery. I complained to Tavour, but when I could not get redress, I decided to close my account. Oh well. I have plenty of beer to drink, including this one.
From the Bottle: "The less said about the black light incident, the better. Instead, enjoy this smooth and easy drinking well balanced [S]tout. The delicious aroma is derived from Perle and Centennial hops that offset the sweetness of chocolate and caramel malts."; "Design by: AMBER FOGEL ART".
I Pop!ped the cap & began a slow, gentle C-Line pour since it has had its ups & downs in its long & arduous journey, plus it got some resting time, allowing lees to potentially settle down. An in-glass swirl raised just over a finger of foamy, rocky, deep-brown head with limited retention & little to no lacing before becoming mere wisps. 8=( Color was Black/Opaque (SRM = 44), allowing ZERO light penetration & acing like a miniature black hole, threatening to suck me into its madness. Eek! Nose smelled like liquefied brownies or fudge - loads of dark roasted coffee, baker's/dark chocolate, wood smoke, slight caramel & a bit of doughiness. Mmm. Mouthfeel was medium-to-full, but I felt like an
A(R)IS should have more of a presence. The taste was eye-opening as it began slowly with a pronounced burnt/dark/baker's chocolate flavor and slowly erupted with smoky notes of coffee and caramel with a doughy underlay. How to adequately describe it? Raw fudge/brownie dough? Imprecise! Burnt carbon fiber. like wood? Not exactly! Unattended caramel in a double boiler? Sort of! Some amalgam of all of this? Yes! OMFG. Zaftig is an apt term for this full-bodied ale. The ABV was sneaky, subtly coming on like an iron fist encased in velvet. Phew! Once it got steam, it began to come on full throttle! Finish was dry, but more towards smoky and bitter.
2,128 characters

4.11
/5
rDev
-0.5%
look: 3.75 | smell: 4.5 | taste: 4 | feel: 4 | overall: 4
A very drinkable Stout. Dark color, fantastic aroma. I have come to appreciate the different smells of beers. Very flavorful, good for sipping. A friend of mine picked this up when he was in Columbus. Next time I go to a Jackets game, I will be on the look out for this beer.
277 characters

4.19
/5
rDev
+1.5%
look: 4.25 | smell: 4 | taste: 4.25 | feel: 4.25 | overall: 4.25
Tar black body; dense, creamy head. Malt sweetness with a balanced scent of charred grain; cocoa; smidgen of vanilla. Rich cocoa and milk chocolate flavors; soothing hop bitterness. Heavy body; creamy and smooth; gentle warmth on the palate; has some underlying sweetness yet feels dry overall.
This beer delivers a fine, smooth and rich tasting experience. Top-notch stuff...
377 characters
3.46
/5
rDev
-16.2%
look: 3.25 | smell: 3.5 | taste: 3.5 | feel: 3.25 | overall: 3.5
Batch 174. 9/2017. Pokal.
A: pours a completely opaque black with 1/4 finger tan head that quickly recedes to nothing more than a ring around the edge. No visible carb., but lots of sediment left in the bottle.
S: dark and sugary sweet. Syrupy, but not quite molasses; maybe pure cane syrup. Some dark chocolate notes, but really it's a pure dark sugar shot.
T: Much like the smell, this one is came syrup with some earthy funk. A woody and earthy hop note toward the end makes this distinctive. On reconsideration, I think the funk was the disturbed yeast sediment.
M: certainly full-bodied and hefty. Extremely slick with low carbonation.
O: this is a solid RIS, but far from my favorite. Some go really roasty, some go really hoppy, some make themselves distinctive by being bubbly and feeling lighter than they are. This one is pretty middle of the road; sweet, mellow and potent, with a touch of earthy hop and/or yeast. My score is as an RIS, not against all beers.
979 characters

4
/5
rDev
-3.1%
look: 4 | smell: 4 | taste: 4 | feel: 4 | overall: 4
Pours a dark black color with brown head and low carbonation evident. Taste is super roasty, some dark chocolate and cream and milk.
A decent stout but a little bitter.
169 characters

3.75
/5
rDev
-9.2%
look: 3.5 | smell: 3.5 | taste: 4 | feel: 3.5 | overall: 3.75
This is not my favorite style of brew, but with cold weather rolling in I wanted to branch out. That said, this is flat to my preferred taste. Coffee like flavor, no head, very well disguised ABV. I liked it, but will stick with my regular styles generally.
259 characters

4.24
/5
rDev
+2.7%
look: 4 | smell: 4.25 | taste: 4.25 | feel: 4.25 | overall: 4.25
500 ml bottle, bottled on 10/12/2016, batch #123. Served in a snifter, the beer pours dark brown/black wtih about an inch tan head. Head retention and lacing are both good. I like the aroma, the brew smells like roasted malt, coffee, bittersweet chocolate, dark fruit and some caramel. Taste is similar to the aroma, it tastes like roasted/charred malt, coffee, bittersweet chocolate, caramel, earthiness, dark fruit and a bit of licorice. Mouthfeel/body is medium/full, it's slick and creamy with a moderate amount of carbonation. Really easy to drink, the 9% ABV is well hidden in this one. I think that Zaftig does a great job with their stouts, and I liked this one too. Definitely buy this one if you come across a bottle! $7.99 a bottle.
752 characters

4.14
/5
rDev
+0.2%
look: 3.75 | smell: 4 | taste: 4.25 | feel: 4 | overall: 4.25
From the growler in a snifter via the brewery. This fine stout pours a murky
oily black with a decent head of light brown foam that subsides to a thick ring,
thin layer, and light lacing. Nose of chocolate, dark roasted malts, subtle char,
and roasted coffee with some dark fruit notes. Flavors exceed the nose with
cold pressed coffee and a touch of brewers licorice dashed into dark brown sugars
touched with char and a hint of cream with dark chocolate raisins on the back. Excellent mouth
feel, smooth, slick, coating, and full with mild carbonation. VERY well hidden alcohol sneaks
up on you.
Overall excellence from one of my new favorite breweries.
667 characters

4.16
/5
rDev
+0.7%
look: 3.75 | smell: 4 | taste: 4.25 | feel: 4.25 | overall: 4.25
Trying the A-Crop Black Light at the Tap room which is just around the corner from where my son has hockey practice. It poured an opaque black with tan ring head that is not leaving any lace. The scent has earth and slight roast. The taste is nicely balanced for a stout. There are caramel and earth tones with touch of roast. The Mouthfeel is fuller in body with good carbonation. The higher abv is well masked and it's surprisingly sessionable. So far probably my fav.
475 characters
A-Crop Blacklight from Zaftig Brewing Co.
Beer rating:
92
out of
100
with
15
ratings