Nessie's Monster Mash
| Cairngorm Brewery Company, The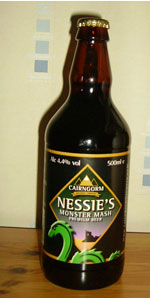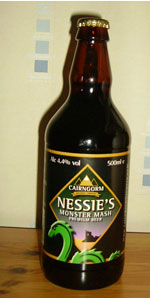 BEER INFO
Brewed by:
Cairngorm Brewery Company, The
Scotland
,
United Kingdom
cairngormbrewery.com
Style:
Scottish Ale
Alcohol by volume (ABV):
4.40%
Availability:
Year-round
Notes / Commercial Description:
A predominantly malty, lightly hopped beer giving a satisfying fullness of flavour with an enjoyable lasting finish. A glass or two is a must before seeking an audience with the monster!
Added by StevieW on 12-21-2003
HISTOGRAM
Ratings: 14 | Reviews: 8
Reviews by ivanwatling:
1.9
/5
rDev
-43.1%
look: 2 | smell: 4.5 | taste: 1 | feel: 1 | overall: 1
Appearance: Dark brown, very little head that disappears to nothing within a minute. Not an auspicious start.
Smell: Very pleasant aroma suggesting a sweet, thick brew
Taste: Awful. The bottle notes talk about a strong malt character, but to me it tastes too bitter and quite acrid. Hints of metallic bile push to the forefront, making a most unpleasant drinking experiance.
Mouthfeel: Nasty acrid aftertaste that had me reaching for some water to get rid of the awfulness
Drinkability: Verges on the un-drinkable.
It's amazing how a brewery that can produce such wonderful brews (Trade Winds, Wildcat) also puts out something as repulsive as this. It's almost as if they bottled the dregs and sell it with a 'nessie' label to guillable tourists. Tarnishes the image of an otherwise good range of beers
807 characters
More User Reviews:
3.94
/5
rDev
+18%
look: 4 | smell: 3.75 | taste: 4 | feel: 4 | overall: 4
3.44
/5
rDev
+3%
look: 4.5 | smell: 3 | taste: 3.5 | feel: 3.5 | overall: 3.5
500ml stubby brown Euro shaped bottle. Label has a menacing looking green cartoonish Nessie eyeballing you, alot like Todd's picture. The picture in the background depicts the famous loch ness and the castle.
Described as a "mahogany ale, malt predominating" on the label, I think it is loosely in the Scottish Ale category. Shiny mahogony color, with a dense, tightly carbonated beige head. Lasted forever. Sticky lace down the side of the glass.
Murky aromas of barnyard, and wet grass. Very muddled.
Taste is dominated by highly charged carbonation bubbles. Underneath is a whisper of earthy scottish malt. Some very slightly toasted malt in the background. Flavors are a bit more noticable toward the end. Carbonation is really strong, I guess that's better than it being flat. Medium bodied. Tasty enough.
I bought this one at roadside restaurant on highway 82 in sight of the famous Loch Ness, lugged to Florida and stored in my fridge for six months. Best buy date of April 2004.
994 characters
3.48
/5
rDev
+4.2%
look: 4 | smell: 3.5 | taste: 3.5 | feel: 3 | overall: 3.5
500ml bottle: best before 28 May 2013. Poured into a UK pint sleeve at home on 30 Dec 2012.
The beer looked good: deep reddy brown body with a full biege head on top.
Malts all the way in this brew: semi-sweet and fairly mild roastiness wise is both the smell and taste. Some hints of peat smokiness try and sneak into the flavours along with dark chocolate and a hand full of mixed nuts (unsalted). Pleasant enough and although a 'tourist-beer' it was OK.
458 characters
3.11
/5
rDev
-6.9%
look: 2.5 | smell: 4 | taste: 3 | feel: 3 | overall: 2.5
Appearance: dark amber, good clarity, not much head development
Aroma: lush malty backbone w/ just a hint of dark malts and roast, very light woodsy hops, strawberry fruitiness, angel's foodcake, hazelnuts
Flavor: subdued malt sweetness, predominating flavors are dark malts and a pronounced hop bitterness, hop flavor is definitely "English", wood, finishes dryish with resiny hops and a hint of corn (weird!) in the aftertaste
Mouthfeel: medium body, mild carbonation, a bit astringent or "dry" feeling
Overall Impression: Pretty good all around. Full-flavored, but the hop bitterness is a bit too harsh for my taste. Not too bitter, just a bit harsh on the pallate.
680 characters
3.53
/5
rDev
+5.7%
look: 3.5 | smell: 3.5 | taste: 3.5 | feel: 3.75 | overall: 3.5
3.95
/5
rDev
+18.3%
look: 4 | smell: 4 | taste: 4 | feel: 3.5 | overall: 4
Poured from a 500mL bottle into a pint glass.
A: Two fingers of frothy, pitted head. Well-defined lacing down the sides. Dark-dark beautiful brown.
S: Malty gingerbread. Interesting and pleasant. Aromatic floral scents and molasses.
T: Malty yes, but with initial roast that fades into caramel flavours. A bitterness bites, but it's mostly round and sweet, with hints of chocolate. The aftertaste is mild.
M: A bit watery, especially over time. As carbonation fails, so does the mouthfeel. Otherwise nice.
D: Good name, good beer. Goes down very easily. Would drink again.
577 characters

4.06
/5
rDev
+21.6%
look: 4 | smell: 3 | taste: 4.5 | feel: 4 | overall: 4.5
A nice dark coloured Scottish Ale, with a good creamy head that lasted thoughout the whole duration. This had a good smell of hops, if a little bland in comparisson to others. There is a good taste of hops combinecd with a nice roasted taste and a hint of nuts. This went down very well and at a reasonable abv this is a beer that can realistically be drunk all night.
This is a beer that must be taken at room temperature, it does not react well to the cold, which changes its character totally. When taken cold it removes the lovely taste and increases the fizz, starts to taste a bit like a dark lager.
Well worth a try.
630 characters
2.85
/5
rDev
-14.7%
look: 3 | smell: 3 | taste: 3 | feel: 2.5 | overall: 2.5
Nutty brown in colour and semi-clear with a very thin white lacing for a head
Sweet smelling ale that is a mix of dark summer fruits & toffee. It is quite typical for the style.
Again pretty typical for the style with a taste that closely matches the aroma with dark fruits dominating. A nice bitter finish.
Light bodied and smooth to drink but not watery.
Pretty decent for an ale and almost right down the middle of the scale in every aspect. A nice, drinkable pint although not necessarily one I'd look out for again. I did enjoy the name though.
1001 Beers to Try:
http://abarwithnoname.wordpress.com
609 characters
3.38
/5
rDev
+1.2%
look: 3.5 | smell: 3 | taste: 3.5 | feel: 3.5 | overall: 3.5
Sampled the last month of April in Aviemore.
This beer poured a mahogeny color with an OK head. Nose was somewhat malty but generally non-descript. Taste started off light but concluded with a medium hop bite finish. Mouthfeel was light to medium bodied. Overall drinkability was pretty good with a low abv and an overall pretty good feel to it. Definitely worth a shot.
373 characters

3.31
/5
rDev
-0.9%
look: 3.5 | smell: 3 | taste: 3.5 | feel: 3.25 | overall: 3.25
3.28
/5
rDev
-1.8%
look: 3.25 | smell: 3.25 | taste: 3.25 | feel: 3.5 | overall: 3.25
Nessie's Monster Mash from Cairngorm Brewery Company, The
Beer rating:
3.34
out of
5
with
14
ratings