White Lady
| Cairngorm Brewery Company, The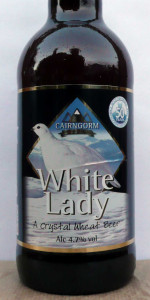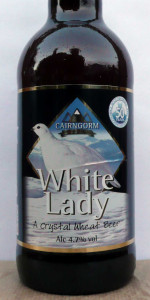 BEER INFO
Brewed by:
Cairngorm Brewery Company, The
Scotland
,
United Kingdom
cairngormbrewery.com
Style:
Hefeweizen
Alcohol by volume (ABV):
4.70%
Availability:
Spring
Notes / Commercial Description:
Bavarian style wheat beer, with additional hints of roast malt for colour. Brewed with orange peel and coriander to give fruit flavours with a hint of spice.
Added by cypressbob on 05-18-2005
HISTOGRAM
Ratings: 7 | Reviews: 5
Reviews by Zimbo:

4.15
/5
rDev
+30.5%
look: 4 | smell: 4 | taste: 4 | feel: 4.5 | overall: 4.5
Brewed seasonally (April/May- it is NOT retired) this Bavarian style wheat beer drinks like the cask ale it is with added wheat beer qualities. They make a beautiful match.
Fairly deep soft foamy head with a hazy-ish orangy golden colour. Begins with what I can only describe as a firm herbally fruit balanced flavour which continues through to the middle when a very very light fruity sweetness begins to slip in. Soft medium weight body is delicate but certainly with some complex development. Balanced and supple without the glutenish heavy cloying quality which often ruins wheat beers for me. Superb for warm weather, sustained but not aggressive or overstuffed nor wimpy either. Super balance. Something to contemplate. Truly memorable.
A late review from notes I had made (and temporarily lost) in the Old Bridge Inn in Aviemore April 2011
850 characters
More User Reviews:

3.15
/5
rDev
-0.9%
look: 3.25 | smell: 3.25 | taste: 3 | feel: 3.25 | overall: 3.25
A 500ml bottle with a BB of July 2013. Picked up from a supermarket a while back and stored in my garage. Described on the label as a Bavarian-style wheat beer with added orange peel and coriander. Sounds muddled to me - more Belgian than German (and I'm pretty sure the Germans would be deeply unhappy if fruit was added to their beer).
Poured into a tulip pint glass. A bright golden-amber colour with good clarity and medium carbonation. Forms a large head of frothy white foam that lasts for a minute or two before dissipating. Some lacing. Aroma of caramel malt with hints of earthy wheat, grain, fruity ale yeast, faint orange peel, a twinge of coriander and mild stewed leaves. A harsh cardboard note in the background.
Tastes of caramel malt with a faint fruitiness and a dry finish. Notes of orange peel, grain, faint wheat, a hint of coriander, earthiness, fruity ale yeast and stewed leaves. Well-attenuated, with a touch of harsh cardboard in the background. A mild bitterness upon swallowing. Mouthfeel is smooth, tingly and dry, with spritzy carbonation and an insubstantial body. Rather astringent, with an aftertaste of acrid cardboard, stewed leaves and faint peel/spice notes.
Meh - decidedly lacklustre. Looks OK, but the aroma and flavour are flaccid and dull, with some off-notes to spoil them. The body is a non-event. It doesn't help that this seems to be trying to fuse several styles and failing at both - it comes across mostly like a British ale with some mild fruit/spice hints. The wheat is hard to discern. Not brilliant, but perhaps it works better on cask. At any rate, no need to seek it out.
1,628 characters
2.06
/5
rDev
-35.2%
look: 3 | smell: 2 | taste: 2 | feel: 2 | overall: 2
500ml Bottle: BBD 28th July 2013. Poured into a Franziskaner Weissbier glass at home on 23rd July 2013.
Underwhelmed by this to be honest.
Looked OK, golden, almost clear (it is now a crystal wheat beer according to the front label): good deep foaming white crown on top with plenty of carbonisation bubbles rising through the body.
Hardly any aroma (certainly no banana/clove or vanilla smells) like I hoped for. Mini grain notes in the nose otherwise very little of anything.
The taste was also a let down: very bland and boring. Hints of grain flavours (wheat and corn), they must have forgotten to add the orange peel and coriander to my brew kettle because there was no indication they were there.
Refreshing enough: but so is water!
743 characters
2.13
/5
rDev
-33%
look: 2 | smell: 1.5 | taste: 2.5 | feel: 2.5 | overall: 2
3.85
/5
rDev
+21.1%
look: 3.5 | smell: 3.5 | taste: 4 | feel: 4 | overall: 4
On cask locally
Pours with a light amber body, thin creamy white head with fair retention, Lots of lacing down the glass
Smell, not too much going on, some fresh wort, little floral aroma
Taste, flowery, not much hint of the usual clove and banana associated with wheats. Some fresh fruit, melon, peach. Smooth, very little bitterness
A tasty english wheat, good on a hot summers day
395 characters
3.2
/5
rDev
+0.6%
look: 3 | smell: 3 | taste: 3 | feel: 4 | overall: 3.5
Served in a half-pint glass in Scotland. From notes. Reviewed April 2011.
A: Golden with a light head. Rather clear, nothing special.
S: Creamy sweet. Slight spice.
T: Noticeable wheat with heavy spice. Smoothish except for out-of-place and almost obnoxious spice (cloves?). At first taste, very pleasant; afterwards, less so.
M: Moderately thick, gently spicy, no complaints.
O: Much better than my review may have indicated. If only I could shake the feeling of artificiality off the spice, I could enjoy and recommend it.
529 characters

White Lady from Cairngorm Brewery Company, The
Beer rating:
3.18
out of
5
with
7
ratings