Piper's Gold
| Fyne Ales Ltd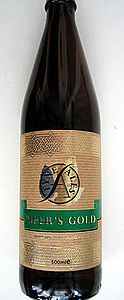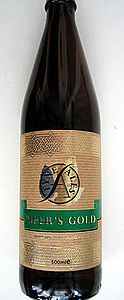 BEER INFO
Brewed by:
Fyne Ales Ltd
Scotland
,
United Kingdom
fyneales.com
Style:
English Bitter
Alcohol by volume (ABV):
3.80%
Availability:
Year-round
Notes / Commercial Description:
"Bitter Golden Pale Ale" formerly a Scottish Ale.
Added by Toddv29424 on 04-29-2005
HISTOGRAM
Ratings: 9 | Reviews: 7
Reviews by Zimbo:

3.85
/5
rDev
+8.1%
look: 3.5 | smell: 3.5 | taste: 4 | feel: 4 | overall: 4
A deeper golden colour compared to the other light coloured ales I've tried from Fyne, it forms a thin but constant head and a pleasing white peppery spiciness on the nose. So initial fizziness leads to some good acidity. Starts promisingly firm and dry leading to a fuller maltier middle which becomes increasingly malty as the beer warms up. Reasonable dry hop herbally finish. Nice chassis which holds a solid workman type frame. This has even more potential with a little bit more tweaking. Not bad by Fyne's standards though there are many brewers around the UK who are dying to make a beer this good.
606 characters
More User Reviews:

3.97
/5
rDev
+11.5%
look: 3.5 | smell: 4 | taste: 4 | feel: 4 | overall: 4
500ml bottle. The label proclaims this to be "A Bitter Golden Pale Ale".
This beer pours a clear medium golden yellow hue, with two fingers of billowy, marshmallow white head, which leaves some splattered lace as it slowly fades away. It smells of biscuity, bready malt, a mild nuttiness, and earthy, leafy hops. The taste is more bready malt, with a moderate lessening of the initial biscuit character, and bitter leafy, piney hops. The carbonation is fairly average, the body medium weight, and smooth enough. It finishes quite dry, the bitter hops really ramping up.
Wow, I didn't really know what to expect with this, what with the BA classification, which no longer applies for the current offering, the label, and the total unfamiliarity with the brewer. That aside, what we have here is a pretty decent English Pale Ale, or even a bitter. Whatever, it's nice and hoppy, not normal for brews that arrive here from England. And at 3.8%, you could put back a lot of this, and barely wobble off the ol' bar stool...
1,020 characters
3.68
/5
rDev
+3.4%
look: 4 | smell: 3.5 | taste: 3.5 | feel: 4 | overall: 4
Amber-tinged gold with a tight white carpet of foam. Grain and sour orange on the nose.
Fresh hay and spicy woody hops.
Soft, round and crisp.
Brings the hops, but very English - no citrus. Maybe a bit too cedary? A superior, if not exactly quenching, blonde.
261 characters
3.89
/5
rDev
+9.3%
look: 3 | smell: 4 | taste: 4 | feel: 3.5 | overall: 4
Served in a half-pint glass.
A: Clear (but bright) yellow. Thin head. Nice lacing.
S: Bitter, with some hops and a heavy citrus twist. Very nice.
T: I like it! Full of flavour, hoppy with a bit of fruit. The aftertaste is dry, biter, and excellent. My only complaint is that the excellence doesn't last for the entire beer.
M: A bit sparkly; otherwise mundane.
D: Light and *very* drinkable. Tentatively recommended.
421 characters
3.8
/5
rDev
+6.7%
look: 3.5 | smell: 3.5 | taste: 4 | feel: 3.5 | overall: 4
Very light gold straw colour with a thin but frothy head. Nice pale malts, crisp hops. Bread, yeast, biscuits, light toffee and mild, slightly lemony hop scent.
Good biscuity malts with lemony hints to it. Crisp hops, nicely blended. Carbonation is a bit sharp, and this might do well to be served cold and let warm a bit before drinking. Otherwise, a great session beer.
372 characters

2.85
/5
rDev
-19.9%
look: 2.5 | smell: 2.5 | taste: 3 | feel: 3 | overall: 3
This is one of the beers that you have to respect the style of beer when reviewing. As far as basic Scottish Ales go this is pretty run-of-the-mill. Pours a golden color with no head. There is very little smell as well. This beer is best served at room temperature which neutralized the taste of the water and brings out the fruity hops that are used to brew. The finish is unimpressive as well, as it all gets washed away.
423 characters
2.79
/5
rDev
-21.6%
look: 2.5 | smell: 3.5 | taste: 2.5 | feel: 3 | overall: 2.5
Got this bottle-conditioned beer from the London branch of Royal Mile Whiskies shop last month. But just before I opened the bottle I found the BB date sticker at the bottle bottom--21/04/05!!!! Gosh it's expired for what, six months now!! Anyway I'll drink it... but will also mention it to the shop on my next visit.
A: pours a slightly hazy, dark-orangey golden colour; the body is quite static, with few tiny bubbles at work only occasionally, and the head is restricted to a rimmed white foam, however hard I force-pour it... the only explanation of its lifeless appearance I can come up with is its being expired for six months now... unlucky me.
S: hmm...upfront sits a blanket of lightly-sweet, biscuity pale-malts, decorated with mild flower blossoms, faint trace of peaches, lightly sweet and oily note of orange-zest, plus a little hint of marmite(!) in the very end~~ Overall the smell is static and unexciting, but contains some very soft and pleasant elements reminiscent of German noble hops even... not too bad actually.
T: cold lemon tea-like texture hits the palate without any doubt... lightly sweet citrus-fruity and orange-zesty flavour along with a tinge of floral bitterness (like elder-flower flavouring) are the only flavours picked-up on the palate, while the malts which are more explicite on the nose are timid here. The aftertaste turns gradually dryish, with a slightly tangy kick at the back, very short finish.
M: the mouthfeel is weird, with the help of lively yeast (dead by now I presume), the touch on the palate is rather stimulating, with lots of tiny bubbles dancing in the mouth, but the lively mouthfeel sits rather awkwardly with the relatively "pale" and timid flavour...
D: thin-bodied with a bland flavour and flat texture, this is not good--highly likely because it's expired for six months now, especially for a small beer at just 3.8%abv. Can imagine a typical mild pale ale kind of taste when it's fresh.
(P.S. I'd beg to differ from the previous reviewer, that I don't think it's meant to be so-called Scottish Ale in the first place, esp. in the absence of rich maltiness and complexity of a Scottish Ale.)
2,168 characters
Piper's Gold from Fyne Ales Ltd
Beer rating:
3.56
out of
5
with
9
ratings