Dismiss Notice
Dismiss Notice
Hurricane Jack
| Fyne Ales Ltd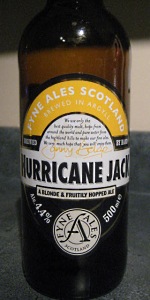 BEER INFO
Brewed by:
Fyne Ales Ltd
United Kingdom (Scotland)
|
website
Style:
English Pale Ale
Alcohol by volume (ABV):
4.40%
Availability:
Year-round
Notes / Commercial Description:
No notes at this time.
Added by Sammy on 06-15-2011
Reviews: 8 | Ratings: 18
4.15
/5
rDev
+8.4%
look: 4 | smell: 4 | taste: 4 | feel: 4.5 | overall: 4.5
Sunshine blonde with lumpy, shaving cream white head that holds and sticks and clings and crusts well. Deep musty lemon nose.
Lemon custard and floury biscuit up front with grass, cut hay and lemon zest hops.
Honeydew finish and citrus pith linger.
Soft, creamy, round, light to medium.
Luscious, citrusy beauty with some definite bitterness at the end. Wheat explains the smoothness. Like a less lean sister to Jarl. Another big winner from Fyne.
★
449 characters

4.07
/5
rDev
+6.3%
look: 4 | smell: 4.5 | taste: 4 | feel: 3.5 | overall: 4
Had this in a sort of makeshift taste-off tonight along with two other Scottish beer. Had fairly low expectations of this beer too but the immediate light fresh citric rind hoppy nose really impressed. Almost became pungent too. Soft fluffy-ish head on top of a light straw yellow coloured body which gives super head retention and good drifting lacing. A bit of fizz to start with a nice light easy going body which does still support the hop forward qualitires.Built to a good longish dry bitter end.
A nice surprise though given the brewery I shouldn't have been initially so dismissive. Might have been a bit harsh on the taste but still this is a beer I will really try to find on cask.
Nice work.
★
703 characters
3.95
/5
rDev
+3.1%
look: 4 | smell: 4 | taste: 4 | feel: 3.5 | overall: 4
500ml bottle.
This beer pours a cloudy pale yellow colour, with two fingers of foamy, pillowy, white head, which renders a chockablock array of painted lace around the glass as in slinks away. It smells of sweet pale malt, lemonade, and grassy hops. The taste is crisp, zippy hops, very Saaz-like, lemon and leafy grass all the way, and a soft crackery, buttered bread, white grain maltiness. The carbonation is on the reserved side, but still showing a bit of elan, the body medium-light in weight, and airily smooth. It finishes clean and with an attenuated crispness, but fairly dry overall.
An agreeable old country pale ale - session-ish strength, and generously hopped, tempered fruitiness in no short supply. Could see tearing through a few rounds of this, all other things being equal.
★
795 characters
3.89
/5
rDev
+1.6%
look: 3 | smell: 4 | taste: 4 | feel: 3.5 | overall: 4
Light gold pour with 1 finger of white head. Not much retention and very little lace.
Nose is biscuit malt and light lemon zest. Bits of straw and grass. Not overpowering, but nice.
Flavor picks up from that lemon zest and builds on that, adding in light pepper in the finish. Bitter finish for the style, all the better considering the light flavors initially.
Feel is about right, but a little on the light side. Just a tad too watery for my taste.
Overall, a lighter version of an English pale.
★
502 characters
3.68
/5
rDev
-3.9%
look: 3.5 | smell: 3 | taste: 4 | feel: 3.5 | overall: 4
Bottle, Mondiale 2011. No aroma. Lacey, but no head, on mid-yellow body. Somewhat hoppy, mid-mouthfeel, mild citrus tasty stuff. Very good drinkability and of course sensionable.Sastisfying, quenchable, something I would enjoy all the time if available in bottles over here.
★
274 characters
3.68
/5
rDev
-3.9%
look: 4 | smell: 3.5 | taste: 3.75 | feel: 4 | overall: 3.5
On cask.
Beautiful golden hue, almost perfectly clear. Nice off white creamy head.
Light citrus and tropical aroma.
Fair amount of malt and yeast on the palate, balanced lightly with hops. White bread, bananas, and pears; grass and a touch of lemon; bare hints of citrus peel on the finish. Fairly grainy, mostly on the finish.
A fairly standard lightly hopped blonde ale. Nice, but nothing special.
★
403 characters

3.58
/5
rDev
-6.5%
look: 4 | smell: 3.5 | taste: 3.5 | feel: 4 | overall: 3.5
From a 500 ml brown bottle. Pours out a hazed pale straw hue, 2 fingers of rocky frothy head that retains well.
Dry grains on the nose, some honey sweetness, tangerine notes, mild citrus rind.
Clean grains up front in the flavour, light citrus hangs low in the middle, while spicy, leafy hops finish things off. Some puckering grapefruit rind pops up in the aftertaste.
Medium-bodied mouthfeel, slick texture, medium carbonation.
Decent offering for an English Pale Ale, although the brewery lists it as a Blonde Ale. Mild in the malt department but skirts the line between English and American with the hops. Very clean.
★
625 characters

3.53
/5
rDev
-7.8%
look: 4 | smell: 3.5 | taste: 3.5 | feel: 3.5 | overall: 3.5
A 500ml bottle with a BB of Aug 2015. Picked up a while back from a supermarket. Described on the label as blonde and fruitily hopped.
A: Poured into a tulip pint glass. Bottle conditioned. A hazy golden-amber hue with fine sediment and good carbonation. Yields a large head of creamy white foam that lasts for a while before steadily reducing to a persistent surface layer. Slight lacing.
S: Aroma of delicate fruity hops with hints of elderflower, mild white grape, subtle lemon, citrus, earthy yeast, light grain and faint stewed hops. Pretty good.
T: Tastes of light, fruity hops with a subtle bitter finish. Notes of elderflower, mild white grape, subtle citrus, grass/hay, earthy yeast, light grainy malt and faint stewed hops. Well-attenuated, followed by a restrained bitterness upon swallowing.
M: Mouthfeel is smooth, tingly and dry, with spritzy carbonation and decent body. Could perhaps be a shade thicker. Mildly astringent, accompanied by an aftertaste of light, fruity hops, leafy bitterness and earthy yeast.
O: Rather nice - a decent pale ale. Looks great, while the aroma and flavour are a pleasant blend of mild fruity hops and earthy yeast. Body is OK. Goes down easily - very drinkable on a warm day. Worth sampling if you have the chance.
★
1,266 characters
Hurricane Jack from Fyne Ales Ltd
-
out of
100
based on
8
ratings.