Dismiss Notice
Dismiss Notice
ΠΡ (Pyro)
| Burning Brothers Brewing
BA SCORE
78
okay
11
Reviews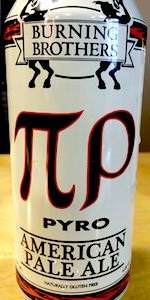 BEER INFO
Brewed by:
Burning Brothers Brewing
Minnesota
,
United States
|
website
Style:
American Pale Ale (APA)
Alcohol by volume (ABV):
4.60%
Availability:
Year-round
Notes / Commercial Description:
No notes at this time.
Added by morimech on 03-09-2014
Reviews: 11 | Ratings: 40

2.25
/5
rDev
-27.9%
This pours a pale yellow color with a slight foamy head. The aroma has a decent amount of hops to it. The taste is thin and light. Not a whole lot of flavor and it leaves an awkward after taste. Considering the hoppy aroma there doesn't seem to be a whole lot of hops in the flavor. Just glad I don't have a gluten allergy as this is not very good.
★
352 characters
2.46
/5
rDev
-21.2%
look: 3 | smell: 2 | taste: 2.5 | feel: 3 | overall: 2.5
This cost $11.99 for a 4-pack of 16oz cans. Let that sink in for a moment. Nutrition Facts and list of ingredients on the can. Ingredients list water, sorghum, candi sugar, hops, yeast. Pours a clear, pale amber color with one finger of head that quickly settled to barely a film. Large carbonation bubbles are really active and actually can be heard from arms length. Barely any lacing is left down the glass.
Has a bizarre grainy and fruity aroma. I was hoping this would smell more like a standard pale ale. I am finding it hard to describe the smell. A mix of blueberries, strawberries, band-aids, and antiseptic. Is this the result of sorghum, hops, sugar, or brewing techniques? Whatever it is I do not like the smell.
The flavor is not much better. It is fruity and bitter with an astringent finish. Not enjoyable. The first sip I was thinking, this is unique. But I am finding it hard to get to the bottom of the glass. Notes of berries and band-aids. The can claims the use of American hops but I have a hard time picking them out. Although it is quite bitter.
Light body but it is a little undercarbonated which is surprising considering the initial pour. Seems the life died off a little too quickly.
This beer is labeled as an APA so it will be judged as one. Lucky I am not a celiac because I would be quickly off beer if this is all I had to drink. Really expected something above average from this brewer but they may have to rely on the gluten-free aspect to sell their beer. I will not buy this again and I would need to have a sample before I buy anything else from this brewer.
★
1,600 characters

2.48
/5
rDev
-20.5%
look: 2 | smell: 4 | taste: 2 | feel: 2 | overall: 2
Head evaporates quite quickly in the glass. Color is a light golden. Aroma is good - floral, crisp, lemony. Like others have said, though, there is a distinct bitter aftertaste that lingers in your mouth after drinking. Slightly sour flavor beforehand, but really not a lot of flavor. I didn't particularly enjoy this beer.
★
327 characters

3.16
/5
rDev
+1.3%
look: 3.25 | smell: 3.5 | taste: 3 | feel: 2.75 | overall: 3.25
Burning Brothers Pyro American Pale Ale, Naturally Gluten Free. Brewed and canned by Burning Brothers Brewing, St. Paul, MN. "Don't Fear the Beer!" the can tells us.
Clear and golden-hued, with a short-lived white head.
Lightly hoppy nose, small citrus. Little lemon.
In the mouth, it's got a bite. Sharp and crisp at the fore, clean and lean-bodied. Drinkable, but not especially pleasant. I must admit that I'm not well-versed in gluten-free beers, and I can't tell how much beer-y flavors I should expect out of it, or how far this veers from how good a gf beer can be. I also have to admit that I heard bad things about it initially, and good things recently, but those were from he who gave me this sample.
This doesn't taste like a true APA should, certainly not a good one. For a brew that by it's very nature must miss the things I like most in a beer, it doesn't taste terrible. If I became gluten-intolerant, I could tolerate it.
Time to share the gobbledygook: "Pyro Pale Ale centers on drinkability though a balanced American hop profile. Combined with gluten-free grains and yeast, this beer is an American revolution in brewing. No gluten in means no gluten out. There is no reason to "Fear this beer."
I may have to try a few other GF beers to compare it against, but all in all, not bad.
★
1,333 characters

3.22
/5
rDev
+3.2%
look: 4.25 | smell: 3.5 | taste: 3 | feel: 3.25 | overall: 3
I picked up this tall boy during one of my recent Chicago visits, not realizing that it is a Gluten-Free offering. The CANQuest (tm) has caused me to drink widely and I have discovered that a little sorghum goes a long way in these beers. We will see what this one is like.
From the CAN: "Naturally Gluten Free"; "Don't Fear the Beer!"; "Ok, [Greek letter] = Pi and [Greek letter] = Rho. The story goes like this. A good friend, Hawkins, gave me this symbol to represent the simplicity and complexity of fire-eating. Like this symbol, we feel that our brewing has that same mixture of simplicity and complexity, coupled with just a hint of mystery."; "Pyro Pale Ale centers on drinkability through a balanced Ameri[CAN] hop profile. combined withgluten-free grains and yeast, this beer is an Ameri[CAN] revolution in brewing. No gluten in means no gluten out. There is no reason to 'Fear this beer'."; "Cheers! - Dane"
I have Def Leppard's "Pyromania" playing as the soundtrack to this one and the Crack! was equally loud. In fact, I got a spritz and spray thanks to it being filled right up to the vent. This was too much beer to attempt an inverted Glug, so I CANducted a gentle pour. This still produced a brief finger of fizzy, bone-white head that quickly evaporated into wisps. Color was Yellow-Gold (SRM = 4 -5) with NE-quality clarity and my old buddies, Mammon, Midas and Croesus showed up for a sip. Once they were satiated, it was my turn. Nose had the sharpness that I have come to associate with sorghum, kind of molasses-like. Whee! Mouthfeel was medium. The taste was odd, slightly cheesy, definitely using sorghum, but not as overpowering as some that I have drank. The hops gave it a grassy bitterness that also helped to make it palatable. I know that I am not the intended audience for these types of beers, but I am glad that I do not have Celiac because I CANnot drink more than one in a session. Finish was dry, but it was an odd dry. It left me with an odd, medicinal taste in my mouth.
★
2,011 characters
3.29
/5
rDev
+5.4%
look: 2.5 | smell: 3.5 | taste: 3.25 | feel: 3.5 | overall: 3.25
Poured from a 12 ounce can into a Shaker pint glass, there is no "best by" date that I can find.
APPEARANCE: pours a clear pale yellow color with less than one-finger white head that quickly dissipated almost completely, there is almost no lacing on the glass, lighter than average carbonation.
SMELL: flowers, citrus, pine.
TASTE: the taste follows the nose, citrus/grapefruit and and an earthy, pine hop profile and a slight metallic taste
PALATE: medium body and lighter carbonation.
OVERALL: this beer is almost like an IPA but the hops are off-putting to me, there is an earthy note that I do not find appealing and a slight metallic taste at the end.
★
666 characters
3.71
/5
rDev
+18.9%
look: 4 | smell: 3.5 | taste: 3.75 | feel: 3.75 | overall: 3.75
Poured from a 16 oz. can into a Surly tulip glass.
Appearance: Pours a bright and clear golden orange with a lot of rising bubbles. About two fingers of white head that fade into a thin patchy layer. Leaves a decent amount of lacing.
Smell: A fruity and fairly sweet balanced aroma. Earthy hops with some hints of grass and slight pine. Citrus fruit hints of orange, grapefruit, and lemon zest. Also some fruit hints of blueberries. Bready hints of yeast. Sweet hints of candied sugar and honey. A fairly unique and decent aroma.
Taste: Like the aroma hints at, a fruity and sweet yeast and hop driven taste. Bready taste of yeast. Earthy and floral hops with notes of grass and slight pine. Citrus hops with juicy notes of grapefruit, orange, and lemon zest. Sweet taste of candied sugar and notes of honey. Also some fruit notes of blueberry. Quite different than a typical APA but decent.
Mouthfeel: Light bodied with a medium to high level of carbonation. Juicy, spritzy, and pretty clean and smooth.
Overall: A pretty decent brew for a gluten free beer. Far from a traditional pale ale taste but there is some nice citrus going on.
★
1,142 characters

3.73
/5
rDev
+19.6%
look: 3.5 | smell: 3 | taste: 4.25 | feel: 3.5 | overall: 3.75
First I have to say that I am a newly diagnosed Celiac so this is only the second gluten-free beer I've had. However, Pyro will be on my buy list without a doubt. This is one of the beers recommended to my by Ryan at Elevated.
A: Clear, golden and bubbly. Looks like a good crisp beer in the glass.
Smell: light fruity smell, with a hint of pine.
Taste: Citrus, pine, with some hoppy bite. Perhaps orange peel.
Mouthfeel: lightly bodied, highly carbonated. Very clean and smooth with a slight bitter after taste.
Overall: I would compare this with any good quality traditionally grained APA in level of drinking pleasure. I would recommend this to be added to any celiac's beer rotation.
Also, one of the owners of Burning Borthers has Celiac Disease and they are very strict on their brewing processes as to not contaminate the beer with gluten. I've been told that they go as far as to not allow any gluten containing substances into the brewery at all. So, not only is the beer great but it is about as safe for celiacs as they can get.
★
1,051 characters
3.74
/5
rDev
+19.9%
look: 4 | smell: 3.75 | taste: 3.75 | feel: 3.5 | overall: 3.75
I believe this is better than most give it credit for.
I nice hop aroma that is semi-sweet, not too fruity, but pleasant.
Hops in flavor are both spicy and sweet. Additionally a sweetness to the drink, which may be from the sorghum, or not, but I found it all right. Mild bitterness and minimal drying.
Moderately light feel and carbonated at average level.
This was not terrible. Won't rush out for more, but I'd have again.
Can. Thanks Spunky.
★
449 characters
4.24
/5
rDev
+35.9%
look: 4 | smell: 4.25 | taste: 4.25 | feel: 3.75 | overall: 4.5
First of all this is a gluten free beer these should really be placed and reviewed in their own category.
This beer in the signature beer for Burning Brothers a local independent craft brewery out of st. paul MN.
For a gluten free beer I have to say its over all one of the best tasting! Initially it's very loud and highly carbonated like opening a can of pop. Blonde, pours clear with a large head that settles in under a minute.
Smell: Not a very fragrant beer as may have something to do with being a APA.
Taste: Over all very drinkable. Slightly bitter in the middle of your palate finish just a bit sweet . Notes of honey, and subtle berries.
Mouthfeel: Drinks clean doesn't linger very long in your mouth.
Overall: Its expensive 12 bucks for a four pack of pint cans. When comparing to other gluten free beers out there it is one of the best choices I've ever had and I love drink so I've had them all. Love how it comes in a can because bottles cant go everywhere! I would highly recommend this to people who cant drink normal beer due to gluten in-tolerances.
★
1,075 characters
4.53
/5
rDev
+45.2%
look: 4 | smell: 4.75 | taste: 4.5 | feel: 4 | overall: 4.75
Being gluten-free due to a barley allergy and not celiac, this is the best gluten-free beer I've had thus far. For someone who loved a great craft beer before knowing about the allergy, I can be very picky. I am limited in the aspect that I cannot have beers that just omit the gluten b/c my concern is not gluten. This is my go-to beer for sure. Great flavor. Crisp. Hoppy. Not sorghumy. The Burning Brothers Brewery has 4 wonderful beers. I totally recommend this to all former "regular hoppy beer lovers".
★
511 characters
ΠΡ (Pyro) from Burning Brothers Brewing
78
out of
100
based on
11
ratings.