Titanic Quarter Beer
| Hilden Brewing Company / Taproom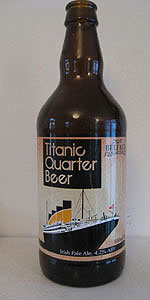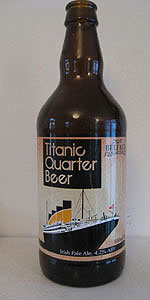 BEER INFO
Brewed by:
Hilden Brewing Company / Taproom
Northern Ireland
,
United Kingdom
hildenbrewery.co.uk
Style:
English Pale Ale
Alcohol by volume (ABV):
4.20%
Availability:
Year-round
Notes / Commercial Description:
No notes at this time.
Added by BeerAdvocate on 12-02-2009
HISTOGRAM
Ratings: 8 | Reviews: 5
Reviews by Wattsox:
3.23
/5
rDev
+0.9%
look: 3.5 | smell: 3 | taste: 3.5 | feel: 3 | overall: 3
500ml bottle, consumed Jun 2011, BBE Mar 2012.
A - Pale golden body with a decent head that dissipates relatively quickly, leaving sparse covering with decent lacing and cling.
S - Gentle aroma of bready malts and some hop balance.
T - Well balanced taste following the aromas, bready malts and hops for some balance and bitterness. Nothing particularly dominates.
M - Light to medium body, medium carbonation, quite smooth and not too lingering.
O - Overall quite a pleasant, balanced beer to drink as a session beer, though possibly a little plain to enjoy on its own, short of a cool drink on a hot day.
612 characters
More User Reviews:
4.38
/5
rDev
+36.9%
look: 4.5 | smell: 4 | taste: 4.5 | feel: 4.5 | overall: 4.5
Ok session beer but nothing stands out for me.
46 characters


2.72
/5
rDev
-15%
look: 3 | smell: 3.5 | taste: 2.5 | feel: 2 | overall: 2.5
Labelled as an Irish pale ale, but subject to the inherent reductionism of beeradvocate's categorization system. The label is certainly politically important in the context of the brewer, coming from the North of Ireland (phrasing intentional). I imagine their main demographic is actually the U.K.
Bottle acquired at Abbott's Alehouse off-license in Cork, Ireland. Poured into a Grolsch pint glass. Reviewed from notes.
A: Three finger head of light cream, fair thickness, and decent retention. Clear yellow colour.
Sm: Bittering hops tamed by cream. Pleasant.
T: A strange duel between barley (with a cream injection) and bittering hops results in cream the awkward victor. The balance is off as a result. Built poorly for the style. A vanilla hop note switches things up favorably; this is an unexpected note in an EPA.
Mf: Nice coarseness on the climax. Cream is nice throughout, especially on the finish. Quite wet until the climax, after which a dryness emerges,plaguing the beer and sabotaging its aims. Unrefreshing.
Dr: Expensive in Ireland, and not particularly good. Might be worthwhile for fans of the style.
1,130 characters
3.5
/5
rDev
+9.4%
look: 3.5 | smell: 3.5 | taste: 3.5 | feel: 3.5 | overall: 3.5
Pours a golden straw yellow with a 1.5 finger white head that isn't retained for long. Leaves some lacing as it goes down, but not much.
Not much aroma really-light hops, bread, biscuit, and malts.
Tastes slightly bitter with hints of hops and malts. Nothing really dominant or overpowering.
Goes down fairly smooth and light with a decent carbonation. Not too full.
Overall, it is a nice Irish twist on an English/Irish Pale Ale, but nothing particularly special that I would go out of my way to try again.
515 characters
3.01
/5
rDev
-5.9%
look: 3 | smell: 2 | taste: 3.5 | feel: 3.5 | overall: 3
A - Pale yellow in colour, much like washed out straw, it is in appearance much like a lager. There is also evidence of rich carbonation to be seen.
S - Bread, malts, sweetcorn, substantial floral aromas, nothing too exceptional.
T - The same as above, add a chemical kind of taste, with the bready malts are the heart of its composition. It is strikingly similar to a good lager, only more bitter towards the back of the palate.
MF - Light bodied, a little watery with little to munch. Decent carbonation as well which I find suites this particular beer.
O - I'd rate this a fairly average 'Irish Pale Ale'. It is certainly behind O'Hara's Pale Ale and Galway Hooker which are also the same style, but it's not too bad.
725 characters

3.75
/5
rDev
+17.2%
A - Light amber in colour with a tiny head of small bubbles. Good evidence of carbonation in the glass which helps it retain its head for longer than expected.
S - Strong smell of alcohol from the bottle, the glass smell is much lighter. Hints of biscuit (sweet UK biscuit not savory US biscuits :-) ), good smell of rhubarb and citrus so it almost reminds me of a rhubarb crumble.
T - Really very pleasant citrus edge with the same rhubarb taste coming through.
MF - Astringent and a little metallic perhaps. I definitely think there is little hint of the carbonation.
O - Fist brewed to celebrate the 100 year anniversary of the Titanic, this beer is brewed in the same way that Ales of this style were being produced in the Belfast/Lisburn area at the time the Titanic was being built. That needs to be remembered before you drink this!!
It is well balanced, as even though it has sourness to it, this is not over powering or vinegary. The citrus edge is perfectly married with a little sweetness so it is a lot like the rhubarb crumble I mentioned before. I think this is probably not the best Irish pale Ale you will ever come across but it is a good very good representation of its type and style. Oh and it goes really well with pie and pork dishes!!
1,264 characters
Titanic Quarter Beer from Hilden Brewing Company / Taproom
Beer rating:
3.2
out of
5
with
8
ratings