Belfast Lager
| Whitewater Brewing Co
BA SCORE
83
good
11
Reviews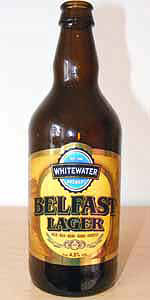 BEER INFO
Brewed by:
Whitewater Brewing Co
Northern Ireland
,
United Kingdom
whitewaterbrewery.com
Style:
Munich Helles Lager
Alcohol by volume (ABV):
4.50%
Availability:
Year-round
Notes / Commercial Description:
No notes at this time.
Added by mdagnew on 09-28-2007
Reviews: 11 | Ratings: 16
3.56
/5
rDev
-1.4%
look: 3.5 | smell: 3.75 | taste: 3.5 | feel: 3.5 | overall: 3.5
A: The beer is clear yellow in color and has a light amount of visible carbonation. It poured with a half finger high bright white head that died down, leaving a thin film of bubbles covering the surface and a collar around the edge of the glass.
S: Moderate aromas of bready hops are present in the nose along with strong notes of grassy hops.
T: The taste generally follows the smell, except that the flavors of grassy hops seem to be a little stronger and linger through the finish. There is a light amount of bitterness.
M: It feels light- to medium-bodied on the palate and has a moderate amount of carbonation.
O: This beer seems to be a little lighter in body and hoppier compared to other Munich Helles Lagers and is in need of some more malts to help balance things out.
779 characters

3.4
/5
rDev
-5.8%
look: 3.25 | smell: 3.25 | taste: 3.5 | feel: 3.25 | overall: 3.5
This beer poured clear and gold. It had a very faint aroma that was a earthy with a bit of hops. It tasted light, crisp, slightly hoppy, and a little bitter.
The beer was balanced and not overpowering. Very session-able.
Would I buy it again? Yes.
250 characters
3.19
/5
rDev
-11.6%
look: 3 | smell: 3.25 | taste: 3.25 | feel: 2.75 | overall: 3.25
Bottle from Asda, Enniskillen:
Clear and light coloured beer with a golden yellow colour and a bubbly, white head on top.
Sweet and with a helping of citrus and some grassy hops as well. There is also some light malts and a few light floral notes thrown in for good measure too.
Citrus and some floral hops upfront with a few sweet malts as weel but these are not as strong. There is a little honey and butterscotch around the middle too and overall it is a pretty sweet tasting beer.
Light-medium in body with lively carbonation and a slightly bitter finish.
A pretty average pale lager/helles beer with a taste that was beer than that of a mass market, industrial produced beer but it wasn't quite craft lager either; well not in my opinion anyway. It was drinkable and pleasant enought but at the same time it wasn't great and one bottle was enough to do me.
865 characters
3.78
/5
rDev
+4.7%
look: 4 | smell: 3.5 | taste: 3.5 | feel: 4 | overall: 4.5
BB 10/2013, served chilled in a pint-size weizen glass.
A: straw in colour, fairly good clarity, a thin white foamy head lasts surprisingly well, on top of constant streams of fine carbonation.
S: sweet and grainy lager malts balanced with Saaz hops' grassy notes and a "plastic-ish" nose not unlike the drier version of German pilsener, added with a whiff of sour kick in the background, a bit dough-ish and a bit lemon-y as well. Very pleasant.
T: interestingly neutrally-flavoured… is the first impression; malts are subdued, hops are understandably muted, but then gradually a rather spicy/tannic bitterness manifests, developing in a fashion far more like that of a Bitter! Chewy and bitter in the finish, while the palate is littered with random notes of sour-ish fruits and faint grainy malts here and there…
M&D: clean on the palate, refreshingly carbonated, medium-bodied and overall the flavour, albeit unbalanced, is like neither one's traditional Czech Pilsner, nor a generic, malty but thin pale lager from international brewing empires. The result is a rather bitter, clean, "beer", which is very drinkable to me.
1,144 characters
3.71
/5
rDev
+2.8%
look: 4.5 | smell: 3.5 | taste: 3.5 | feel: 4 | overall: 4
Hazy sunshine yellow with a dense rocky carpet of snow white foam that sticks around forever and leaves big chunky trails. Some clean grain, soapiness, slight Saaz spice and surprising yellow plum on the nose.
Toasted pan and lemon rind with some seriously peppery arugula hops with a sour apple hit in there somewhere.
Roasted tobacco end bitter leafy linger. Crisp, soft and round.
A big quencher and, with the exception of the fruitiness, a pretty straight ahead German lager. The toast and herbal bitterness is a bit much in this one, but I've had A- pints on draught. Whitewater brings quality, as usual.
612 characters

2.11
/5
rDev
-41.6%
look: 3 | smell: 2 | taste: 2 | feel: 2.5 | overall: 2
Served at the Garrick pub in Belfast, Northern Ireland. A bottle was poured into a Harp pint glass. Reviewed from notes.
A: Three finger of impressive cream for a lager. Standard lager clear yellow colour.
Sm: Clean barley; straw. Hops, crystal malt.
T: Crystal hops, malt, standard barley lager taste, but done well. A bit off balance; the open and finish are lacking in flavour compared to the body, a feature I'm finding is common from this brewery. I don't taste the yeast the bottle claims is present.
Mf: Surprisingly thick for a lager, and welcomely so. (Is 'welcomely' really a word? It is now!) A bit too coarse, however.
Dr: Steep price, decent beer.
670 characters
4.39
/5
rDev
+21.6%
look: 3.5 | smell: 4.5 | taste: 4.5 | feel: 4 | overall: 4.5
Bought this 500mL bottle in Northern Ireland on a trip to Belfast and enjoyed it back home in Dublin.
Pours a nice yellow straw color-light to let the light through with a tiny little white bubbly head that disappears quite quick.
Smells great, much more aroma then you would expect from a lager. Some grass and hoppy notes with a tad of citrus.
The hops is great in this lager and is the overwhelming factor. Slightly bitter with some light floral hints too-tastes great.
Finishes slightly dry with a bit of bite to the hops and a little unbalanced, but overall is nice.
I was quite impressed by this overall and quite happy-I haven't tasted an Irish beer like this before. I'd like to see more of this around and hope that it all tastes like this!
751 characters
3.47
/5
rDev
-3.9%
look: 3.5 | smell: 4 | taste: 3.5 | feel: 3 | overall: 3
Pours clear golden with small creamy head and patchy downsliding lacing. Aroma is grainy malt and floral lemony hops.
Taste is clean floral citrus, light sweet malty with bittery finish. Mouthfeel is light, light-medium carbonation.
Overall, the beer is not bad, maybe more bittery than average, but lacks character.
318 characters

3.85
/5
rDev
+6.6%
look: 3.5 | smell: 3.5 | taste: 4 | feel: 4 | overall: 4
This is great stuff. I first tried it on draught at the Septemberfest beer festival in Dublin's Phoenix Park last year. What a great day that was! Clear blue skies, beautiful scenery, mouth-watering organic food, a laid back atmosphere, and the finest beer Irish craft brewer's have to offer. I'd never heard of the Whitewater Brewery so I was keen to sample their wares. They had four brews on tap and I liked all of them (their Clotworthy Dobbin is especially good) but because the weather was so unusually fine by Irish standards I found myself in the mood for a nice refreshing lager. Belfast Lager didn't disappoint - it has just the right balance of bitterness and drinkability that I like in a beer.
It's virtually impossible to get this on draught in the Republic (the Bull & Castle in Dublin had a keg of it a while back but it didn't last long) but a few off-licenses stock it in bottled form so I recently picked up a couple. I was pleasantly surprised to discover that the bottled beer is almost as fresh and hoppy as the draught variety. They brew it using only Saaz hops and maybe that's what gives it its crisp texture and strong, fresh aroma. It has a nice, long citrus aftertaste, it holds its flavour to the last drop, and, for a lager, its got bite to beat the band. Well done Whitewater!
1,309 characters
3.63
/5
rDev
+0.6%
look: 4 | smell: 3.5 | taste: 3.5 | feel: 3.5 | overall: 4
500ml bottle , served chilled in a nonic pint glass
Pours with a rich straw yellow body with some amber hints thrown in. Bubbly and fizzy head forms about an inch thick settling down to a tight centimetre tall crown of foam. Some patches of lacing up and down the glass
Smell, some fresh wort, spent grains and husks. Little bit of malt extract type aroma along with a fresh euro hop aroma. Some biscuity malt, slight vegetal touches although they are very subtle
Taste, crisp and peppery hop bite, spicy fruit and fresh lemon. Biscuity malt character holds the overall flavour up, a slightly dry lingering hop profile on the finish
A solid effort from the Whitewater brewery, a clean and drinkable lager
708 characters
3.95
/5
rDev
+9.4%
look: 3.5 | smell: 3.5 | taste: 4 | feel: 4 | overall: 4.5
500ml bottle bought from GapWines, Belfast...
Poured a crystal clear pale golden colour... white head poured quite small and loose which faded quickly to light covering... lots of carbonation rushes to the surface... no real lacing..
Aroma - Strong freshly cut wet grass, light pale biscuity maltiness, floral hops, salty, light honey sweetness, light fruits (lemons, apples), some faint almond nuttiness, light spicy / peppery notes, some creamy vanilla...
Taste - Nice strong fruitiness (pineapples, apples, pears), good peppery hop bite, quite strong biscuity malts - especially for a lager, floral honey, grassy, some sea salt, light sweet caramel notes...
Feel - Smooth initially then a good sharp bite comes through... medium bodied... extremely thirst quenching and drinkable - a perfect session beer..
Overall - An excellent and local (for me anyway) lager... recommended...
897 characters
Belfast Lager from Whitewater Brewing Co
3.61
out of
5
based on
16
ratings.