T.Y. Harbor Brewery
BEER AVG
-
none
Awaiting 10 Ratings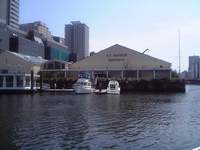 PLACE INFO
Type:
Brewery, Bar, Eatery, Beer-to-go
2-1-3 Higashi-Shinagawa, Shinagawa-ku
Tokyo-to Tokyo-shi
, 140-0002
Japan
+81 03-5479-4555 |
map
tyharborbrewing.co.jp
Notes:
No notes at this time.
Added by RobBeer
Ratings: 9 | Reviews: 9
Reviews by soju6:
3.68
/5
rDev
-8.7%
vibe: 3.5 | quality: 3.5 | service: 4 | selection: 3.5 | food: 4
Interesting brewpub located about a 5 minute walk from the train station. It is located on a canal next to the bay. The building looks a little rough on the outside but fairly nice inside. Kind of a style that reminds me of the 80's. It is more of a restaurant with the brewery as an afterthought. The food is good but a bit pricey, of course this is Tokyo. their beers are quite good across the board, even if they are not top shelf. The beers seem to compliment the food very well, rather than stand on their own. I have been here a few times but tend to go for the Pale Ale as my go to beer. Nice place to check out if you are in the area or are a bit adventurous.
667 characters
More User Reviews:
3.05
/5
rDev
-24.3%
vibe: 3.5 | quality: 3 | service: 3 | selection: 3 | food: 3
T.Y. Harbor is huge by Japanese standards, and packs in a lot of diners even on a random weekday.
It's extremely well-designed and offers both inside and outside dining areas. The outside section has a great view, is properly sealed from the elements and is heated to a comfortable temperature.
They were accommodating for our child, providing a baby chair and seating us at a table with the least number of neighbours. The noise level was comfortable and enough to cancel out the screams of our 1 year old with minimum embarrassment.
The menu changes each day, which means you'll never be able to order the same meal twice, but you'll always be able to try something new. The spicy chicken and chorizo dish I ordered was decent, but skimped on the chorizo big time. We were able to order a plate of fries for our son (off the menu) as we didn't fancy paying ¥900 for the kids set. The fries ended up being ¥800 though, so we weren't much better off.
The selection of tasty craft beers is the main draw, with a regular drinks menu and a revolving selection of special brews. (Bottles are available to take away as well). On the downside the non-alcoholic drinks are all overpriced (¥850+ for any kind of juice) and there's no kind of iced coffee available at all.
The servers were all extremely professional and were comfortable dealing with foreigners. The popularity of the restaurant does mean that the staff will pounce on your dishes as soon as you've finished them, and even take away half-finished dishes without asking you in an attempt to get you to finish up as soon as possible.
There aren't a lot of eateries around the Tennōzu area. T.Y. Harbor is a good place to go for a special occasion, but don't expect to be able to enjoy your meal at your own pace.
1,779 characters

3.91
/5
rDev
-3%
vibe: 4.5 | quality: 3.75 | service: 4.75 | selection: 3 | food: 4
Cool place!! Located in walking distance from train statin. Very good atmosphere and awesome services. I tried IPA, that's the best IPA I have had in Japan. A lady bartender was very kind and took me into backyard of restaurant for introducing the place of brewing. This place became one of my favorite place in Japan.
318 characters
4.15
/5
rDev
+3%
vibe: 4 | quality: 5 | service: 4 | selection: 3 | food: 5
Every time I am in Japan on Buisness I love the beer scene!
T.Y. Harbor is near Shinagawa Station where I work a lot when in Japan.
Outstanding food and their beers are tasty and well well made, can't say outstanding, however quite drinkable above what is commonly available.
However this is a pricy place comparatively speaking.
One thing is the servers did not know anything about beer and they had no single list or reference. This is a pet peace of mine. Make it very clear what beers you have, what type of beer they are and have it written down and easily reviewable to your guests.
But this place has a nice hip atmosphere that sometimes ttys to hard.
665 characters
3.6
/5
rDev
-10.7%
vibe: 4.75 | quality: 3.75 | service: 3.5 | selection: 3 | food: 3.75
Very cool atmosphere. Great view, young crowd.
Had a flight: ipa, amber, wheat, and seasonal (Sakura). It was ok. Had the wings (excellent), ribs (ok), and creme brûlée with vanilla gelato (excellent). Also had their "imperial stout", which was weak but tasty. Excellent service getting me a cab.
Overall, very nice break from standard Tokyo fair. Could (should) be much better.
382 characters
4.44
/5
rDev
+10.2%
vibe: 4 | quality: 4.5 | service: 5 | selection: 4
Nice place on the Harbor a little out of the way in Tokyo. Easy walk from the nearest train station. Place had a good feel about it inside and out. It reminded me a little of an industrial jazz type place you may find in the states I sat at the patio bar out by the water. Tried 2 beers, (both very good) and I think my total was about 1200Y which is actually an outstanding value in Tokyo. Looked the food menu over but decided against food as there were many more places to experience. Excellent service and attention to detail which is to be expected in the great city of Tokyo.
581 characters

4.38
/5
rDev
+8.7%
vibe: 4.5 | quality: 4.5 | service: 5 | selection: 3.5 | food: 4.5
Went here for lunch with a friend while visiting Tokyo. It's in a great waterfront location near some warehouses, in an area that is removed from the hustle and bustle of Tokyo. It's an easy walk from the Tennozu Isle station. Atmosphere was both good and strange. The entry/bar area was very nice, then the main dining area was trying to be like an upscale American brewpub but was playing jazzy/fast music that would be better off in a wine bistro. We sat outside though, and enjoyed the nice breeze and pleasant view. Highly enjoyable! The lunch menu only mentioned the pale ale, amber, and wheat, but asking revealed the mint beer and porter. My beer was above average. The food was excellent, very large proportions for Tokyo, and quite tasty. I had a swordfish sandwich with great fries, and my friend had a pork and apple sandwich. Plus the price was not bad at all, it came out to 3100Y for two people including drinks, which is much cheaper than most other places in Tokyo, especially nice places like this. My pint was only 600Y. Not sure how dinner prices are. Service was excellent, as expected in Tokyo.
1,116 characters
4.33
/5
rDev
+7.4%
vibe: 4.5 | quality: 4.5 | service: 4.5 | selection: 4 | food: 4
A delightful introduction to Tokyo. After arriving earlier in the day at Haneda airport and taking the metro to my hotel, I figured a beer on the river would be just right, so I headed on over to T.Y. Harbor.
Talk about a great setting. A good portion of the dining area (and one of the bars) is situated outside right on the river - perfect when the weather is nice, which it was most definitely this day. I immediately ordered the sampler, which includes the 3 normal brews and the special offering - a mint ale this time. For Tokyo, this was actually quite reasonable - something like $8 if I remember correctly. All the beers were well crafted, and enjoyable - minus the mint ale. After just about finishing the sampler, the bartender was kind enough to pour me a 4 oz glass of the porter they also had on tap, on the house.
During this time I had some tasty crab cakes as appetizer, served with a nice, spicy sauce. After finishing all this off, I decided upon a pint of their porter served on cask - not bad at all! A pint of real ale in Tokyo on the riverfront? Yes, please.
Overall, a great little place. If you fly in and are looking for somewhere relaxing and just a bit slower paced than the rest of Tokyo - and are craving some good beer and food, this is the perfect spot.
Highly recommended.
1,318 characters

4.4
/5
rDev
+9.2%
vibe: 4 | quality: 4.5 | service: 4.5 | selection: 4.5 | food: 4
I can't believe I put off visiting this brewpub. It is one of those places where the beer is so good that you hate to leave.
T.Y. Harbor Brewing Co. is located on the NW corner of Tennozu Isle, which is about 100 yards into the harbor from Tokyo. It can be reached by the Tokyo monorail, and as the web site says, it is about a 5 minute walk from the station to the brewpub, which is nestled among warehouses, but which fronts the water looking toward a foot bridge to Tokyo.
This is an upscale establishment, nicely appointed, with jazz music playing, and candles on the tables and in nooks in the walls. I did not feel out of place, however, in my very casual tourist clothing, and I saw patrons in dress from very casual to business attire.
It is a fairly large place, with most of the space devoted to the dining area, but the bar area does have seating for about 3 dozen or more. The bar area has very high ceilings, with ceiling fans, and the brewing kettles are visible through glass walls, and the water and Tokyo proper are visible through large glass windows. There are potted palms, and one TV in the bar area. The table tops are marble, the bartop is stainless steel, and most of the furniture is wood.
They offer 3 regular beers on tap: Pale Ale, Wheat Ale, and Amber Ale, as well as Brewmaster's specials, which were a Mocha Porter and a Honey Ale during my visit. All the beers were very good, and I especially liked the Pale Ale and the Mocha Porter. The beers were 700 Yen per pint, and 400 Yen per half pint (actually, quite reasonable prices by Tokyo standards).
The food offered in the bar was very good: I sampled some scallop sashima and some beef carpaccio.
The service was quite excellent, and the servers were very patient and helpful with my limited Japanese (several of them spoke much more English than I spoke Japanese).
This is a "must see" for BAs visiting Tokyo.
1,902 characters
T.Y. Harbor Brewery in Tokyo-to Tokyo-shi, Japan
3.85
out of
5
based on
5
ratings.