Mitchell's Extra Special Bitter
| Spinnakers Gastro Brewpub & Guesthouse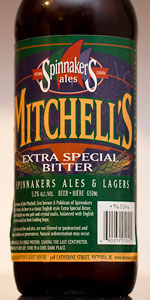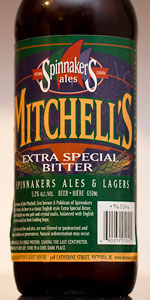 BEER INFO
Brewed by:
Spinnakers Gastro Brewpub & Guesthouse
British Columbia
,
Canada
spinnakers.com
Style:
Extra Special / Strong Bitter (ESB)
Alcohol by volume (ABV):
5.20%
Availability:
Year-round
Notes / Commercial Description:
Recently named "one of canada's top beers" by Maclean's magazine, this long time favourite with Spinnakers' regulars is a copper coloured, classic English pub bitter, brewed with English Pale and Crystal malts, hopped with Horizon & Kent Goldings.
40 IBU
Added by 49degrees on 01-10-2003
HISTOGRAM
Ratings: 35 | Reviews: 21
3.48
/5
rDev
-12.6%
look: 4 | smell: 3.5 | taste: 3.5 | feel: 3 | overall: 3.5
At the Victoria brewpub. Darker golden with a white head. Light mouthfeel, OK bitterness. Acceptable ESB as understated hoppiness.Melange of hops, including Kent, Northern Brewer and Cascade.Maybe better on tap, and a decent cask. Competent as most of the lineup.
263 characters

3.75
/5
rDev
-5.8%
look: 4 | smell: 4 | taste: 3.5 | feel: 3.5 | overall: 4
Picked this up at Spinnakers liquor store, as they were completely out of it on tap at the brewpub itself the whole time I was in Victoria.
Came in a 650 ml brown bottle. Pours out a transluscent mahogany hue, picks up red oak highlights when held to the light. Light tan creamy head on the pour that recedes to a thin dense cap.
The aroma is a surprising deep toasted malt, with nuts and carob, even smells a bit creamy. Light coffee notes as well.
The toasted malt carries over predominantly into the flavour as well, along with bitter, woody nuts, while everything mellows out towards the finish, with the faintest astringency provided by light hopping. Creamy, silky light bodied mouthfeel helps turn this into one helluva session ale. I can see now why this was sold out, and why the brewpub was letting the upcoming batches age properly. Looking forward to sampling the draught version someday soon.
916 characters
3.49
/5
rDev
-12.3%
look: 3 | smell: 4 | taste: 3.5 | feel: 2.5 | overall: 3.5
Thanks to Stephenlouis for including this Beer in his CanBIF package!
Appearance: Opaque copper with bubbly, soapy dishwater-like head.
Smell: Hops are quite fruity, in fact it smells exactly like a can of Del Monte peaches in syrup! Now there's something you don't find every day in a Beer!
Taste: Very quaffable, British-like flavor profile, fruity hops with only a slight astringency in the tail end make this a very refreshing brew. Some cookies in the body but was a little weak. This stuff must be awesome on cask, but this bottled product tastes pretty close to the real deal.
592 characters
4.03
/5
rDev
+1.3%
look: 4 | smell: 3.5 | taste: 4 | feel: 4.5 | overall: 4.5
Spinnakers does not disappoint.
The look of this beer is classic ESB. Solid copper colour with a fine, white head. The scent is a bit malty, but other than that, I could easily think this beer was a true English ESB.
The hops do not overpower, and the malt taste does not make the beer too sweet.
I can't wait for the opportunity to try this on tap.
358 characters

3.42
/5
rDev
-14.1%
look: 4.5 | smell: 2.5 | taste: 3.5 | feel: 3.5 | overall: 4
I sampled this at the brewpub.
A: Copper Bronze, some off-white head, lots of lace.
S: Not a lot of nose, a little bland.
T: Bready, fruity, with a British Bubblegum aftertaste (from the yeast). VERY British. My taste score may be on the low side (I'm not a fan of the overtly British yeast).
M: Light body and carbonation.
D: Quite quaffable.
358 characters

4.5
/5
rDev
+13.1%
look: 4.5 | smell: 4.5 | taste: 4.5 | feel: 4.5 | overall: 4.5
Fresh from the cask at the guest house. I made it just in time for this one, last call. Figured i'd try the cask, and tackle some cask beers and lunch tomorrow. Dark creamy peachy orange with a nice cascading head of "tiny bubbles". Aromas is very "
in your face" for a UK beer, and you can tell that this is a true ESB, not just some "bitter" imitation. Hops are very prevalent and UK in nature, malts are big natures, sweet, honeyed, and lovely. Taste is big and sweet, with a lovely underlying hop bitterness and an herbal grassiness coming from the use of a lot of UK hops. goldings seem to really shine in this one, unless i'm wrong. Mouthfeel is cask wonderfulness, drinkability is great. The winner at Spinnakers...
723 characters

4.4
/5
rDev
+10.6%
look: 4 | smell: 4 | taste: 4.5 | feel: 4 | overall: 5
This is one of the cornerstone beers in Spinnakers and perhaps in the history of BC microbrewing. The recipe has changed from when Malcolm Faviell and John Mitchell brewed this back in the 1980's in the original Spinnakers but this version is still great. The subtleness of the flavours show the real English roots of this beer. Everything has its place and this is truly one of the great BC session beers. BC may not have the hopmonsters of our neighbours down south but this is a good example of the understated ales that we do best.
535 characters
4.38
/5
rDev
+10.1%
look: 4.5 | smell: 4 | taste: 4.5 | feel: 4.5 | overall: 4.5
Ok, I have to admit to have drunk large amounts of this beer over the years. The malt hop balance is great. I find it stacks up with most of the esb's that I have tasted in the UK.
Being served at the correct temp at the brewpub helps a lot as does the correct carbonation. The bottled version is not quite as good, but still better than most.
346 characters

4.3
/5
rDev
+8%
look: 4 | smell: 4 | taste: 4.5 | feel: 4 | overall: 4.5
UPDATE: I had it at Spinnaker's from the cask, instead of out of a bottle. Holy cow that was a good beer. I've learned, then, that you don't drink this one from the bottle. Go right to the source.
It arrived with a nice creamy head, a deep orange colour, with some obvious sediment floating around the glass. It's from cask, so this is to be expected.
The aroma was dominated by citrusy hop aromas, and some vaguely sweet floral tones. Some yeast was in there, and I imagined a bit of a medicinal smell. A little malty grainy tone is in there as well.
The flavour was rounded out by the herbal and floral hops, including a definite bitter orange-peel overtone. Nice rich and slick maltiness filled it out beautifully, and a good bitterness finished it.
The mouth feel was creamy and soft, with low carbonation. Again, this was from a cask, so no surprise there.
If you do buy this in a bottle, I'd recommend pouring it and letting the foam come, and then leave again. From a cask, it has very low carbonation. This is about the same level as you have left after the monstrous billowing foam head that came out of our bottle the first time we had it. If you have a choice, though, go to Spinnaker's.
1,213 characters
4.45
/5
rDev
+11.8%
look: 4.5 | smell: 4.5 | taste: 4.5 | feel: 4 | overall: 4.5
An excellent English style bitter. Routinely served at the brewery on tap, but outside of immediate surroundings, this one is most often found in standard 650ml bottles.
In recent years I've started tackling more and more bitter styled ales and this one sits up amongst the highest tier ales from around the globe. Sadly, it doesn't receive much recogniition, but that's undoubtedly a result of the difficulty one can have in tracking this one down.
Features an exceptional aroma and flavor that relies heavily on the Cascade, Kent Golding, and North Brewer pitch. These three key components are skillfully blended with English Pale and Crystal Malts that provide a very complex result which provides an intriguing amount of malt flavor yet provide ample room for the flower bouquet to shine through.
Pours very clean with a moderate sized head, which disapates slowly leaving a layer of calm foam with periodic large surface bubbling with a tight collar. Lacing is consistent around the glass.
Of particular interest was the last 1/6th of the bottle which dispensed a suprising amount of sediment on the last pour. Sediment was very dark and consisted a small dark brown particulate that was suspend for 3-5 minutes before settling at the bottom of the glass.
Despite the last pour, the rest of this one was a keeper in every way, shape, and form.
1,363 characters
Mitchell's Extra Special Bitter from Spinnakers Gastro Brewpub & Guesthouse
Beer rating:
3.98
out of
5
with
35
ratings