You Otter Have Another Nut Brown Ale
| Spinnakers Gastro Brewpub & Guesthouse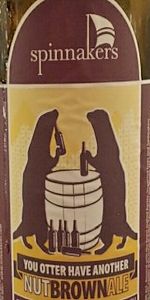 BEER INFO
Brewed by:
Spinnakers Gastro Brewpub & Guesthouse
British Columbia
,
Canada
spinnakers.com
Style:
English Brown Ale
Alcohol by volume (ABV):
5.20%
Availability:
Rotating
Notes / Commercial Description:
Our version of this old English style is a mild deep amber coloured ale with a pleasant "nutty" light biscuit and roasted malt flavour and a light flowery hop aroma with a non bitter finish from the use of Saaz hops. This is a light bodied beer that appeals to both dark and light beer drinkers alike.
16 IBU
Added by 49degrees on 02-07-2003
Reviews: 11 | Ratings: 30
3.83
/5
rDev
+2.4%
look: 4 | smell: 3.5 | taste: 4 | feel: 3.5 | overall: 4
Nutty, mild, easy drink. A pint lasted a couple hours. Chill first. Some amazing nuclear head. Mild aftertaste, thinnish. Creamy toffee caramel. Hints of chocolate and toasted almond. Nice malt and nice brown ale. like a mild root beer alternative.Thanks for the sample Irondjinn.
280 characters

3.48
/5
rDev
-7%
look: 4 | smell: 3.5 | taste: 3 | feel: 4 | overall: 4
I sampled this at the brewpub.
A: Orangy-brown, a little off-white head, nice lace.
S: Fruity, malty, slightly nutty.
T: Fruit bread, some nut, and their British yeast flavour (bubblegum?) that's characteristic of all their darker brews.
M: Moderate body, slightly creamy, but prickly, moderate carbonation.
D: Good.
331 characters

3.48
/5
rDev
-7%
look: 4 | smell: 3.5 | taste: 3.5 | feel: 3 | overall: 3.5
The problem with this brown was that it was on the thinnish side which is a shame as all the proper malty flavours were there but someone forgot to turn up the volume knob. Compare this with Granville Island's offering and you will understnad that a Nutbrown needs to have more impact on the palate.
299 characters
4.3
/5
rDev
+15%
look: 4 | smell: 4 | taste: 4.5 | feel: 4 | overall: 4.5
a: This was a very dark brown with amber edges. It was served to me with a short, creamy white head.
s: Nutty, with slightly smoky malts, a hint of something fruity, and a just a trace of coffee bitterness.
t: Very nice nut brown overall. Slightly tart with some nutty smokiness. Bitter finish with lots of roast.
m: Decent body for the size and gently fizzy carbonation.
d: Great brew for a blustery day, my favorite from the trip.
436 characters

3.83
/5
rDev
+2.4%
look: 4 | smell: 3.5 | taste: 4 | feel: 3.5 | overall: 4
Picked this up in a 650 ml brown bottle in Vancouver. Best before date marked on the side of the front label, sampled a month in advance of that. Pours out a vibrant toffee/chestnut colour, some supsended particles in the body, a creamy beige head that forms a small cap afterwards. Sweet toffee and toasted malt on the nose, along with a nutty character. The flavour is nice and rich for an English brown, with a creamy, silky mouthfeel, although a touch thin for my preference. Not much flavour upon the initial sip, but then it all begins to well up in the middle, burnt and toasted malts, some caramel sweetness, with the faintest of floral hops on the last vestige of the finish. Lingering toffee on the aftertaste. Oh man I want more to this, I can foresee a trip out to Victoria to try it at the source on tap. An excellent introduction to Spinnakers for me.
865 characters

3.38
/5
rDev
-9.6%
look: 3.5 | smell: 3.5 | taste: 3.25 | feel: 3.25 | overall: 3.5
Spinnakers 'You Otter Have Another' Nut Brown Ale"@5.2% , served from a 650 ml bottle purchased for $5.35
A-pour is amber from the bottle to a true dark nut brown in the glass with hints of red , a small beige head , lacing rimming the glass
S-roasted nuts , hints of fruits , some coffee bitterness ,
T-somewhat smooth hazelnut start , toasted malts almost burnt , dry bitter finish
dominates
MF-low mild carbonation , bit thin , light medium body
Ov-still not a good beer , ok name change and new look label , not enough of a reason to seek this beer
prost LampertLand
581 characters
4.23
/5
rDev
+13.1%
look: 4.5 | smell: 4 | taste: 4.5 | feel: 4 | overall: 4
It's almost like a baby porter. Akin to Gulf Island's Pender Island Porter.
Dark brown with decent white head. Smell is malty, toasted wheat, hints of chocolate. Porter-like taste: nutty, chocolate and malts, but with a touch of hops and not quite as strong as a porter.
Despite the bottle size, I probably could put two or three of these away.
350 characters

3.45
/5
rDev
-7.8%
look: 4 | smell: 4 | taste: 3 | feel: 3.5 | overall: 3.5
Bottle acquired from my sister for my birthday in June. Kept in the fridge since then.
A: Pours quite nicely with a thin tan head that drops to a tiny ring with no lacing of note. Clear brown body.
S: A little congested today, but I got a nice sweet malt note with a touch of molasses and some nuttiness in behind it. A touch of herbal hop in the nose.
T: A little let down here as it is advertised as a nut brown it comes across as a full bodied brown ale. Rich, sweet and molasses filled body. No nuttiness of note. Not a bad brown ale, but not what I thought I was reaching for... Some earthiness in the body.
M: Thick and sweet with no lingering hop bitterness. Enjoyable and a nice light carbonation.
O: A nice beer, just not what I thought I was getting...
763 characters
3.49
/5
rDev
-6.7%
look: 3.75 | smell: 3.5 | taste: 3.5 | feel: 3.25 | overall: 3.5
Sampled 12 oz. at the Victoria BC airport (I guess its technically in North Saanich), the last brew of a rather solid "beercation" to this west coast city. I avoided Spinnaker's up until this point, mostly due to limited time and a desire to scout out other breweries on this occasion; Spinnaker's probably isn't going anywhere and I will hit them up next time in more detail. Their nut brown ale is a clear reddish brown with minimal white head, with a very subdued aroma of bready malts and milk chocolate, perhaps a whiff of nutty yeast. Palate is superior to the aroma, with a pleasant lingering nuttiness from front to back, light hazelnut and walnut notes perhaps, buttered bread, faint fruity esters (grape?), and floral hops at the back. Thin-bodied. This style is supposed to be low carbonation but they took the English pub ale "flat" stereotype wayyy to heart and I'd prefer just a few more bubbles. Unassuming, drinkable, non-offensive ... Alas, takes these qualities too far and becomes pedestrian.
1,011 characters
3.8
/5
rDev
+1.6%
look: 3.75 | smell: 3.75 | taste: 3.75 | feel: 3.75 | overall: 4
Serving: 650 mL bottle (stamped "1115"), poured into a small tasting glass.
Appearance: Hazy chestnut brown with a foamy head of tan bubbles and good lace.
Smell: Lightly toasted malt, caramel, and hints of floral hops.
Taste: Good malt body with toasty malt, caramel and cracked nut notes. Lightly fruity yeast. Dry, earthy hop finish; very faint bitterness.
Mouthfeel: Medium, silky body and low to medium carbonation.
Overall: Pleasantly malty and drinkable.
466 characters
4.38
/5
rDev
+17.1%
look: 4.5 | smell: 4 | taste: 4.5 | feel: 4.5 | overall: 4.5
The lattest brew from Vancouver Island's and Canada's oldest licensed brewpub. Established in 1984, Spinnakers has become a staple on Canada's west coast and is well respected in beer drinking circles as a consistent brewer of top notch ales. Information on their newest brew is somewhat sparse. I spotted a single bottle on the shelf today at the local Govt controlled liquor store and quickly snapped it up. Its so new, the brewery's own website doesn't yet have a listing for it. Nevertheless, like all their other brews that I've had the chance to drink, this one is enjoyable -- even more so once you let you taste buds firm up to it's robust and unique flavors.
I've tagged this one with "year round" availability, as most of their brews are available if you look hard enough. However as this is the first I've seen it, I could be very wrong in that claim.
Pours a deep, dark brown color with amber hues. A decent sized, rocky head with plenty of carbination forms on the pour and slowly subsides to a strong foamy head, a strong collar and a reasonable lace level on the glass during tasting.
A very robust and character filled beer with ample malty hits along with plenty of caramel, toffee, walnut and filbert scented nuts, and a strong wiff of roasted heart.
Taste wise, it hits hard on the palette at first (but perhaps more so in my case because I had just finished drinking an IPA and the switch from hoppy to a toasted malty beer is quite a move), but after several minutes of enjoying this one, each subsequent sip brought my taste buds to life. There's a nice level of carbination in this brew too, something that I've found many nut brown ales to lack considerably.
As far as an English influenced Nut Brown Ale would go, Spinnakers is a very enjoyable beer that's worth the extra effort to track down.
[ STATS:>> SERVING: 650ml bottle / ABV: 5.2% / PRICE: $4.75 CDN ~ $3.13 USD ]
1,922 characters
You Otter Have Another Nut Brown Ale from Spinnakers Gastro Brewpub & Guesthouse
3.74
out of
5
based on
30
ratings.