Hoppy Face Amber Ale
| Hoppy Brewing Co.
BA SCORE
81
good
28
Reviews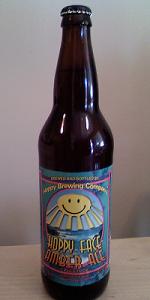 BEER INFO
Brewed by:
Hoppy Brewing Co.
California
,
United States
|
website
Style:
American Amber / Red Ale
Alcohol by volume (ABV):
6.10%
Availability:
Year-round
Notes / Commercial Description:
No notes at this time.
Added by BeerAdvocate on 12-30-2003
Reviews: 28 | Ratings: 62
3.01
/5
rDev
-14.7%
look: 2 | smell: 3.5 | taste: 3 | feel: 2.5 | overall: 3
Pours a clear, medium amber with two fingers of off white head. There are big, soapy bubbles, and the retention is very low. Overall, rather unappealing.
There's a big piney burst noticable when I cracked the bottle open. This carries over once poured. There's a little bit of chewey chocolate malt-type aroma (??) A little while later, once the pine has blown off, I notice a little bit of mild floral tea.
The hops start in big but gentle, ease off, then hook back in for some aggressive finishing bitterness. There's a hint of woody tannins that is not welcome. The malt is scarcely noticable, and the sugars feel simplistic. There's no rich caramel or bread here.
Though the carbonation level is good, the mouthfeel suffers from a battle between acrid tannins and thin, simplistic and cloying sugars. Fortunately, for all my criticism, it's still decently drinkable.
I don't quite know what the "problem" with this beer is, but it seems that there are some fundamental problems in the brewing proceedure. There shouldn't be that high a level of tannins from the hops (though it could also come from sparging the grains). Also, the thin body, weak malt taste, and low head retention are, to me, indicative of an overzealously low-temp mash - are they trying to stretch their malt, cut corners, extract more sugar and make more beer per pound? 'Cause if that's the case, I say they should change their tune, 'cause with better beer, they'll sell more beer.
★
1,470 characters
3.47
/5
rDev
-1.7%
look: 3.5 | smell: 4 | taste: 3 | feel: 4 | overall: 3.5
Cute labels on these beers. I'm not typically a big fan of the Amber style, but I do like me some hops, so what the heck.
Pours a dark copper in color with a thin halo of a head. Lots of fresh, West Coast "C" hops in the aroma. More than I'd expect from the style, actually. But still enticing.
Middling sweet malt body starts the sip, but is quickly overpowered by a big citric hop blast at the finish. There's a bit of European grassy/floral hops back there too, actually. Bitterness lingers well into the aftertaste.
A bit rough in the finish, and, well, not very Amber-like. But as some of my SD buddies have pointed out, this could work alright if billed as an IPA. Not great, but alright.
★
704 characters
4.01
/5
rDev
+13.6%
look: 4.5 | smell: 3.5 | taste: 4 | feel: 4 | overall: 4.5
Presentation: Funky looking Bomber, which along with 2 other beers from Hoppy Brewing immediately grabbed my attention from behind the glass doors of the Coolers at Morry's of Long Beach. The third and last of which is the Hoppy Face Amber Ale. Plain brass colored crown cap, and just one main obverse rather Psychedelic looking label with an attractive Californian Tie-Dye coloring, as per the BA Database picture. The label on my bottle has a strength of 'Alc. 6.1% By Vol' [differing from that listed] listed in the bottom right hand corner of the label, but no freshness date.
Appearance: I used my straight sided handled pint Mug for this one. It looked damned good in the Glass from the off. Guess what? Yep it has an Amber colored body, pellucid with a dark orange rusty tinge. The head is a creamy off-white mass, smooth looking and rather uniform compared to the other Hoppy Brewing beverages that I tried previously. This one looks very impressive in the Pint Glass.
Nose: Relaxed but inviting, the nose has a very American Pale Ale cum 'New Wave' Hoppy English Bitter Pale Ale (ala Roosters) tingle. Focused clean lines. Freshly mown grass cutting detritus boldly backs up hops, some lightly toasted biscuit malts. Deeply inhaled – it is marvelous.
Taste: Toasty malts with a light caramel sweetness entrance the beer. Bitterness rises in the middle followed by a wallop of hops. Ooh, I like this. Bitter and malty, lightly sweet, astringent and hoppy. I like this one.
Mouthfeel: Soft and creamy, the Malt and Hops play the Good Cop – Bad Cop routine to perfection. Talcum powder soft malt background with a rough fresh grassy Hop feel on the tongue.
Drinkability: Hmmmm, easily downed, it drinks well. The crisp clean malts and rough grassy hoppy bitterness in the back end precipitates a saliva reaction that really signals the brain to tighten the muscles in your drinking arm as soon as it replaces the chosen drinking vessel on a hard surface. This is a pounder, even if it is designed to be cherished! I found it very hard to put the Glass down, but very easy to put the beer down.
Overall: Of the three Hoppy Brewing beers I have tried so far, this was by far my favorite and actually felt Hoppy - I would most certainly buy this one again. So OK, strictly speaking it may not be your 'classic' "Amber Ale", but it is a damn nice quaffer. I actually quite like the Hoppy-Amber concept, anything that sticks a middle finger to straight-jacket definitions and the Beer Style Nazis gets my vote. Up the revolution! A decent enough Session Bomber. Worth a try, and not bad at all for $3. This would be f'in good on Cask I reckon.
★
2,677 characters
Hoppy Face Amber Ale from Hoppy Brewing Co.
81
out of
100
based on
28
ratings.