Hoppy Claus Holiday Ale
| Hoppy Brewing Co.
BA SCORE
79
okay
34
Reviews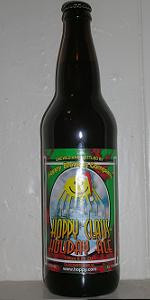 BEER INFO
Brewed by:
Hoppy Brewing Co.
California
,
United States
hoppy.com
Style:
Winter Warmer
Alcohol by volume (ABV):
7.80%
Availability:
Winter
Notes / Commercial Description:
No notes at this time.
Added by pjwilson on 12-04-2005
Reviews: 34 | Ratings: 52

2.37
/5
rDev
-30.3%
look: 2.5 | smell: 3 | taste: 2 | feel: 3 | overall: 2
This beer pours a light red-orange color with almost no head. The smell is alright, mostly sweet malts with a hint of something pungent and oily in the aftertaste. I dont like the taste at all, and I really dont know what they were going for. That same oily consistancy is there, and it reminds me of dishsoap. There is a dabble of hops in there, but very little bitterness and it seems to be drowned out by another sour apple taste. The aftertaste is sour again, and I am not sure where it would come from: it does not taste like malts or hops, but rather an ad-hoc flavor.
This beer is nothing special.
608 characters
4
/5
rDev
+17.6%
look: 4 | smell: 4 | taste: 4 | feel: 4 | overall: 4
$3.99 at LaBodega in Riverside, CA. in December 2006. Tasted 12/18/06.
Pours a nice rich amber and with a decent head that gets better with time- lots of lacing demonstrates it's rich creaminess. Very nice.
Aroma- spices, yes, that's it. Cinnamon, nutmeg, brown sugar, raisins, a hint of sweet ornage candy (just a hint) and good bready malts.
Flavor follows through. Other reviews have suggested a lack of hops, and compared to some winter brews I have tried, it's a fair cop, but I find them very distinct and tasty here. A nice bitter ending to this winter warmer is just right.
I like this one. I'm not a big fan of winter brews, spiced up and overwhelming, sometimes muddy and indistinct. This one is not that at all. Quite tasty.
747 characters
3.38
/5
rDev
-0.6%
look: 4 | smell: 3.5 | taste: 3 | feel: 4 | overall: 3.5
ours a nice amber color with a bright white head that doesn't last all that long but it does leave some nice lacing around. Ok this is going to sound completely bizare but it smells almost like a mix of pot and cinnamon. I can't figure out why it smells a bit like pot but it just does
also lots of sweet smells mixed with a bit of a hops.Tastes woah, not exactly what I was expecting, a bit over the top on cinnamon here, lots of nutmeg as well. I suppose it is a Christmas ale and all but there should be a warning label when brewers decide to play these kinds of games. Alright well let's see what else we've got, some bitter hops but they seem to be overpowered by the cinnamon. Not as much hops as I would have expected from a beer with hoppy in the name but I suppose this was a pretty good switch up from the norm. Mouth feel/carbonation seem pretty right on par and isn't all that imposing on the alcohol side of things. Definitely a "holiday" brew.
958 characters

3.28
/5
rDev
-3.5%
look: 4 | smell: 3.5 | taste: 3 | feel: 4 | overall: 3
Slightly hazy reddish amber colored ale with a decent off white head.
Smell is very spicy and is dominated by the scent of clove. Take it from me, I once put too much of the stuff in a Holiday Cider, this is all clove. Too bad it is one dimensional in that respect.
Taste is dry and very spicy like the taste of a spice gum drop. Decently bitter but cloves over power the taste.
Mouthfeel is good.
A good beer ruined by that cursed spice CLOVE. I can't say that I haven't been there, I have ruined a homebrew with it myself. NEVER add clove to your beer it just takes over and never mellows no matter how many years you age it.
639 characters

3.7
/5
rDev
+8.8%
look: 4 | smell: 4 | taste: 4 | feel: 3 | overall: 3
Simple label 7.8% Est. 1994.
Dark auburn hue topped with a settled craggy vanilla cap.
Nose offers up a huge spice wafer, fruit cake and cinnamon. Loads of spices erupt.
First swigs: Nose is mirrored by the palate. Bold cinnamon and spice wafer flavor. Grain waffle. Cloves and nutmeg.
Thick feel. Full bodied. Fully attenuated carbonation.
Last swigs: Damn near my local Bethlehem Brew Works RudeElf.
417 characters
3.99
/5
rDev
+17.4%
look: 3.5 | smell: 4.5 | taste: 4 | feel: 4 | overall: 3.5
I've had some success with this brewery so the winter warmer was a no brainer pick up. Poured this bomber into a tulip it formed a loose off white head that pops down to islands and ring like lace. Copper body.
The smell is "FULL" of spices. Cinnamon and coriander were dominant at the get go. Pumpkin bread heavily laced with Cinnamon was the taste I got. Some powdered sugar on top with an over rip raisin here and there and you've got this brew down. A well brewed beer. Mouthfeel was meaty but it lightened up just enough to make it tolerable for more consumption. As it warmed up a mollases really shows its face.
Notes: I've always thought this brewery has a lot of potential and this is a pretty nice example of the style.
736 characters
2.78
/5
rDev
-18.2%
look: 4 | smell: 3.5 | taste: 2.5 | feel: 3 | overall: 2
Pours a clear gold/amber with a small head that melts quickly to thin sticky lacing.
Aroma is sweet, sweet powder sugar frosting and cinnamon.
Flavor is very heavy on cloves, cinnamon and no hops at all. Just sweet and holiday spices. Powdered holiday spices.
Besides being very heavy in spices...it comes off boring.
320 characters
3.58
/5
rDev
+5.3%
look: 4 | smell: 3.5 | taste: 3.5 | feel: 4 | overall: 3.5
Presentation: Another rather funky looking Bomber from the Sacramento Zymurgists which is sealed with a black crown cap bedecked with a smiley yellow sun face. It has an immediately recognizable label, another one of those mad brews from the Hoppy Brewing Company; all of the labels have a generic colorful NoCal-Jamaican trait. This latest version is labeled as "Hoppy Claus Holiday Ale" and listed at a massive 7.8% ABV. A Psychedelic shiny yellow Sun drips tentacles of frozen stalactites, lots of Tie-Dye coloring. No freshness date.
Appearance: Rich deep chestnut body with a clear ruby hue. Off-white head rises quickly and leaves a thin smattered lacing which never does anything. Finely dissolved carbonation is nicely dispersed and supports the head to retain a ½" thick cap throughout. Nice looks.
Nose: Massive blast of heavy spices, sugary sweet cinnamon and nutmeg pound the nasal passage…both are heavy hitters, this smells…..yes, this smells….SOOO familiar….you know I know this…..don't tell me….HOT CROSS BUNS!! Yes that is it, right on the nail. Hot Cross Buns.
Taste: Now I've nailed the nose, the tastes follow suit almost perfectly and leave me with little leeway to even try to explain what the body has to offer to the tongue. Sweet cinnamon and a rich nutmeg have sugary traits whilst the dark fruits are provided by currants & raisins; the finish has a lovely deep sticky bun ending. Intensely rewarding like the most sinful of Hot Cross Buns, so good yet so wrong. As for the "Hoppy Claus" I am not sure where that comes from, the Hops are distinctly hidden, so well in fact that I could not find them!!
Mouthfeel: Intense, the sticky bun feel lends a massive finger coated gluey 4.0 with little effort. The body has depth and a rather complex fruity nature thanks to the currants and raisins.
Drinkability: Too much at times, the cinnamon and nutmeg dominate, I could have easily put up with a 12 ouncer of this one, though I managed to take care of the whole Bomber with little more effort.
Overall: A traditional favorite on Good Friday in England is the dispersion and consumption of Hot Cross Buns….Mmmm, I can smell them now. Hot Cross Buns are a spicy currant and/or raisin infested yeast proved bun, traditionally topped with a "Cross" made of lemon flavored icing. Rumor has it that the Pagans started the ritual, but Christians seem to have adopted the cake and the symbolism of the cross. Erstwhile, to the English Pagans then, as now, the cross was symbolic of the Sun wheel a symbol of perfect balance at the time of the Spring Equinox….Stonehenge anyone!?! It goes without saying that Hot Cross Buns were most likely used in ancient ritual ceremonies and that the Christian Church first attempted to ban the buns, then in the face of overwhelming popularity accepted defeat such that the Church did the next best thing and "Christianized" the bread, with Queen Elizabeth I eventually passing a law which limited the bun's consumption to proper religious ceremonies, such as Christmas, Easter or funerals in England. <Breathe Out> OK, Still with me?? Well see, it comes full circle if you are paying attention…..the Hot Cross Buns, the Sun and the signature smiley face of the Hoppy Brewing Company and also the Xmas link. Even soo…..maybe it is my staunch English traits, but this brew tastes JUST like liquid Hot Cross Buns to me and the links with the Sun and Xmas are all rather weird, cosmic and hard to ignore. This would make a great Good Friday Easter brew in England though. Weird, but worth a pop.
3,588 characters
2.65
/5
rDev
-22.1%
look: 3 | smell: 3 | taste: 2.5 | feel: 2.5 | overall: 2.5
Well the label is Hidieous that's for sure. What are they thinking? The beer its self is a light looking amber with a decent head. It looks thin.
smell: It smells like gingerbread. Cinamin, clove and such. It smells a little fake though and sort of hides other flavors.
taste: fake cinamin taste. this could be classified as a pumpkin ale with all the fake pumpkin spices and such. I sure don't like this style and am pretty mad I have a bomber. I sure hate that fake spice taste. Saving the beer from drain pour status is the someone high malt bill sort brings something that tastes like beer to the table. a thin mouthfeel bill doesn't help anything. keep away.
669 characters
Hoppy Claus Holiday Ale from Hoppy Brewing Co.
3.4
out of
5
based on
52
ratings.