Sunset Dunkleweizen
| Victory Brewing Company - Downingtown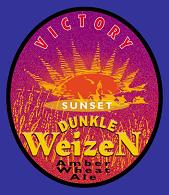 BEER INFO
Brewed by:
Victory Brewing Company - Downingtown
Pennsylvania
,
United States
victorybeer.com
Style:
Dunkelweizen
Alcohol by volume (ABV):
5.70%
Availability:
Rotating
Notes / Commercial Description:
No notes at this time.
Added by BeerAdvocate on 07-07-2002
Reviews: 10 | Ratings: 32
3.46
/5
rDev
-10.8%
look: 4 | smell: 3 | taste: 3.5 | feel: 4 | overall: 3.5
Had the pleasure of trying this for the first time at the Victory Brewpub last week. In it's tall Hefe- glass, poured a light-amber to copper color, with evident yeasty cloudiness. Had a fine, thin head, and decent lace. Nose displayed some clove, but didn't jump out at you much. Medium bodied, it also had the typical hint of Hefe- roughness on the tongue. Banana and clove flavors are present, with a little malt sweetness and spiciness. Downside is a slightly bitter finish. Not bad...
overall: 3.55
appearance: 4 | smell: 3 | taste: 3.5 | mouthfeel: 4 | drinkability: 3.5
251
582 characters
3.53
/5
rDev
-9%
look: 4 | smell: 3.5 | taste: 3.5 | feel: 3.5 | overall: 3.5
Served as very deep amber colored beer with modest white puffy head.
Smell is very light with a only a mild sweet caramel note present.
Taste is also a bit sweet and caramel-like, but for the most part the taste is very restrained.
Finish is nice and rrefreshing, but very little taste retention.
A nice beer, but a bit dissapointing.
338 characters
3.63
/5
rDev
-6.4%
look: 4 | smell: 3.5 | taste: 3.5 | feel: 3.5 | overall: 4
Back on tap after an almost two year absence. This is a growler filled and consumed on 8/16.
A: The weizen is a Hershey's chocolate-colored brew, darker brown but not quite black. As light shines through, a noticeable haze emerges to confirm that this is an unfiltered beauty. The head holds up nicely, lacing throughout my Widmer Bros. glass.
S: The nose has a strong wheat aroma, slightly tart but lacking esters. It is matched with a caramel aroma from the dark malts.
T: The ale has the restrained subtle flavor of an American wheat ale. The body lacks the esters, banana and clove flavors that a dunkel weizen should have. This is fairly consistent with Victory's weissbiers, as Sunrise Weiss is similar. Climbing off of my soapbox, the ale reveals some caramel sweetness, a darker flavor that nicely spices up the restrained body. Three words that come to mind as I drink this: Enjoyable but unspectacular.
M: The mouthfeel is full of wheat flavors, tart with a lighter body. The caramel malts save the beer, adding an element of flavor that is desperately needed.
D: Good drink, my wife and I polished off the growler but the wheat beers are not, IMHO, Victory's strongest asset. Good but nothing to get hyped about.
1,238 characters
3.78
/5
rDev
-2.6%
look: 4 | smell: 3.5 | taste: 4 | feel: 4 | overall: 3.5
Had this on tap at the Brick Store Pub awhile ago. Poured a dark chestnut with a head that faded pretty quickly but left some nice lacing. There were lightt smells of brown bread, banana, and a touch of tin. The taste is spicy and slightly roasty to begin followed by more brown bread and bananas. Slightly thin, but very crisp and even crackery. Extremely dry, I would have like this to have been a tad more luscious. It was good, but it didn't wow me. The depth of flavor was a little light and it was a trifle thin.
518 characters
3.9
/5
rDev
+0.5%
look: 3.5 | smell: 3.5 | taste: 4 | feel: 4.5 | overall: 4
Creamy bannana sweet and spicey and hoppy, on tap at the Standard Tap and I thought this would be something available later in the summer. brown colour. Spot of toastiness, nuttiness, long finish. SOmething different from Victory, in fact I find their beers are all unique.
273 characters
4
/5
rDev
+3.1%
look: 4 | smell: 4 | taste: 4 | feel: 4 | overall: 4
Back from a hiatus, this batch listed at 5.2 ABV
Pours a cloudy amber color with a white head and some lace. Aroma of wheat, caramelized malt, and a hint of leafy, flowery hop. In the taste, a big dose of caramelized flavor, moderate clove and hardly any bitterness. Medium bodied feel with a good thickness, surely not thin. Overall, Delicious. 5.2% abv dunkel with a firm, nutty malty flavor and a hint of hop and clove.
423 characters
4
/5
rDev
+3.1%
look: 4 | smell: 4 | taste: 4 | feel: 4 | overall: 4
Nice brownish color with a head that quickly dissipated. The taste is very similar to their weizenbock. Similar malt base. Instead of bananas and cloves this seemed to just have cloves in the background. Good drinkability to go along with the taste. Will hit the spot if you want a nice, malty beer.
299 characters
4.1
/5
rDev
+5.7%
look: 4 | smell: 4 | taste: 4 | feel: 4 | overall: 4.5
It pours a hazy milk chocolate cola brown. A tall finger of puffy white head sinks gradually to a thin pillow of froth. Swishes of lacing disappear in a blink.
The aroma is rich with the caramel earthiness of well-toasted malt as well as a tart wheatiness. Esters are sparse, but give up a breath of clove and perhaps the swiftest draft of banana.
Upon tasting, the baked sweetness of toasted malt taxis in caramel and a touch of dark berry before the tart wheat announces a concession to the esters, themselves harbingers of clove, and again the softest lash of banana. As well, a small current of roasted walnuts flows through. Bread crust and residual sweetness join a more general yeast character near the close, and the finish dries and crisps as a good wheat beer will, lingering refreshingly. The full flavor profile is an asset, bringing a fresh face to bear.
Between light and medium bodied, the grain is thick enough to flow with some body, and the dry crispness leaves a final glow.
For those times when grain is what you crave, Victory brings you this fine offering. The malt is sweet, the wheat is crisp, and the result is a pint of fetching flavor and refreshing notes. And with that judicious ABV, drinking it is a fun little past-time. In fact, in an evening of more than a few new flavors, this one was 1b, not a bad standing. I would be most encouraged if this one made its way into bottles, because having the option of enjoying it at home would make it even better.
1,493 characters
4.35
/5
rDev
+12.1%
look: 4 | smell: 4 | taste: 4.5 | feel: 4.5 | overall: 4.5
Draught @ Victory: This beer is a cloudy coppery color. There was no head to it at all. The aroma has notes of banana, cloves and some other fruits. The taste is somewhat malty sweet with hints of the banana, cloves again. Also some nuttiness and a bit yeasty. Very Good!
271 characters
4.42
/5
rDev
+13.9%
look: 4 | smell: 4.5 | taste: 4.5 | feel: 4 | overall: 4.5
Many thanks to Bill and Ron at Victory for concocting this beauty. The Sunset was tapped in all its hazy yellowish-0brown glory with a head that any true beer fan would be proud of. The aroma was distinct in the background sweetness of ripe bananas with hints of clove and the carefully handled and roasted malts. A superb combination and highly quaffable. A fantastic seasonal find, which paired well with Victory's hand-tossed pretzel and some grainy German mustard.
Prosit!
479 characters
Sunset Dunkleweizen from Victory Brewing Company - Downingtown
3.88
out of
5
based on
32
ratings.