Sticke'y Monkey
| Victory Brewing Company - Downingtown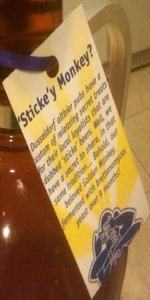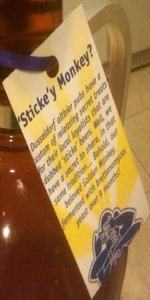 BEER INFO
Brewed by:
Victory Brewing Company - Downingtown
Pennsylvania
,
United States
victorybeer.com
Style:
Tripel
Alcohol by volume (ABV):
9.50%
Availability:
Limited (brewed once)
Notes / Commercial Description:
No notes at this time.
Added by Bmoyer0301 on 12-29-2010
This beer is retired; no longer brewed.
HISTOGRAM
Ratings: 12 | Reviews: 9
None found.
More User Reviews:

2.7
/5
rDev
-16.7%
look: 3 | smell: 3 | taste: 2.5 | feel: 3 | overall: 2.5
Growler shared by therealnomayo on New Years Eve with him and cmurren25. Nice gesture, but what a let down here's why...
A- A hazy golden color with a pale yellow hue. Has virtually no bubbles leading up to no visible head. Yes that's right a brewery with a counter pressure growler filling machine filled growlers that were flat as hell! It looks like a still lambic, seriously what the shit!
S- Ugh! Gives off a rotting fruit skin and peel smell. Some nice earthy must from the Brett, no tart and some spciness from the yeast. As it warms I pick up a straw and faint clove aroma that is odd because this is golden monkey. Where's the strong Belgian spice and fruit ester aromas? What a let down, smelled more like a bretted hefe.
T- An assault (in a bad way) of offensive yeast spice, rotting fruit and a barnyard must with a stale hay zing. As it was allowed to warm (because I was afraid of my next sip) more of the tripel comes out some faint fruit esters and a subdues spiciness, but more of the stale and earthy must in the finish. Bleh!
M- Lacks any real body and has 0 carb tingle because it's flat. It's different when a sour is flat and missing carb not a big deal, but this is a Bretted tripel, carb is a must. It's smooth, cold, no stick, no fluffiness, just a cold and shallow liquid.
D- No sir! I am glad I got to try it, but would not drink it again. It lacks depth, complexity, flavor and body. It's like your mother feeding you stringed peas. Here comes the airplane!!!
I really do enjoy Victory's Brett use (fresh wild devil) but this is a very apparent attempt at fixing a botched batch of golden monkey. Don't Brett a mistake to make it something good, it will never end right. Next time brew a good batch of golden monkey and brett that.
1,766 characters
3.99
/5
rDev
+23.1%
look: 3.5 | smell: 4.5 | taste: 4 | feel: 4 | overall: 3.5
Thanks to sydpanz for sharing this...
Appears a hazy gold with a small white head that quickly fades into a film and soapy collar. Spotty bits of lacing are left around the glass.
The smell is of pineapple, funky brett, earthy notes, citrus, lemon rind, and a few of the original fruity esters from the original Belgian strain.
Taste...we had this side by side with the regular monkey. I thought they were very similar but this had a layer of brett funk that just made the beer slightly more interesting.
Mouthfeel was medium bodied, with a touch of acidity drawing to the sides of the tongue and some bitters still being found. The CO2 is extremely light, leading to a dulled down finish.
689 characters



2.56
/5
rDev
-21%
look: 4 | smell: 3 | taste: 2 | feel: 4 | overall: 2
Pours a deep golden amber with a thin layer of head, which I suspect is from the growler being open for awhile.
Aroma is funky with some raw wheat and some overripe banana.
Everything goes sideways in the flavor, lots of wheat and a taste I can only describe as old fruit that's been laying in the trash for five or six days.
The mouthfeel is pretty nice with some mild carbonation and a smooth overall feel. Not very drinkable at all, I am all about trying interesting beers, but I just can't get past the taste on this one.
530 characters
3.67
/5
rDev
+13.3%
look: 3 | smell: 3.5 | taste: 4 | feel: 3.5 | overall: 3.5
Pours a clear orangish yellow with no carbonation at all, flat as can be. The aroma is light citrus with some brett funk, alcohol is still coming through. Light citrus hops in the taste with light malts, the brett doesn't come through as much as I was hoping for. Mouthfeel is, well, basially flat, medium bodied. Overall its a nice taste overall and very enjoyable to drink. I had this a few months later at the after Gratitude release party at the OTB and I have to say it improved. I have another growler that who knows how long I'l hold onto, but I think it will end up being even better.
592 characters

3.65
/5
rDev
+12.7%
look: 4 | smell: 4 | taste: 3.5 | feel: 3.5 | overall: 3.5
From a $31 growler, pours a somewhat hazy orange/copper with a scant head and lacing. Noses of tropical fruits -- mango, pineapple, and a heavy, funky, sweaty brett. Really heavy cotton brett in the mouth, coconut, some orange peel. Minty around the edges. Finish is long, sweaty brett, socks. Not sure how I feel about this. The brett has certainly bloomed quite fully and transformed the base beer. An interesting experiment, pretty nice stuff.
446 characters

3.91
/5
rDev
+20.7%
look: 3 | smell: 4.5 | taste: 4 | feel: 3.5 | overall: 3.5
Someone must've told Victory they were getting boring, cause they really stepped it up this past year with the Saison Du Buff, Summer Love, Citra Pale (where'd you go?), the Yakima Twilight name change (boo), the controversial Dark Intrigue limited release, the announcement of a new "flagship" beer coming out soon, and then this little surprise out of the blue last month.
3 weeks in the growler at this point, but an aggressive pour still yields 1F of white head over a clear, golden body. No carbonation present, but a respectable amount of lacing.
Aromas are great - smells like a fresh loaf of sweet banana bread with a touch of spice, funk and citrus. Very interesting and inviting.
Flavors carry the fascinating mix ... sweet, bready, and citrusy overall. Lots of tropical fruits like papaya, banana, and pineapple, with lots of spicey qualities, including cinnamon, white pepper, and then sweetness of vanilla. The funk level of the Brett is subdued, IMO, and waits until the finish to present itself.
Mouthfeel is typical Golden Monkey with a touch less carbonation (could be the time in the growler). Rich and thick.
Despite the thickness, I give this one above average marks on drinkability, as I'm a sweet tooth. Some will probably prefer more carbonation, but I'm totally good w/this one.
For ~$30, what a deal - 64oz of a very unique (and 9.5% ABV) beer, and a cool new Victory growler. What a fun experiment - thanks to Victory for pushing the limits of normal (did that Sam guy at DFH tell you to do this?!?).
1,535 characters

3.56
/5
rDev
+9.9%
look: 2.5 | smell: 4 | taste: 3.5 | feel: 3.5 | overall: 3.5
Pours a pale golden yellowish-orange with golden yellow hues and a very thin white head that immediately fades leaving no lacing.  
Sweet boozy aroma with alcohol phenols, light fruit and banana.  Slightly spicy with pepper and coriander as well as hints of apple, pear and lots of banana.
Medium bodied with light carbonation and lots of sweetness from the fruit notes.   Subtle alcohol with lots of light fruit especially apple, pear and banana.  Subtle funky dryness but not sour.  Easy to drink but nothing really stands out.
536 characters
2.92
/5
rDev
-9.9%
look: 3.5 | smell: 4 | taste: 2.5 | feel: 3.5 | overall: 2
64 oz growler, about a month and a half old now.
Previous reviews indicated some experience with this being completely flat, so I was happy when the growler flipped open with a soft hiss and a strong pour produced a wispy, quickly fading white head. There were also some dense, slowly rising tiny bubbles in the clear honey golden colored body.
Aroma is musty and rotting, of rancid fruit and spolied yeast. Some mild fruity typical tripel-y esters emerge as it warms, but rotting funk dominates throughout.
Mouthfeel is thick and mildly syrupy with persistent light, fine carbonation. Better body and feel than expected, with a pleasant dry, crisp finish if you ignore the rotting flavors of the body.
The brett funk is out of control in the flavor from the start, with words like rot, must, and dank coming to mind. Not all bad, but just leaning a little too much toward the rot. There still is some trace of a typical batch of Golden Monkey hiding here in the form of mild sweetness with ripe, green fruits and belgian yeast. There is very little malt, spice or bready flavors detectable behind the funk.
As this warms the aroma becomes a little more appealing, brett dominated but not offensive. Unfortunately the flavor never leaves behind its rank, foul mustiness. This was a fun experiment from Victory, but if you missed it, just wait for their next experiment.
1,377 characters
3.62
/5
rDev
+11.7%
look: 2 | smell: 5 | taste: 4 | feel: 3 | overall: 2
Brett Aged Golden Monkey ??! Sign me up!
Appearance:
Poured from a growler that was picked up by hophead101 for his epic tasting! Thanks again! Upon popping the swing top growler there was absolutely no pop or hiss coming from the growler that was filled that day from a counter pressure machine. This kind of scared me right off the start, but as we continued on it poured the ever so famous bight sunny golden yellow like the regular Golden Monkey. There is absolutely no head or bubbles here pours very still like wine. The viscosity seems to be medium and not overly heavy or thin.
Smell:
Wow, amazing! Very bright bretty lacto funk going on! Sour but not acidic, lemon skins, Belgian yeast, cloves slight bananas, a little bit barnyard-esq and hay aromas. This makes up for the lack of carbonation.
Taste:
MMM...just like the old Golden Monkey but with a whole new funky twist. Very tart like fresh cranberries and just a slight amount of acidity. The middle is loaded with bananas and is creamy tasting like a smoothie. Citrus, grapefruits, and everything pleasant about a sour beer here. Yeasty, with some spices thrown in. But sadly very very very flat....
Drinkability:
Man I really would have loved to give this a higher rating but its very flat and needs carbonation to really give that prickly feeling across your tongue. The flavors are great and this was a good beer to sour and do some experimenting, much better than wild devil. Victory gets a A for effort but falls short in the execution.
1,530 characters
Sticke'y Monkey from Victory Brewing Company - Downingtown
Beer rating:
3.24
out of
5
with
12
ratings