Pax Pils
| Brouwerij Cornelissen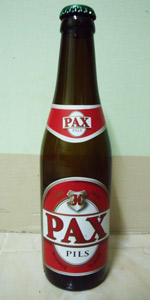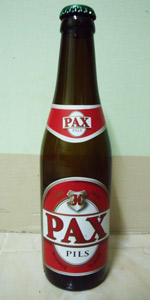 BEER INFO
Brewed by:
Brouwerij Cornelissen
Belgium
brouwerijsintjozef.be
Style:
Czech Pilsener
Alcohol by volume (ABV):
5.00%
Availability:
Year-round
Notes / Commercial Description:
No notes at this time.
Added by Wildman on 07-20-2003
HISTOGRAM
Ratings: 13 | Reviews: 10
Reviews by Everydayoff:
3.42
/5
rDev
+4.9%
look: 3 | smell: 3.5 | taste: 3.5 | feel: 3 | overall: 3.5
330ml bottle with no detail about freshness date poured into a mug.
A:
Clear but not crystal clear with a slight cloudy body, gold straw in color with average thick short-life white head, it yields some wee and tiny size of laces once receded, rather light carbonation.
S:
Sweet biscuity malt, mild buttery along with spicy floral hop.
T:
Soft malty on the palate, flash of lemony hop with a bit grassy note, spicy and floral are also derived from hop at the same time. The expected bitterness from hop is vague at first but continues to grow sip by sip along with hint of biscuity malt at the end of each tasting process.
M:
The body is light to medium, semi-smooth mouthfeel with some lively crisp from moderate carbonation, dry and clean finish.
O:
In fact I don't feel anything at first but it strangely develops on me after several sips. At least I would define it as above average lager with rather good hop quality.
929 characters
More User Reviews:
3.46
/5
rDev
+6.1%
look: 3.75 | smell: 3.25 | taste: 3.5 | feel: 3.5 | overall: 3.5
500ml can, with so much worldly (especially Asian) script on the label that I first had difficulty discerning this one's Belgian production origins.
This beer pours a crystal clear, bright pale golden yellow colour, with three fingers of puffy, rocky, and somewhat creamy bone-white head, which leaves some blotchy and sudsy lace around the glass as it quickly blows off.
It smells of bready and doughy pale malt, a subtle earthy yeastiness, mild Teutonic petrol notes, ethereal pome and aged lemon fruity esters, and some plain leafy, weedy, and dead grassy green hop bitters. The taste is crackery and grainy pale malt, further biscuity cereal essences, ephemeral Continental gasohol, an equally hard to discern Low Countries yeastiness, some muddled citrus and stone fruitiness, and more understated earthy, musty, and floral verdant hoppiness.
The carbonation is fairly active in its palate-pinging frothiness, the body a so-so medium weight, and not particularly smooth, what with the yeast and noble hops clumsily milling about. It finishes off-dry, the cereal malt and wan fruity character ruling the lingering day.
Overall, this is a rather mixed-up beast, to say the least - there's no such thing as a Belgian lager of any sorts listed on this site, so I can see why it exists here as it does. But if I had my druthers with this one, it would certainly be more German than Czech, which is splitting hairs, of course, as the yeasty component is all Belgian. Brave 'new' world, I suppose.
1,504 characters

2.69
/5
rDev
-17.5%
look: 3.75 | smell: 2.75 | taste: 2.5 | feel: 3 | overall: 2.5

3.07
/5
rDev
-5.8%
look: 3.25 | smell: 3 | taste: 3 | feel: 3 | overall: 3.25
A: Straw golden filtered, medium carbonation, a finger of off white head that quickly fades to a foam.
S: German pilsener hops and yeast, pineapple, hard water.
T: Water, malt, pizzeria fresh dough, a metallic background like very hard water.
M: Light body, medium carbonation.
O: Michael Jackson supposedly had highly recommended it so I had high expectations. Its fine, but really not outstanding.
403 characters
3.5
/5
rDev
+7.4%
On-tap 6/18/2014 at Track 84, in Warwick, RI served in a US tumbler pint glass.
A: The beer is a light yellow color, with a thin white head that fades slowly and leaves a thin lace on the glass.
S: The aroma is very faint but contains lager yeast, light caramelized malts and a touch of hops.
T: The taste starts out with some malt sweetness that is followed by mild flavors of caramel and citrus. Then some lager yeast and grain breadiness comes in. The hops presence is mild and brings some balance. The after-taste is slightly bready.
M: A little crisp and a little smooth, light-to-medium body, medium carbonation, finish is clean.
O: A little tasty, goes down easily, not filling at all, mild kick, good representation of style, it's a decent beer to drink if you're in the mood for the style but there are others in the style that I would pick first.
865 characters
2.9
/5
rDev
-11%
look: 3 | smell: 3 | taste: 2.5 | feel: 4 | overall: 3
I have come to associate a certain personality wiht Belgian Whites. There's the cloudy, light yellow appearance. Hints of banana and clove in the aroma and a tartness in flavor.
PAX sort of hit some of these. It poured with a fairly big head into my glass. I used an oversized pub glass so I really let it pour. The color was a hazy light yellow and that seems very nice.
I didn't really detect much of an aroma. Almost none. The flavor was more smooth than anything else. I can see why somebody else suggested white drinkers might like this beer. There was almost no tartness to this brew and that's almost the signiture flavor in a Wit to me.
Its a nice beer, but there are much better examples available to the masses.
730 characters
4.37
/5
rDev
+34%
look: 4 | smell: 4.5 | taste: 4.5 | feel: 4.5 | overall: 4
This beer poured a very hazy yellow color and formed a bubbly white head that left latticed lace as it subsided. Some carbonation and actual chunks of sediment are present. An aroma of hops, clove and banana. A flavor of hops, clove, banana and some bread/yeast elements. A slightly dry finish to it. I don't know if this is a special release or a renaming of their limburg wit.
378 characters
3.38
/5
rDev
+3.7%
look: 4 | smell: 3.5 | taste: 3.5 | feel: 3 | overall: 3
Pours a clouded straw gold with very little head. Nose is metallic with a good bit of yeast and some sugar there too. Flavor is tangy, but a bit too thin as it goes towards a metallic edge fairly soon and then gives you a really strong metallic aftertaste. Feel is nice with a thick body from ingredients but a milder carbonation. Overall this is a unique brew. However I think it lacks quality and a real strong positive character. Nice to try, but I doubt I will go back to it.
479 characters
3.96
/5
rDev
+21.5%
look: 4.5 | smell: 3.5 | taste: 4 | feel: 3.5 | overall: 4.5
Solid, if not standard, witbier. Hazy pale yellow with a big, pristine, virginal white head. Strong lemon zest aroma reminds of a citrusy salad dressing or lemon bars but seems to fade after a few sips. Flavor is similarly dominated by lemon zest and wheaty lightness. Pretty crisp on the finish. As with most beers in this style, packs a fair amount of punch in terms of flavor versus body. And this light-bodied brew goes down very nicely -- huge drinkability.
462 characters
3.84
/5
rDev
+17.8%
look: 3 | smell: 4 | taste: 4 | feel: 4 | overall: 3.5
Wan yellow beneath a spare head of white. Dreaded floaters. Pleasant nose of lime frosted donuts straight from the fryer, perhaps a roasted peanut in there as well. A draught brings tickly bubbles across the buds that leave behind a flavor trail of mild grain and chicory endive. Pretty good, probably excellent, if I had a freshie.
Thanks Evan!
348 characters
4.48
/5
rDev
+37.4%
look: 4.5 | smell: 4 | taste: 4.5 | feel: 4.5 | overall: 5
Pours out golden straw and sits bright golden-yellow in the glass with a good sized creamy white head. Fades to a decent skim with lacings all around. Solid looks.
Smells crisp, lightly malty with hints of lemon zest. Mild crackery core with grassy hop trimmings.
Tastes purely of crisp pils malt, dry and crackery, grassy hop flavors and hints of honeysuckle. Medium bitterness and clean, lasting finish.
Fairly light in the mouth, carbonation is moderate but giving. Crispness is its top quality.
A very nice pils, a summer sucker if you will. Definately check it out, it will not dissapoint. I realize there is not much to say about this, but as Pilseners go, that's probably a good thing. It speaks for itself in taste.
735 characters
Pax Pils from Brouwerij Cornelissen
Beer rating:
3.26
out of
5
with
13
ratings