Evening Star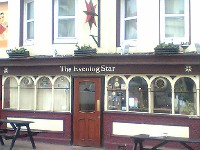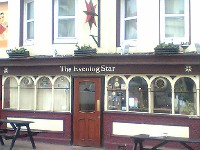 Bar
55-56 Surrey Street
Brighton
,
England
United Kingdom
01273 328931 |
map
eveningstarbrighton.co.uk
Notes:
beer_bottle from Colorado
4.42
/5
rDev
-3.5%
vibe: 3.5 | quality: 4 | service: 4.75 | selection: 5
Like the other reviews, this place is great, the beers are fresh and delicious, the staff are friendly and enthusiastic about the beers, the patrons all love their beer, be they regulars, business people or one off visitors. A must visit pub if you're in Brighton, even a swift half is worth it when there is no time before the train comes. Bravo for Dark Star!
Apr 22, 2014
BrewSomerville from Canada
4.46
/5
rDev
-2.6%
vibe: 4 | quality: 5 | service: 4 | selection: 4.5
The Evening Star was the original location of the Dark Star brewery. I had a tour of Dark Star's new brewery in Partridge Green and was told that the Evening Star was a must. I'm glad that I heeded to that suggestion.
It was a busy Friday night when I went. The place was packed. A good mixed crowd, old, young and everything inbetween... but there were more young people- university aged.
They had a bunch of Dark Star beers on cask of course. That was all that I wanted, but they also had some guest taps and an impressive bottle list that included some good U.S. craft beers, and Belgians.
The service was friendly and seemed to be enjoying themselves as much as the customers.
It's really a pub worth making a trip for.
Mar 01, 2010
swizzlenuts from Wisconsin
4.6
/5
rDev
+0.4%
vibe: 4 | quality: 5 | service: 4 | selection: 5
This is a small little pub right off the main road in Brighton. The place on Triple Karmeliet and Sierra Nevada Porter on tap, and then a range of Darkstar beers and some other Engllish ales. The place quite cheap for the beers they have. They have one small fridge with loads of beer in it, for a very good price.
The place is quite relaxed, but small. The place was full when I was there, but it was just all around a nice feeling. The people behind the bar didn't seem to knowledgeable; however, the owner and the owners wife do know quite a bit.
I fully enjoyed the pub, and it's almost worth drinking the entire day there.
Jun 01, 2008
TheLongBeachBum from California
4.8
/5
rDev
+4.8%
vibe: 4.5 | quality: 5 | service: 4.5 | selection: 5
The Last Steam Locomotive ever built by British Railways was No. 92220, 2-10-0 9F Evening Star....it's a long time since I saw that magnificent beast, but a recent weekend visit to London made for a long overdue and very welcome return to the Evening Star Pub. Ably managed and expertly run by BA's BeeryMatt (Matt) and MrsBeeryMatt (Karen), it was also a chance to have a drink on their own turf after having met them many times whilst at BA events & socials in New York. BA RichLightWeight and I headed down here on the train from London and met up with fellow BA LondonPorter for a whole days drinking.
Easily located, the Evening Star is only a short walk from the Railway Station. The dark purple and cream colored exterior reminded me of old Pullman carriage colors. A black & red eight pointed star hangs above the centrally located entrance. Has a real basic boozer interior, lots of bare woods and a comfortable atmosphere with some exposed brick walls. Inside, it doesn't seem to have changed too much from my rather faded memories, but it did seem to have an even bigger "beery" feel than before. Decked out with lots real wood, it opens into a main room with the wooden topped bar sitting to the back right hand side corner, small but perfectly formed, it leaves the main room with plenty of space to either stand at the bar or sit down at one of the many seats. I actually enjoyed sitting near the front windows before a spate of time when we sat outside at one of several picnic bench like seats. Bottled beers line the top of the walls and add yet more beery decoration. Clean functioning toilets are at the back of the Pub, whilst the interior is littered with adverts and posters for live music and beer related events.
The real treat here is the great range of beers. During my visit they had three regular Dark Star beers; 3.8% Hophead, 4.3% Greenwich Ivebin Piloct Ale and 4.7% American Pale Ale. Four Guest beers were 3.9% Milestone Golden Balls, 3.5% Timothy Taylor's Golden Best and 4.3% Ram Tam with the 5.0% Hammerpot Madgwick Gold rounding off seven Real Ales. The Dark Star 4.2% Oatmeal Stout and 4.5% Natural Blonde was also on tap along with Bocq Blanche De Namur, Leroy SAS Pils, Jacobins Kriek and Hartmann Bock from Germany. Also has a Real Cider, Thatcher's Medium. The bottled beer range is very impressive. A cooler behind the bar contains around 25 Belgian and Dutch brews, including a few 750's, alongside 10 German beers. The range and depth is excellent, including many traditional lambics from Cantillon as well as the lovely Rulles Cuvee Meilleurs Voeux. A superb range of fermented libations that includes something for everyone. The range is consistent and all at good prices. The quality of beers is first-rate, which no doubt contributes to the fact that the Evening Star has been the winner of many awards from the local CAMRA branch which include recently being voted Brighton & Southdowns Pub of the Year in 2006.
Service was excellent, very friendly, helpful and knowledgeable staff really adds to the quality here, as well as the awesome mine hosts Matt & Karen. Food is limited to Baguettes but the Seabrook Crisps are recommended. If you are here for the day, my suggestion would be to nip out and walk back to the Train Station. I did and my visit to the Marks & Spencer's on the platform there netted a whole bag of great sandwiches that we all shared whilst watching the England-Ecuador WC game in the private members club upstairs!!
The Evening Star has a few local characters of note, all very friendly and great people to meet, it would be amiss of me not to mention the most famous of these, Seamus, or fooin' Seamus, as he seems to be known, a great guy who has a very cool trick where he waters his feet with beer without even looking. You should say hi to him if you are visiting here, just don't stand too close if he has a beer in his hand.
I spent a very happy day here, some 10 hours in all, and I could have stayed longer except for the fact that we had a train to catch. A *big* thanks to the BeeryMatt's for the tremendous hospitality and running a great Real Ale pub and all round beer drinkers paradise!
Well worthy of a full days drinking session in its own right. Do not miss!
Last Visit: Sunday 25th June, 2006.
Jul 10, 2006
wl0307 from England
4.6
/5
rDev
+0.4%
vibe: 4 | quality: 5 | service: 4 | selection: 5
A trip to Brighton (for a beer lover) can never be complete without a visit to this pub. Simple as that.
One of my favourite pubs when living in Brighton b/w 2000 and 2004. A paradise for real ales, if not least for Dark Star's range of delicious real ales. This place was where Dark Star all started from scratch; back in brewpub days, they used to all the chemistry experiments at the lower ground floor. Nice selection of no-nonsense Belgian bottled beers, too (30+?), thanks to Matt's professionalism. I've almost never had a bad pint there, and always I'd find something interesting by micros at some remote corners of Britain on the hand pulls, if I dare to ever feel bored of Dark Star's beers~~ Three to four guest real ales constantly, three to four Dark Star's nectars on handpulls on top of three other beers on tap (Spice Vice, Espresso Stout and something), plus one or two real ciders (in really good form, even though I'm not a big fan of fermented apple juice myself), and two to three Belgian beers on tap. In total you get at least 10 and topping 14 beers+ciders arranged at such a small bar you'd certainly feel you're in paradise if you're not blind!!!
The atmosphere, well, depends on different preference. My mate thinks it's too masculine, whereas I find it quite friendly as I usually went there in the afternoon and had a small chat with different people, quite some of whom are one-day visitors to Brighton themselves. Sometimes there are good live Rock performances, and can get incredibly crowded in the evening. Plenty of CAMRA members around too, with info. about beer events dispersed all over the pub. Overall, I'd say a beer lover could not be let down by this place, only could a beer-ignorant bring shame on it if abusing alcohol too much.
So if you're travelling to London, with more than two days, pay a visit to this Metropolitan-by-sea, Brighton, and this little gem for ales. You'll definitely regret it ... if you miss it.
Oct 25, 2005
Evening Star in Brighton, GB2, United Kingdom
Place rating:
4.58
out of
5
with
5
ratings