Brunehaut Organic Belgian Amber Ale

Brasserie De Brunehaut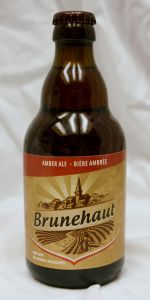 Rate It
Beer Geek Stats
| Print Shelf Talker
Style:

ABV:

6.5%

Score:

Avg:

3.52

| pDev:

11.93%

Reviews:

7

Ratings:

From:

Avail:

Rotating/Seasonal

Wants

Gots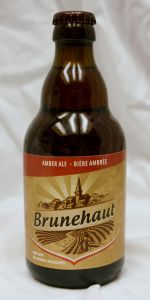 Notes:
Reviews by PorterLambic:
PorterLambic from Florida
2.52
/5
rDev
-28.4%
look: 3.75 | smell: 2.25 | taste: 2.25 | feel: 3.5 | overall: 2.5
Pours a cloudy, dark copper color with a huge off-white head. Dissipation is even and leaves a copious amount of lacing behind.
Smell is notes of a fruity sourness (cider vinegar-like almost), malt, green wood. Not exactly what I expect from an amber.
Taste is very much like a Flanders Red with a lot less fruit to it. Malt and wood notes, sour with some apple behind it.
Medium-ish body with a near medium effervescence. Slightly warming. I really like it - it reminds me of Flanders reds and non-fruit lambics - but it misses the style parameters by a wide margin. I reviewed it with that in mind, not with how much I like it.
Nov 03, 2014
More User Reviews:
metter98 from New York
3.49
/5
rDev
-0.9%
look: 4.5 | smell: 3.5 | taste: 3.5 | feel: 3.25 | overall: 3.25
A: The beer is somewhat hazy amber in color and has a high amount of visible carbonation - the bottom of the glass continually emits large puffs of bubbles, similar to a smokestack of a steam engine. It poured with a massive two finger high dense off white head that died down, consistently leaving a short head covering the surface and a coating of bubbles down the sides of the glass.
S: Light to moderate aromas of yeast are present in the nose along with hints of caramel and toffee.
T: Similar to the smell, the taste starts off rather yeasty and has hints of toffee and associated sweetness. There are also some metallic notes. No bitterness is perceptible.
M: It feels light- to medium-bodied and quite airy on the palate from a high amount of carbonation.
O: This beer has a fantastic appearance, but is very much too carbonated and could use more in the way of malts to lend flavors and body.
Serving type: bottle
Sep 03, 2015

chinchill from South Carolina
3.59
/5
rDev
+2%
look: 3.75 | smell: 3.5 | taste: 3.5 | feel: 3.75 | overall: 3.75
330ml stubbie bottle served in a Belgian snifter. No indication of gluten free on this 2012 bottle of "Amber Ale".
Pours hazy, copper colored with a semi-durable beige head.
Aroma: Caramel malts a touch of spicy hops, hints of vanilla, butterscotch and ripe fruits.
Flavor: toffee, dark fruits, a whisper of vanilla. butterscotch and light spices.
Feel: lively but fairly soft carbonation; near medium body; a tiny bit astringent.
O: solid and interesting but bettered by a number of others.
Jun 03, 2015
RonaldTheriot from Louisiana
3.72
/5
rDev
+5.7%
look: 3.25 | smell: 3.75 | taste: 3.75 | feel: 3.75 | overall: 3.75
Brunehaut Amber Ale has a medium, beige, very crackly head, a murky, lighter brown, highly bubbly appearance, and a low level of lacing left behind. The aroma is of brown bread and caramel candy. Taste is of those elements, plus some citrus and a metallic hop note. Bitterness is low. Mouthfeel is medium and prickly. Brunehaut Amber Ale finishes semi-dry and very easy drinking.
RJT
Mar 16, 2015

Radome from Florida
3.44
/5
rDev
-2.3%
look: 4.25 | smell: 4 | taste: 3 | feel: 3.25 | overall: 3.5
Poured from a 30 ml bottle into a globe glass. My bottle does not say "Organic", but it does say "Made with Eco-Friendly Ingredients".
L - Burnished copper color with just a hint of haze. Streams of carbonation bubbles constantly rising. Off-white head is thick, creamy and moussy. It remains as a thin but complete cap over the beer and sheets of gooey lacing.
S - Malt aroma that is a mix of pilsner grain and low caramel. No obvious hops or alcohol. Some Belgian yeast notes as green apple and faint bubblegum. Overall a clean and fresh impression.
T - Flavors are flat and uninteresting compared to the aromas. Not much there except a strong, slightly roasted American brown ale-like flavor in mid-palate. Fairly dry finish.
F - Medium body. Prickly, slightly harsh carbonation. Low alcohol presence. Low-medium hops bitterness.
O - This is an OK Belgian ale with some good points but the biggest flaw is a one-dimensional and uninteresting flavor profile.
Dec 07, 2015

desint from Belgium
3.08
/5
rDev
-12.5%
look: 3.75 | smell: 3.25 | taste: 3 | feel: 3.25 | overall: 2.75
Sep 26, 2017

henkmudi from Croatia (Hrvatska)
3.83
/5
rDev
+8.8%
look: 3.5 | smell: 4.25 | taste: 3.75 | feel: 3.5 | overall: 3.75
Hazy amber with a small off white head. Aroma is moderate malty, light hoppy, floral wit hint of cherry pulp. Prickly and medium bodied with a lot of carbonation. Orange at first, caramel later leading to a dry finish. Hint of sweet honey, also traces of alcohol resembling cherry liker.
Nov 13, 2014

Bogdawg from Massachusetts
4.21
/5
rDev
+19.6%
look: 3.5 | smell: 4.25 | taste: 4.5 | feel: 3.75 | overall: 4
Jan 19, 2015
Arthuros from France
3.54
/5
rDev
+0.6%
look: 4 | smell: 3 | taste: 4 | feel: 3.25 | overall: 3.25
Organic amber beer, not the tastiest but decent.
Aug 18, 2015
intarat from Thailand
3.27
/5
rDev
-7.1%
look: 3.75 | smell: 3 | taste: 3.25 | feel: 3.25 | overall: 3.5
Nov 21, 2015

Beginner2 from Illinois
3.72
/5
rDev
+5.7%
look: 3.75 | smell: 4.25 | taste: 3.5 | feel: 3.25 | overall: 3.75
I think this ale's ratings are beaten up because people are getting a taste of a gluten-reduced beer and don't know it.
Their website (the English version) shows a label that is gluten-free (in addition to being organic.)
I haven't researched U.S. label requirements, but I suspect Brunehaut can't meet the U.S. criteria so the label doesn't display that gluten is gone. So, we are drinking a funny tasting beer.
And it is funny tasting, but I also can detect some artful work. First, the yeast jumps at me aromatically and says "Belgian."
Fruity, a sweet-sour Granny Smith and a bit of spice. The Taste comes in the same way, but then the absence or reduction of gluten puts us outside of what we know... and the not-so-good ratings pile up. Some reviews call it "astringent" and it probably is... but my guess is that the gluten is gone. Simply, something good comes from letting barley do its thing.
We might consider asking BA to put this into a gluten-free category... which I'm guessing could include the rice beverages.
But that is just a thought that might be academic. My bottle is three years old from Binny's: indicating it isn't selling well.
But Overall, Brunehaut Amber proves my frequent comments about Belgians: "It's the yeast !"
Dec 07, 2016
Brunehaut Organic Belgian Amber Ale from Brasserie De Brunehaut
Beer rating:
81
out of
100
with
11
ratings