Brunehaut Blanche

Brasserie De Brunehaut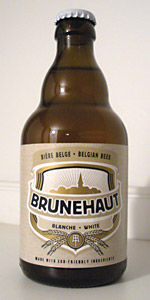 Rate It
Beer Geek Stats
| Print Shelf Talker
From:

Style:

ABV:

5%

Score:

84

Avg:

3.61

| pDev:

9.7%

Ratings:

Status:

Retired

Rated:

Nov 17, 2015

Added:

Mar 01, 2005

Wants:

Gots: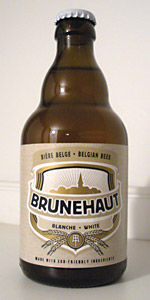 Recent ratings and reviews.
| Log in to view more ratings + sorting options.
Ratings by spycow:

3.62
/5
rDev
+0.3%
look: 3 | smell: 3.5 | taste: 3.5 | feel: 4 | overall: 4
by spycow from Illinois
11.2 ounces poured into a Pilsner glass.
A: Poured a white/pale color with a hazy appearance. Left a good bit of head that settled but never fully dissipated.
S: The smell was typical of a white wheat ales. You could smell the citrusy/lemon notes along with the smell of herbs, floral, and other spices.
T: The first sip went down well. A little sweeter than typical white wheat ales. The sour and citrusy notes did come out. Hints of lemon and pineapple. You could taste a little hoppiness but finished well. It left a nice citrusy aftertaste that didn't hang with you for too long but long enough for me.
M&D: Slightly carbonated feeling which is typical and easy to drink in warmer weather. Similar to Hoegaarden but lacking some of its complexities. Still drinkable and recommended.
It was $4.49 a bottle so a little expensive. Hoegaarden is still a better deal for this style.
Apr 05, 2009
More User Ratings:
3.48
/5
rDev
-3.6%
look: 3.75 | smell: 3.25 | taste: 3.5 | feel: 3.75 | overall: 3.5
by biboergosum from Canada (AB)
330ml, squat as ever bottle, a sort of straggler to its siblings who have been hanging around here for a long while. In case the 'barley malt' on the label is scaring you, it's actually a 'deglutenized' version - feel any better now?
This beer pours a slightly hazy, pale golden yellow colour, with two fingers of puffy, loosely foamy, and fairly fizzy bone-white head, which leaves some atomic bomb ocean test plumes of lace around the glass as it slowly and lazily recedes.
It smells of gritty, rather musty pale malt, wheat, and yup, hard to pin down but you know they're there alterna-grains (this time, we're talking millet and buckwheat), some zesty white pepper and coriander spice, a twinge of underripe lemon peel, dead yeast, and a kind of soapy and floral bitterness. The taste is bready, wet crackery malt, the pale and wheat strains thankfully starting to really assert themselves, muddled earthy spice, understated lemon and orange rind fruity notes, ethereal banana chips, and more floral, leafy, and somewhat soapy hoppiness.
The carbonation is nice and fluffy in its low-key frothiness, the body an adequate medium weight for the base style, and generally smooth, the yeast and that weird soapiness taking the luster off a bit. It finishes trending dry, but not without a lingering dose of the varied malt characters that went into this one with eyes wide open.
Overall, not the most classic witbier out there, as the various mangling efforts can't help but have that sidestepping effect. Not too difficult to drink, though, especially if you're gluten-challenged, and you'd still like to enjoy a simulacrum of a Belgian brewing staple.
Nov 17, 2015
3.75
/5
rDev
+3.9%
by patre_tim from Thailand
A: Cloudy lemonade yellow with floating particles of yeast within, 3 fingers of white head, this one was a gusher.
S: Coriander and lemon zest. It hits the nose like wet snow when a spring thaw comes.
T: Lemon zest, orange peel, rust, coriander seed. Light fruitiness, Belgian yeasts, a slight strength of aged cheese without the stink or funk.
M: Light body but not watery, full of substance. Lots of fine foamy carbonation.
O: A fair witbier, my first Bio. Drank in Chiang Mai Dec 10th, 2014.
Dec 10, 2014
3.95
/5
rDev
+9.4%
look: 4 | smell: 4 | taste: 4 | feel: 3.5 | overall: 4
by DKter from Georgia
I did a tasting of 14 gluten-free beers, and this was my favorite, just edging out Green's Endeavor. It's made with barley by the gluten count is <5 parts per million. It tastes like a solid Belgian trippel. Good news for anyone who can't consume gluten.
Mar 07, 2012
3.7
/5
rDev
+2.5%
look: 3.5 | smell: 3.5 | taste: 4 | feel: 3.5 | overall: 3.5
by sfprint from Germany
exp: aug 2012
a: nearly completely transparent, slightly apricot yellow color, not much of a head, even small carbonation uniform
S: not so sweet witbier, not so fragrant but whats there is nice, slight peachy/apricot,
T: not so sweet but nice. kinda like an unsweet soda, nice relatively unsweet citrus flavor, light, implies pineapple.
M: a hair dry, very mild carbonation
O: good, straight, unique, but not a wower.
Jan 04, 2012
4
/5
rDev
+10.8%
look: 4 | smell: 4 | taste: 4 | feel: 4 | overall: 4
by RuudJH from Netherlands
Belgian bio beer, this one is a good example of the witbeer style, and worth sampling and sipping.
Colour pale golden, or dark lemon. Cloudy when poured out the complete bottle. Good fluffy big head, good carbonation.
Smell and taste is pleasant mild, but clearly citric hops and white bread. Aftertaste does linger well. The alcohol is covered ok, and the mouthfeel is surprizingly full. Refreshing due to the carbonation.
This beer could be a bit more complex. F.i. there could be more spicyness.
Overall however, it's quite good. All the ingredients are good quality, and you can notice it.
Jun 10, 2011

3.5
/5
rDev
-3%
look: 3.5 | smell: 3.5 | taste: 3.5 | feel: 3.5 | overall: 3.5
by BeerAdvocate from California
Review from BeerAdvocate magazine Vol. II Issue X:
New Belgo on the block, or at least new to our eyes. Snap-crackle-pop white head dissipates to a thin lacing, though a quick shake of the glass brings the head right back up; the murkiness in this yellow-colored brew is caused by the traditional swirling of the yeast into the glass. Slight floral, spicy and faintly soapy aroma with a mild, chalky, fruity yeast in the back. The smoothness runs somewhat deep for the moderately sized body and uncovers a refreshing crispness that has a bit of a snap. Mild spicy flavor lets the subtle, dry maltiness and yeast clutch the taste buds with dough biscuit undertones. A small dollop of pear and papaya fruitiness middle to end with a quick flash of bitterness. Finishes with a bit more spice and leans toward the dry side.
Definitely one of the most balanced White Ales we've run across; no excessive soapiness or fermentation funk, which makes for easier drinking. Worth a try if you are on the hunt for a different selection within this style.
Sep 20, 2010
3.88
/5
rDev
+7.5%
look: 4 | smell: 3.5 | taste: 4 | feel: 4 | overall: 4
by ADZA from Australia
This brew pours a pale golden straw colour with average carbonation that leaves a fast vanishing one finger head and hardly any lacing at all,the aroma is quite sedate but nice with an orange perfumy,wheat character about it,it has an above average mouthfeel with tastes of spicy oranges,bananna,wheat and also a hint of mango and it finishes quite dry and crisp and is very thirst quenching on a nice warm day like today,to be honest i can be pretty fussy about my witbiers as i find some are very hit and miss but for me this is spot on and could drink it all day.
Mar 07, 2010
2.55
/5
rDev
-29.4%
look: 3 | smell: 3 | taste: 2 | feel: 2.5 | overall: 3
by pinotboy007 from Virginia
A - Cloudy goldish with a modest head that dwindled rapidly. No lace of which to speak. Obvious carbonation.
S - Flat w/wheat and lemon.
T - Modestly sweet w/ some banana, apricot, and that's about it. Maybe some pepper.
M - Thin and uninspiring; a tad watery, too.
D - Somewhat refreshing, and probably would be decent on a hot Virginia day but otherwise not worth seeking out. It's probably better on-tap.
May 03, 2009
3.74
/5
rDev
+3.6%
look: 4 | smell: 2.5 | taste: 4 | feel: 4 | overall: 4.5
by Morbo from Illinois
Pours a pale and cloudy yellow with about an inch of fluffy snow-white head that fizzles down to just a ring in a couple of minutes. Lively carbonation bubbling up all the way until the last sip.
The nose is kind of flat and bland. A twang of wheat, some lemon, and herbal spiciness.
Immediate sweetness on the tip of my tongue and then a parade of fruit: banana, apricot, and lemon-y sourness. Powdery yeast lends some dry earthiness. Finishes peppery with a hint of tea-like hops. As it warmed it left a lingering bitterness on the back of my tongue that felt a bit out place.
Light and crisp with generous carbonation makes for a very drinkable beer and the dry finish makes another sip all the more attractive.
Feb 06, 2009
Brunehaut Blanche from Brasserie De Brunehaut
Beer rating:
84
out of
100
with
14
ratings