Valsviken Vinterporter
| Nynäshamns Ångbryggeri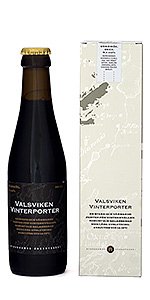 BEER INFO
Brewed by:
Nynäshamns Ångbryggeri
Sweden
angbryggeri.se
Style:
Baltic Porter
Alcohol by volume (ABV):
9.10%
Availability:
Winter
Notes / Commercial Description:
No notes at this time.
Added by rarbring on 10-05-2010
Reviews: 13 | Ratings: 18
4.42
/5
rDev
+13.6%
look: 4 | smell: 4.5 | taste: 4.5 | feel: 4 | overall: 4.5
Big thanks goes out to cmrillo for sharing this one! Served from bottle into a Mikkeller taster flute. Poured a dark murky brown with a minimal off-white head. Maintained decent lacing throughout the glass. The aroma was comprised of sweet malt, dark fruit, wood, sweet alcohol, and subtle sugar. The flavor was of sweet malt, dark fruit, port, wood, and subtle sweet alcohol. It had a medium feel on the palate with medium carbonation. Overall this a pretty good brew. The flavor was really nicely balanced on this one as well as the aroma. A really well put together brew that I would love to have again. I suggest you do the same.
633 characters
4.4
/5
rDev
+13.1%
look: 4.5 | smell: 4.5 | taste: 4.5 | feel: 4.5 | overall: 4
Bottle (25cl), pours viscous and opaque near black brown concentrated core with a diminutive off-white head.
As anticipated the nose is evidently malt-dominated, crammed with intricate aromas. Darker roasted malts, reminiscing foremost dark chocolate and coffee, while this beer contains seven different malts. A touch of smoke, apparent charcuterie hints along with a bourbon stout-like vanilla and wood. And as a bridge to all them murky aromas, there's this divergent ripe fruit tone I would describe as yellow sour apples.
This beer is substantially thick with a notable velvety mouth feel. Still there's flavor strength and slight alcoholic sweetness to both backup and the latter, contribute to the enormous malt body. The mid-palate is where this beer truly shimmers. Here's the first recollection of hop based characteristics; fresh grass along with a really mellow and harmonious carbonation. Apart from the hop characteristics I feel that the palate is a reproduction of the nose. The beer finishes with a dash of mild bitterness, contributing to the overall structure and end of this chronicle.
Outstanding stuff and strict personally yummy. Amazing thought-provoking transaction throughout the palate. Some may say it is too rounded and stout-like, but this is again right up my alleyway. Concentrated, fat, big and complex, especially in malt flavors. Perhaps the top Christmas beer I quaffed this winter. Longing to pour another from the same vintage next year. http://quaffable.org/?p=258
1,506 characters

4.36
/5
rDev
+12.1%
look: 3 | smell: 4.5 | taste: 4.5 | feel: 4 | overall: 4.5
A big thanks to forgetfu for this as an extra. 25cL brown glass pry-top bottle. Label notched 1/12.
Pours a thin black with very little off-white head. Nose is super dark and filled with roasty aromas and dried, leathery fruits with a little vanilla rounding things out. Smells like a bourbon-barrel aged stout, actually.
Palate is wide and sticky. Heavy heavy for a porter, more like a stout really. Flavors line up with the bourbon-bal stout aromas with roasted black malts, black vanilla beans and dates, figs, prunes, plums, tar, tobacco, and leather. Long fiish, sweet up front with some bitterness rounding things out on the finish. On the sweet side though.
Notes: Wow, what a killer little beer. I've heard this gets some hype overseas and I can see why! A must FFO big black beers!
793 characters

4.29
/5
rDev
+10.3%
look: 3.5 | smell: 4.5 | taste: 4.5 | feel: 4 | overall: 4
This is a live review as I drink. Poured from a 2010 bottle into my GABF tasting glass at cellar temp - 25 CL fits just perfect. Rec'd in International BIF from baggio
Pours very black with a very thin head which disappears fairly quickly.
Nose is mostly of dark fruit and some roasty malt.
Taste begins with a bit of sweetness, followed by a mild bitterness.
Carbonation is quite low, which is fine for me. Seems a bit thin at first, but quite enjoyable. Quite easy to drink, maybe too easy.
I loved this beer and would love to have another to put down for a few years. 25 CL is just the right size for a beer of this ABV since I was not sharing it with anyone else.
672 characters

4.2
/5
rDev
+8%
look: 4 | smell: 4 | taste: 4.5 | feel: 4 | overall: 4
Served at roomtemperature into a snifter.
A: Intact darkness. Really pitch black. A small brown coloured head witch quickly dissipates.
S: Lots of chocolate. Then also raisins, soy sauce, butterscotch, alcohol and liqourice.
T: Dark bitter chocolate, salt liqourice, soy sauce, ocean (salt water). Sweet aftertaste with roasted notes of coffee.
M: Smooth and robust. Light carbonation and gives a warm feeling.
O: This is a beer that demands it´s time. There´s a lot going on here. And it really is a perfect winter beer, the tastes and the warmth fits perfectly in the dark and cold winter days.
I would love to age this one. Great beer allthough it does not really reach that sensational feeling you get with some beers, a little too safe perhaps.
758 characters

4.01
/5
rDev
+3.1%
look: 3.5 | smell: 4.25 | taste: 4 | feel: 3.75 | overall: 4
250ml bottle poured into HF sherry glass. Thanks Gnosis for this cool little bottle from Sweden. I think this is a '12 but not positive.
A- Cap cracks off with just a slight hiss. Pours a fairly dark black that is fairly flat without pretty much any head to speak of and a perfectly still top. Despite the lack of head there is still some slight noticeable carbonation.
S- Aromas of caramel, light molasses, a very faint hint of charred oak, and a considerable amount of dark fruits consisting of raisins, plums, dates, port, and a little bit of leather. Not overly aromatic but one of the more complex porters that I've encountered.
T- Raisins, caramel, hint of molasses up front. Finishes with a bit of dry baker's chocolate, very light fudge, more raisins, a hint of grapes, and subtle but smooth molasses. Flavors could be brought out a little bit more, but nice complexity.
M- Just a hint of acidity up front (might be from a bit of age), a bit on the thin side, fairly flat, despite all that the mouth-feel isn't bad and is quite smooth.
O- This was a unique beer that I quite enjoyed despite it's minor shortcomings. Definitely wasn't anything that blew me away but I liked the complexity and how smooth it was. If they could only find a way to carbonate this and bring out the flavors a bit more this could be a world class beer.
1,343 characters

3.88
/5
rDev
-0.3%
look: 4 | smell: 3.5 | taste: 4 | feel: 4 | overall: 4
A: Black with hints of red. The small beige kind of thin head sinks into quite nice lacings.
S: Roasted sweet malts; chocolate and coffee. dark dried fruits.
T: Really nice sweet cyrupy malt. Dark dried fruits. Strong black coffee.
M: Long bitter bone-dry aftertaste. Body is full and carbonation is moderate.
D: A really nice and warming Porter.
352 characters
3.67
/5
rDev
-5.7%
look: 3.5 | smell: 4 | taste: 3.5 | feel: 4 | overall: 3.5
Got this one from dboon a while back. Thanks man!
From a 25cl bottle into a snifter
Vintage 2013
APPEARANCE: A clear black pour yields a one finger, thicker, creamier, light tan head with good retention. Head slowly fades to a full thin wisp with a bubbly cap. Black body with no carbonation evident. A bubbly ring remains until the end but leaves no lacing down the glass.
SMELL: Roasted malts, tobacco, molasses, some chocolate and lots of dark fruits on the nose. Bold and pretty well integrated. Very fruity for sure.
TASTE: Roasted barley, molasses, tobacco and dark fruits up front. Lots of plumbs, dates and raisins with leather at the swallow, moving into a bold and persistent finish of sweet dark fruits, tobacco, molasses, leather and some light, bitter roasted notes. Much fruitier and less chocolate than the nose had indicated, but plenty complex.
PALATE: Medium body and medium levels of carbonation. Creamy on the palate, goes down slick and finishes sticky. No heat lingers.
OVERALL: A well made strong porter. This is quite similar to other imperial stouts from this continent, as they tend to lean more towards the tobacco, leather, fruity character of the style. The lower level of carbonation is a hallmark trait of European imperial stouts as well, which I can appreciate. As far as flavor goes, however, this is not necessarily my bag of tricks, but I can appreciate the craftsmanship here for sure. Thanks again dboon!
1,453 characters
3.65
/5
rDev
-6.2%
look: 3.5 | smell: 3.5 | taste: 3.5 | feel: 4 | overall: 4
Received in a trade with Bo. Thanks for the interesting assortment.
a- pencil thin head that dies down to a barely noticeable film. reddish-mocha ring around the liquid. Color is dark, dark brown.
s- doughy, oats, faintest tint of fig and vinous scent.
t- mild chocolate, even milder dr. pepper, no hop to speak of, no bitternes or acid, no smoke. that being said, I feel as though this beer is flavorful with a touch of fig and sherry off in the distance. all in all though it's pretty subdued.
m- nice, soft carb. not too thin or heavy. pretty nice.
d- is good as well for a 9% beer.
I might not seek this one out again but only because there are so many good beers to drink out there. I am happy I got to try and would recommend it to anybody that's curious.
769 characters
3.6
/5
rDev
-7.5%
look: 4 | smell: 4 | taste: 3.5 | feel: 3 | overall: 3.5
This porter is very dark in color. No light passes through the liquid and the ½ finger light-brown head quickly fades away. An elegant looking beer this one.
A very heavy smell hits your nose. It's got a thick feel to it with butter, hazelnuts, dark chocolate and loads of figs and other dark dryed fruits.
As with the smell there's a lot of flavour as well. First some sweetness from the figs, then the hazelnuts makes for a drier flavour only to be over run by the cacao.
The liquid is smooth with very low carbonation, all good so far. But the flavour is not very good balanced. It's just too much and frankly, it does not make for a very good match.
This is still a very special brew, but one bottle of 250 ml is enough for me.
740 characters
3.46
/5
rDev
-11.1%
look: 4 | smell: 3 | taste: 3.5 | feel: 4 | overall: 3.5
The beer is very dark, almost black with hints of ruby, a tan head that leaves a small lacing. Curtains are seen.
Smells sweet, candy-like, banana, then a bit of sour cream and burnt toast.
The taste is mainly sweet brown bread, dried fruits, raisins and figs, vinous, sherry and a mild bitterness.
Little carbonation, soft and round, in all smooth to drink.
Very different smell and taste, somewhat confusing. Wonder what will happend after storing a few years?
Bottle at Stockholm Beer Festival 2010.
517 characters
3.44
/5
rDev
-11.6%
look: 2.5 | smell: 3.5 | taste: 3.5 | feel: 3 | overall: 3.75
25 cL bottle poured into a snifter.
Appearance - Black body. Not much of a head. Some large bubbles.
Smell - Molasses and dark chocolate. Sweet caramel and a nuttiness.
Taste - Lots of roast. Molasses, brown sugar. Moves into a darker coffee roast. Roasty bitter finish with equal amounts of brown sugar.
Mouthfeel - Low carbonation and medium heavy. A little sluggish.
Overall - A little uneventful and maybe doesn't deliver on flavor for its size.
461 characters
3.24
/5
rDev
-16.7%
look: 3 | smell: 4 | taste: 3 | feel: 2 | overall: 3.5
The head is finger thick and deep brown. It sinks quite slowly, leaving no lacing. The colour is jet black (100 EBC).
A flavour of strong wine (Madeira/sweet Sherry) dominates the smell. Some alcohol. Hints of sweet almonds, dried apricots, cream. It reminds a lot of an English barley wine.
The taste is sweet with quite a lot of dry strong wine notes. Dried fruits and some oxidized raisin flavours, hints of dry roasted malt. The aftertaste is sweet with some matured flavours and a mild bitterness.
The carbonation is medium strong, the bubbles large. The liquid is unbelievable thin for a beer of this strength.
I don't get this beer at all. If I had to review it at a homebrewer competition, I would probably written something like "use a little less colour malt and enter the barley wine style next time". As a barley wine, it is an interesting (although still too thin) beer. As a strong porter? No.
915 characters
Valsviken Vinterporter from Nynäshamns Ångbryggeri
3.89
out of
5
based on
18
ratings.