Tjockhult Tjinook

Nynäshamns Ångbryggeri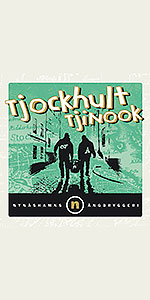 Rate It
Beer Geek Stats
| Print Shelf Talker
Style:

ABV:

5.1%

Score:

Avg:

3.81

| pDev:

11.55%

Reviews:

11

Ratings:

From:

Avail:

Year-round

Wants

Gots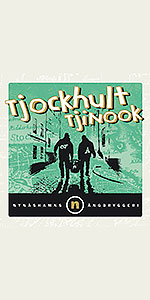 Notes: Hopped with 3 American hop varieties; Chinook, Citra and Centennial.

Sold exclusively at Stockholm beer bars Akkurat and Oliver Twist.
smcolw from Massachusetts
3.91
/5
rDev
+2.6%
look: 4.25 | smell: 4.5 | taste: 3.75 | feel: 3.25 | overall: 3.75
This beer looks beautiful. It is clear and dark gold in color. Decent starting head that never completely fades. Chunky lace on the glass that is just shy of a blanket.
I really like the smell. It is a cross between soft pale ale malt and gentle floral hop. An excellent blend.
The malt is drier on the tongue. It's a bit astringent. The hop also comes on a bit more aggressive than the smell suggests. More like black pepper. I don't like the body--it's thin and higher carbonation.
Jul 12, 2015

craftbeersweden from Sweden
3.3
/5
rDev
-13.4%
look: 4 | smell: 2.75 | taste: 3.5 | feel: 3 | overall: 3.5
(To) old beer from my beercellar. Best before October 2013.
Hazy dark yellow with two finger high, white head. A lot of carbonation.
Citrus, pine and caramel malt in the nose.
Taste: Grass, grapefruit, hops with a pretty high bitterness. Pretty nice, even though it's a bit old!
Jul 17, 2014

Evil_Pidde from Sweden
3.52
/5
rDev
-7.6%
look: 3.75 | smell: 3.5 | taste: 3.5 | feel: 3.5 | overall: 3.5
A: Clear golden pour, no bubbles. The medium-tall white head is a bit uneven. Nice lacings, though.
S: Dark dried fruits up front?!?! Sweet malt and some bitter hops. Oranges and grapefruits.
T: Floral hops brings fruit. Bitter hops. Bready sweet malt. Raspberries and butter. Nettles and hay. Crisp-bread.
M: Long bitter after taste. Body is medium and rather smooth. Carbonation is on the milder side for this style.
O: A bit milder than I would have guessed. The malt is the best part in this beer.
Jul 17, 2013

mltobin from Connecticut
3.88
/5
rDev
+1.8%
look: 4 | smell: 3.5 | taste: 4 | feel: 4 | overall: 4
Served on-tap at Oliver Twist on Soderholm.
Appearance is copper with a finger of head that remains for a little while. Its` nose has grapefruit, malts, hops and all around sweetness. Tipping back this beer and right away I am impressed at how flavorful it is, especially when compared to many other beers from Sweden in the same style. It almost tastes like some of the great APAs being put out right now. Hops, pine and more citrus come across in its` flavor profile. Mouthfeel is medium with a bitter finish. Overall, a nice beer. It is nice to see that Sweden`s craft beer scene is continuing to evolve.
Sep 27, 2012

JamFuel from Sweden
4.09
/5
rDev
+7.3%
look: 3.75 | smell: 4 | taste: 4.25 | feel: 4 | overall: 4
Pours a clear amber, lovely head of foam.
Smell is malty with a bit of resin and pine.
Taste is soft and malty upfront, slightly sweet. Then comes a soft hoppiness, that incororates so well with the base. Balanced AF.
Mouthfeel is medium, nice carbonation.
Overall, this is one of the best hoppy lagers out there. It lets the maltbase speak before bringing on the hops, and doesn't overdo the bitterness. Balanced, and tasty as hell.
Aug 25, 2012
eriktoyra from Sweden
3.92
/5
rDev
+2.9%
look: 3.5 | smell: 4 | taste: 4 | feel: 3.5 | overall: 4
A: The two finger high and off-white head is thick and firm. The liquid is copper colored and crystal clear.
S: Nice tones of oranges and grapefruit peel. There is also a some sweet pineapple tones which is balanced up by a distinct pine forest smell at the end.
T: Tastes dry oatmeal biscuits and honey at the end. The hops are more floral than spicy with a nice citrus character.
M: Very drinkable. Medium carbonation with medium body.
O: This is a good beer, no doubt about that. It is well balanced and smells really good.
Aug 17, 2012
DrinkSlurm from New York
4.12
/5
rDev
+8.1%
look: 4 | smell: 4.5 | taste: 4 | feel: 4 | overall: 4
Poured from tap into champagne/pilsner type glass at Oliver Twist in Stockholm, Sweeden. This beer is said to be a collaboration between Oliver Twist and Akkurat with Nynashamns Angbryggeri...and can only get it on tap in/around stockholm or just those 2 bars...cant remember. Anyway, its excellent.
Pours a nice healthy orangey golden color with a thick thick head. Very pine-hop forward aromas, slight sweetness to it. Similar for the taste. Very hop=forward flavors, slightly sweet, but slightly bitter. I am very surprised to see it listed as an Americal Pale Lager though...this drinks like an IPA - but without the high ABV. Nice flavorful session brew.
Aug 07, 2012
bark from Sweden
4.33
/5
rDev
+13.6%
look: 4.5 | smell: 4 | taste: 4.5 | feel: 4 | overall: 4.5
The high head is very firm. Good retention. Lots of lacing. The beer is pale gold.
The smell is fresh and American. Lots of citric hops and a biting bitterness. Clear and distinct notes.
The flavours are clear and clean, yet it is highly drinkable. Lots of refreshing bitter flavours. Grand bitterness. Citric peels. Some sweetness. Growing bitterness in the (quite short) aftertaste, again very clean and fresh flavours. Long lingering bitter finish.
The carbonation is fresh, the small bubbles lively. The liquid is a bit light.
An enormously gulpable and refreshing APA!
Dec 09, 2011

Jugs_McGhee from Colorado
2.87
/5
rDev
-24.7%
look: 2.5 | smell: 3 | taste: 3 | feel: 3 | overall: 2.5
Served on draught into a stemglass at Akkurat in Stockholm. I didn't write down the cost. Reviewed from notes.
A: Pours a 1.5 finger head of fair cream and thickness and good retention. Colour is a cloudy dark yellow.
Sm: Bittering hops and raspberry esters. That's pretty much it. A mild strength aroma.
T: Bittering hops, amber hops, and slight ester hops. Not very complex, but fairly balanced and pretty well built.
Mf: Smooth and wet. Fairly complementary of the body.
Dr: A high (i.e. Swedish) price for a fairly decent quality beer. I'll never have it again.
Aug 27, 2011
dirtylou from New York
4.2
/5
rDev
+10.2%
look: 4 | smell: 4 | taste: 4.5 | feel: 4 | overall: 4
on-tap, oliver twist - stockholm
from notes
appearance: shaker pint, bright orange body with light beige film, active carbonation
smell: clean grassy hops, light citrus, pine
taste: This was actually a really nice lager - the bartender was actually quite excited about and I think this was made specifically for oliver twist. Highlighted by grassy hops, grapefruit, citrus, pine, a touch metallic, lemon peel. quite nice.
mouthfeel: light, fresh, crisp
overall : nice
Jun 08, 2011
rarbring from Sweden
4.09
/5
rDev
+7.3%
look: 3.5 | smell: 4.5 | taste: 4 | feel: 4 | overall: 4
The beer has a slightly hazy brass colored pale amber look, the off-white high head settles slowly and leaves surprisingly little lacing.
The smell is of sweet citric candy, toffee, grape-fruit and some pine.
Tasting first sweet butterscotch and bread, then the grape-fruit juice takes over, followed by lemon peel in abundance.
Medium carbonation, small foamy bubbles, a soft texture but a refreshing feeling, not much body but a long dry finish.
This is hop till you drop, very nice if you're into a bitter treat.
May 20, 2011
Tjockhult Tjinook from Nynäshamns Ångbryggeri
Beer rating:
84
out of
100
with
30
ratings