REM Real English Monster
| LTD Brewing Co.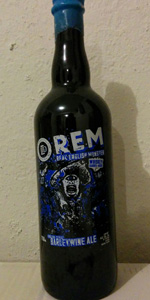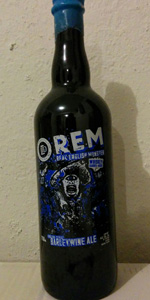 BEER INFO
Brewed by:
LTD Brewing Co.
Minnesota
,
United States
ltdbrewing.com
Style:
British Barleywine
Alcohol by volume (ABV):
12.00%
Availability:
Rotating
Notes / Commercial Description:
None provided.
Reviews: 7 | Ratings: 12
Reviews by KarlHungus:

4.22
/5
rDev
+1.9%
look: 4 | smell: 4.5 | taste: 4.25 | feel: 3.5 | overall: 4.25
More User Reviews:

3.54
/5
rDev
-14.5%
look: 4 | smell: 3.75 | taste: 3.25 | feel: 3.5 | overall: 3.75
i'm pretty sure most english girls aren't that attractive but for the accent and if you can get past the teeth (orthodontists are the real heroes making america great again). this is a mostly pretty beer with something kinda sexy about it and something i'm really trying to look past.
kinda red. kinda brown. like a good country girl. it's not special, but i'm ok with it. looks nice at night.
smells like whiskey. if she's irish, that might be a selling point, but here it's a bit much. a little more vanilla or something kind of fruity might take a bit of the edge off, but at the same time you can tell she's ready to go.
whiskey requires moderation. too little and you wonder why you bothered. too much and bad decisions are made. this tastes like too much whiskey - i've lost what the beer beneath should taste like. i get bourbon, and a bit of oak and a touch of something sweet, but the barrel really kind of overtakes everything.
feel is pretty thin. very carbonated and dry.
i'm ok with it. it's something to be reckoned with, but at the same time, it's kind of one-dimensional in terms of the barrel. super good if you want to get hammered and make a bad decision, but not the kind of thing you want to see on a tuesday night in your living room.
1,266 characters
4.22
/5
rDev
+1.9%
look: 3.75 | smell: 4.25 | taste: 4.25 | feel: 4.25 | overall: 4.25
Typical bar fill with minimal head. Very little lacing. Just the right amount of bourbon barrel in the nose and flavor. Notes of bourbon, vanilla, and oak. On the sweeter side and a little cloying. Alcohol is well hidden. Full body and nicely carbonated.
254 characters

4.01
/5
rDev
-3.1%
look: 4 | smell: 4.25 | taste: 4 | feel: 3.5 | overall: 4
Beige head with nice lacing. Golden Amber color.
This is a sweet and malty bwine. Lots of toffee and caramel. The bourbon is more of an undertone with notes of vanilla and oak showing more.
Coconut in the nose.
Ends very dry.
I think this one is good, but lacks favor in the finish and the mouthfeel is a little off. Definitely worth a try.
346 characters

4.27
/5
rDev
+3.1%
look: 3.5 | smell: 4 | taste: 4.5 | feel: 4 | overall: 4.5
Minnesota needs more barleywines! Although I had to go through the Underground Railroad to get here on a Friday afternoon. 10 oz. pour at the headwaters.
Minimally carbed, dark rolling river reddish. Just sits there, doing nothing.
REM (Real English Monster) is best adjectivized as 'belly-warming'. Alcohol shows on the roof of the mouth & stomach, then works its way outwards, making me want to fling my clothes all over the tap room. Huge woodiness is told it's very nice by the barrels: vanilla, spiced rye, with a heavy hand on the bourbon to add to the impression that this is 26% ABV. Malts show as fortified caramel, '80 Pinto rust, brandywine, heavy sweetness that tips this towards port territory. Drought dry. A sipping beer, lest too much sipping leads to tipping over.
Let this one warm. Served too cold, it goes up a full grade from fridge temp to closer to room temp.
Nothing subtle about this, as the name promises, it's big, brutal, barreled up, & heavy. That said, for being young, it's showing left-handed hitting power promise, & if it can avoid the bugs & infections that have plagued other new local efforts, I'll bet this'll be a super duper winner in the bottle by mid-2016. I'm going to gamble.
1,243 characters

4.09
/5
rDev
-1.2%
look: 4 | smell: 4.25 | taste: 4 | feel: 4.25 | overall: 4
4.25
/5
rDev
+2.7%
look: 4.25 | smell: 4.25 | taste: 4.25 | feel: 4.25 | overall: 4.25
REM decants a hazy translucent tea color with a half inch cream to light tan lacy, sticky foam collar that disintegrates moderately fast. Continual streams of slow moving bubbles rise from the bottom of the glass. The glass exudes malty, alcoholic, bourbony aromas laced with vanilla and caramel. REM has very robust bourbon, malt, caramel, vanilla flavors with a dash of balancing hop bitterness in the background and a lingering fruit and alcohol aftertaste. The beer has a very creamy texture with a chewy body and soft, gentle carbonation. This big boozy beer drinks like a veery pleasant bourbon mixed drink.
613 characters

4.3
/5
rDev
+3.9%
look: 4 | smell: 4 | taste: 4.5 | feel: 4.5 | overall: 4.25

4
/5
rDev
-3.4%
look: 4 | smell: 4 | taste: 4 | feel: 4 | overall: 4

4.12
/5
rDev
-0.5%
look: 3.75 | smell: 4.25 | taste: 4.25 | feel: 3.75 | overall: 4
3.95
/5
rDev
-4.6%
look: 4.25 | smell: 4.25 | taste: 3.75 | feel: 3.75 | overall: 4
Pours lighter than expected, as if an amber, leaving traces behind with modest lacing and legs. As the bottle claims, REM is drier and earthier than a typical English barleywine; unfortunately, this is not to its credit. I wish it would be a bit smoother, a bit more full-bodied, a bit sweeter. Still enjoyable, with plenty of oak, vanilla, and caramel, but it doesn't live up to its billing as a barrel-aged barleywine. Perhaps it will age gracefully, but enjoyed now, it lacks the complexity of other standards for the style.
527 characters
4.76
/5
rDev
+15%
look: 4.75 | smell: 5 | taste: 4.75 | feel: 4.25 | overall: 4.75
Great bourbon barrel aged Barleywine. From 2015 reserve. Had the chance to try a multitude of barrel aged beers at the 3rd anniversary party. Color was a deep amber/red hue & crystal clear. This beer had a great complex bourbon nose with notes of vanilla, toffee and caramel. The taste was amazingly smooth for 12%, little bit of heat but reminded me of drinking an amazing whiskey without the alcohol burn. mouthfeel was about what you would expect from a barleywine, just a little bit thinner than I would have expected for a 2015 beer. Overall, I wish I had a bottle of this still aging!
590 characters
REM Real English Monster from LTD Brewing Co.
Beer rating:
4.14
out of
5
with
12
ratings