Jack Russell's Steak House / Maine Coast Brewing Co.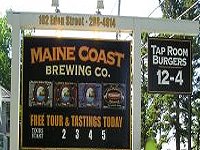 PLACE INFO
Type:
Brewery, Bar, Eatery
102 Eden St
Bar Harbor
,
Maine
, 04609-1106
United States
(207) 288-4914 |
map
Notes:
No notes at this time.
Added by BeerAdvocate
Reviews: 11 | Ratings: 15

4.63
/5
rDev
+23.5%
vibe: 4.5 | quality: 4.5 | service: 5 | selection: 4.5 | food: 4.5
Very cozy with a hint of "hip". Service was incredible, food was really good. The beer is, hands down, the best micro I've ever had: flavorful and well-balanced. None of Tom's brews are "fancy", but they are all solid and well-crafted. The brown is superb, as is the IPA (and I don't like IPAs). I'm not a fan of fruity beer, but his blueberry is so perfectly balanced that it's easy to forget it's a fruity beer, until the subtle blueberry aftertaste hits you. I'm not sure what style the "Gold" is, or supposed to be, but it holds itself well. My ONLY complaint on the beer itself would be the porter.. while flavorful and balanced, it had a thin mouthfeel to it.
I wish there was more on each of the styles... not looking for an ingredient breakdown, but would love to see maybe a short narrative on each.. How each style came to be, etc. As a fellow brewer and beer geek, I like reading that stuff. Sorry the brewery wasn't open for tours while we were there..
It seems that Tom has moved his focus to the food and eatery portion of Jack Russell's. I honestly think that is a mistake. He should pimp his brews just as much as the food (and martinis). While yes, there are other craft/micros on the island, I've sampled their beer and the product that Maine Coast Brewing produces is, quite honestly, superior.
1,315 characters
3.14
/5
rDev
-16.3%
vibe: 3.75 | quality: 2.5 | service: 3.75 | selection: 3
Made a trip to Bar Harbor to hit up the breweries, and this was our last stop. The brewhouse was all closed up, so we went into the bar. Great horseshoe shaped bar, with a bunch of seating in different areas throughout. Great English-style pub feel throughout. Our bartender was great. Good info regarding the brewing history and current line-ups. She had worked there for quite a few summers, as do most servers in the Bar Harbor region. The beers offered were your basic styles, with 5 taps offering a Gold, Blueberry, IPA, Brown, and Porter. We didn't grab any food, nor even look at the menu, so I can't comment on that. The beer was far from great, but I can see the allure of this place for the locals.
708 characters
3.38
/5
rDev
-9.9%
vibe: 3.5 | quality: 3.5 | service: 4 | selection: 2.5 | food: 3.5
After arriving on Mount Dessert Island, on the way to Bar Harbor, there is a restaurant on the right called John Russell's. It features the beers from Maine Coast Brewery which is next door.
Today (9/6/09), there were four beers on tap: Pale Ale, IPA, Brown Ale and a Stout. They were enjoyable and the food was better than most brew pubs. The building, dining room and bar were relatively nondescript--kind of like a steakhouse, which is what Jack Russell's is.
The food was good--the prime rib was tender, the chicken parmesan was fine. I liked the clam chowder as it was not overly thick (like it normally is in Boston).
The service was very accommodating. My wife and I wanted to split the prime rib--no problem. I asked for taster glasses--"let me check". Again, no prob. She wasn't very knowledgeable about the beer, but then again, it seemed this place served the beer as an afterthought.
899 characters

3.48
/5
rDev
-7.2%
vibe: 4 | quality: 3 | service: 4.5 | selection: 3 | food: 3
On a recent off-season trip through Bar Harbor I stopped at Jack Russell's for dinner and a beer. The restaurant is conveniently located just past the entrance to Acadia National Park and close to the ferry landing. There's a small parking lot behind the building which seemed rather tight even with only a few cars in the lot.
Inside the restaurant has a homey feel to it. Sitting in the dining room was like sitting in your favorite aunt's home. The bar also seemed very welcoming.
The waitress was very attentive and knew the details about all the specials, regular offerings and current beers on tap. She also stopped by frequently to attend our needs.
The selection was decent with pretty much something for everyone. However, they don't seem to have many options if you want to substitute an item of your selection. It seems asparagus comes with every meal and that's not really one of my favorites.
The food was good, but not great. At first we received some complimentary warm, homemade pretzels and dijon mustard which was very good. However, as an appetizer my wife ordered a chowder which was thin and without much flavor. I got a cesar salad which I enjoyed. For dinner I got a double order of steak tips for $18. The tips were very tasty, tender and well marinated, but small. I'm glad I got the double order. My wife had the baked haddock with mashed potatoes. She felt the haddock was mediocre and potatoes were undercooked.
There were a few beers on tap, but I only got to try the IPA. It was crisp and hoppy with a nice floral aroma and easy to drink. I wish I could have stayed longer to try some more of their beers, but I didn't have the time.
Overall, I liked the restaurant and beer, but thought the price I paid for dinner was rather high for the small portions. If I go back I'll probably sit in the bar and get some beers and appetizers instead of dinner.
1,886 characters

3.68
/5
rDev
-1.9%
vibe: 4 | quality: 3.5 | service: 4 | selection: 3.5 | food: 3.5
The girlfriend and I went to Jack Russell's to eat because I wanted to check out the Maine Coast Brewing Company operation and take a tour of it if they give them. Alas, the brewing facility was all locked up, not very big so no real loss.
Parking was annoying, not enough spaces, had to park across the street and nearly got hit by a car trying to cross. And the place wasn't even that packed either.
I ended up trying two out of six of their beers on tap, the Oatmeal Stout and their Blueberry ale. Both of which were delicious, and ended up buying a six pack of their Gold beer to try (only thing they had bottled up to sell).
Food was alright, a bit overpriced and this was at lunch no less. Service was excellent though and the atmosphere of the place is nice. Since it was hot out (this was in the summer), we decided to stay indoors, but it's nice to have the option of eating outside at their dining tables.
918 characters
4.45
/5
rDev
+18.7%
vibe: 4 | quality: 4.5 | service: 4.5 | selection: 4.5 | food: 4.5
We have been going to Bar Harbor for Summer vacation for several years, and a trip to Jack Russell's Steakhouse/Brewery (whatever they are calling it this year) is always in order - really distinctive beer and a decent menu. This year, a pre-vacation visit to their website indicated that they were expanding - more dining area, and a "market" selling fresh, local items. When we arrived, it looked like the market or gift shop area was still under construction.
Upon being seated, it was apparent that the menu was greatly expanded from our last visit (last year) - lots of really good additions, too! We had a small appetizer of meatballs (yes, meatballs . . .) - they give you 3 of them, but they are good, as is the sauce (or gravy, if you prefer). Our server also provided some pretzels with a Dijon-type mustard - very tasty as well. The garden salads with house balsamic vinegar were nothing special, but they were good. For the main course, my wife got the sirloin with mashed potatoes and I got the tenderloin tips (yum - highly recommended!) - both came with a small side order of asparagus - we enjoyed both entrees. No disappointments with the menu, at all.
For drinks, we had the amber wheat, the pale ale, the brown ale, and the stout. Unfortunately, they were out of their IPA and my wife go the last stout (lucky her!). All of the beers were pretty distinctive, and well made, IMHO.
Sadly, our waiter informed us that they no longer bottle their beer (I thought I saw bottles in the "gift shop" area last year - they don't do growler fills, either. He indicated that these were the "owner's decisions" - it sounded like the deal with the person(s) that were going to run the market portion of the expansion fell through ("it's a long story", per the waiter). I was really bummed out by that news - I was looking forward to taking a growler or two with me for later that night. Not sure if this is a permanent situation, or just a temporary one. Hopefully, the situation will improve - for now, it's strictly premises only for their beer.
In any event, if you are in the area, I would recommend stopping by - keep in mind that they are only open from 4 - 9 pm, so they do not serve lunch anymore. We'll definitely go back next year . . .
-Dick
2,274 characters
3.4
/5
rDev
-9.3%
vibe: 4 | quality: 3 | service: 4 | selection: 3 | food: 3.5
Visited the Jack Russell Steakhouse while vacationing in Bar Harbor with my wife. I was pretty psyched to try a few of their brews, especially the porter, as they have relatively solid reviews. I ended up being a bit disappointed, and the only thing saving me from being entirely disappointed is that they are under construction.
Walking in I could tell they are under construction, as parking is in the back and you enter through a room that is under construction. Through that room is the bar and a few tables, and from there the hostess seated us in another room with another 6 or 7 tables. There was also seating upstairs. The restuarant is in an old house and so the rooms are not huge, and actually the atmosphere was pretty nice and quaint. The brewhouse is next door, in another building under construction, and it didn't even look like it was open.
Once seated I was disappointed to learn that they only had 3 of their own brews on tap. Only 3? What the hell!?! Well, come to find out (at the end of my meal when I asked what they had available in bottles) they haven't been able to brew anything in awhile because of the construction, as apparently Maine law (I'm guessing it's a state law) prohibits brewing from taking place while construction is going on. So, long story short, all they had on tap (of their own stuff) was their Amber Wheat, Pale Ale, and Blueberry Ale. They also had 3 other taps which had Smuttynose products, including thier Stout, IPA and something else which I can't remember. Only 6 taps total, though, so even if they had all been their own that's relatively limited.
Disappointed as I was that they didn't have any of their porter, I tried their Pale Ale and then the Amber Wheat. Both were mediocre. The Pale Ale was just weird - smelled like fresh grain with odd hop characteristics. Amber Wheat was also nothing spectacular and was somewhat bland. It was also served with a lemon, which I dislike, but anyway.
I was also a little disappointed in the food. It is a steakhouse, so they had plenty of steak on the menu, but it's also a brewpub/microbrewery, so I was expecting some burgers or decent pub food. I was let down. No burgers, no sandwiches, no nothing of the sort. We had beer battered onion rings for a starter, which were pretty good, but our entrees were both just alright to downirght disappointing. I had BBQ pork tenderloin which was ok, while my wife had tenderloin meatballs and pasta. The pasta was linguine and was overcooked and watery. The meatballs weren't bad but one of the 3 was overcooked. Neither one of us had steak, and they do call themselves a steakhouse, so who knows.
Service was fine and attentive. Prices were maybe a bit high. It is a resort town so I can understand jacking up the prices a bit, but their own beers were $4.75, which is a little much imo. Overall, if I had it to do over again I would pass on the Jack Russell Steakhouse. I wish I could try some of their better beers (the porter and the brown). Maybe another time.
3,027 characters
3.85
/5
rDev
+2.7%
vibe: 4 | quality: 3.5 | service: 4 | selection: 4 | food: 4
Visited the Maine Coast Brewing Company's restaurant, Jack Russell's, when I was on vacation up in Bar Harbor in July 2007. The brewery and restaurant are both located along ME Rt 3 just before you get to downtown Bar Harbor. The restaurant is located in a turn of the century bungalow, which gives it a nice comfortable atmosphere. Looks like they are doing some expanding as the entire back of the building from the outside was more or less under construction. Service was prompt and courteous. Selection was good. Besides their own offerings they had a couple of macros and a decent number of Maine microbreweries - and Smuttynose. I tried the IPA and the Stout. Both were decent middle of the road brews for their style. My wife's beer - the blueberry ale did taste off, which is why I gave a lower mark under quality. A good varied menu with plenty of steak options as well as lobster, crab, and other treats from the sea. All four meals at our table were well received. Prices were a bit high but Bar Harbor is for lack of a better term a tourist trap. I'd go back.
1,071 characters
3.88
/5
rDev
+3.5%
vibe: 3.5 | quality: 4 | service: 3 | selection: 4.5 | food: 4.5
Interesting experience coupled with excellent beer. The restaurant is in a house they have retrofittes with tables and chairs. Very much like having a meal in some dudes living room.
The food was good. True to our vacation a crustacean died at every meal so crab cakes were ordered. We were pleasantly surprised to find the crab cakes had more crab than filler (BONUS).
The beer was well made. We tried the Wild Blueberry Ale (its Maine, go figure) and the Black Irish Stout.
The service was average but you can't beat beer and seafood while traveling the coast of Maine.
580 characters

3.86
/5
rDev
+2.9%
vibe: 4 | quality: 4 | service: 4 | selection: 3.5
I liked their beer enough to buy a t-shirt. They had about 5 different ones and I tried all of them. I thought all of their offerings stood up fine to some of the other Bar Harbor brewed beers. The people were all locals in here and I was the tourist from out of town, but they were all friendly and I liked the place quite a bit. It has the "you are in your friend's basement" type of feel. A nice finished basement I should say not a musty old one. I was here in the Summer and I get the feeling that this place would be better during the colder seasons. I preferred their more gold-colored offerings to their darker ones. I should mention the bartender was as nice as can be. I would gladly go back to see her again. Too bad Bar Harbor is so remote (at least from Boston).
775 characters
4.05
/5
rDev
+8%
vibe: 4.5 | quality: 4 | service: 4 | selection: 4 | food: 4
I've sat at the small back bar and looked through books of photos of Bar Harbor while getting my Stout Groove On. I've sat at a dining table and had steak and vegetables. Both of my experiences at Jack Russell's were pleasant.
One will never have a rager at this restaurant; it's a misnomer to refer to it as a "pub" even as the location has a very "in somebody's house" feel. No darts, no pool, no banks of TV's. Not that kind of place at all. Low ceilings, sloped floors, steep stairs to the second floor. There is an outdoor seating area, but I haven't been in the summer months.
The atmosphere is as unique as the location. Many tourists, but I can't help feeling some of these are local devotees as well. My impression has been that only 2-4 people at any time are there for bennybrew's stuff; the rest are there for the fine dining. Service has been friendly, but I am in the enviable position of having gone to high school with the owner. I would assume everyone gets the great service, maybe just not the comped dessert.
Steak and Stout in Bar Harbor. If that image sets you aflame, you must go to Jack Russell's.
1,131 characters
Jack Russell's Steak House / Maine Coast Brewing Co. in Bar Harbor, ME
3.32
out of
5
based on
90
ratings.