Dead Crow Bourbon Flavoured Beer
| SHS Drinks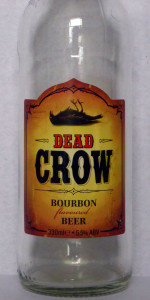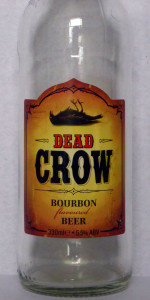 BEER INFO
Brewed by:
SHS Drinks
England
,
United Kingdom
shs-drinks.co.uk
Style:
Euro Pale Lager
Alcohol by volume (ABV):
5.50%
Availability:
Year-round
Notes / Commercial Description:
No notes at this time.
Added by Ciocanelu on 05-25-2014
HISTOGRAM
Ratings: 14 | Reviews: 3
2.75
/5
rDev
+14.1%
look: 2.75 | smell: 2.75 | taste: 2.75 | feel: 2.75 | overall: 2.75
2.01
/5
rDev
-16.6%
look: 3 | smell: 2 | taste: 2 | feel: 2 | overall: 1.75
3.8
/5
rDev
+57.7%
look: 4 | smell: 4 | taste: 3.75 | feel: 3.5 | overall: 3.75
2.87
/5
rDev
+19.1%
look: 3.75 | smell: 3 | taste: 2.75 | feel: 2.75 | overall: 2.75
Package: 330 ml bottle.
Appearance - Dark gold.
Smell - Light lager/bourbon.
Taste - Intensely sweet. At first sip, short hint of lager, then you are smacked with a very sweet bourbon taste. It is overpowering...
Mouth-feel - It goes down easy because of little after taste, but that sweetness is a detriment to this lager.
Overall - This was a very interesting idea but it doesn't work in this beer. I wouldn't buy again.
428 characters
2.49
/5
rDev
+3.3%
look: 2 | smell: 3 | taste: 2.25 | feel: 2.5 | overall: 2.5
2.5
/5
rDev
+3.7%
look: 2.5 | smell: 2.5 | taste: 2.5 | feel: 2.5 | overall: 2.5

2.63
/5
rDev
+9.1%
look: 2.5 | smell: 2.5 | taste: 3 | feel: 2.25 | overall: 2.25
Look: golden and clear/filtered with barely any head or lacing.
Smell: slight smell of fruit and something I cannot place , nothing overpowering
Taste: apple and something I cannot place, maybe a slight berry. It is quite sweet
Feel: it looks and feels like a light lager with some carbonation
Overall: I only have Dragon's Milk Bourbon Barrel Stout to compare against which knocked my socks off, so I picked this up as soon as I saw it. This has no similarity and I am not sure why the word bourbon is in the title at all. I would describe this as an apple flavored carbonated beverage. I do enjoy various ginger and lemon flavored 'beers' (ie they are not really beer) and think this fits more in that market. It would be quite refreshing on a hot day with a couple of ice cubes and a slice of lemon but then I would stick to my ginger beers for that.
865 characters

2.27
/5
rDev
-5.8%
look: 3 | smell: 2.25 | taste: 2 | feel: 2.5 | overall: 2.5





2.41
/5
rDev 0%
look: 3 | smell: 2.5 | taste: 2.25 | feel: 2.75 | overall: 2.25
A 330ml clear glass bottle with a BB of Dec 2014. Picked up a little while back from a B&M store. Another relatively new contender for the flavoured-beer market - the creation of Desperados truly opened Pandora's box....
Poured into a stemmed pilsner glass. A clear golden colour with light carbonation. Forms a decent head of white foam that lasts for a minute or two before collapsing to a thin surface layer. Slight lacing. Aroma of faint grainy malt with hints of artificial fruit notes, sweetener, vague solvent, weak overcooked veg and stewed leaves. Hard to describe but it smells weird (and not in a good way).
Tastes of sweet fruity hints with a harsh, artificial finish. Notes of tutti-frutti, sweetener, faint solvent, mild stewed leaves and overdone veggies. Quite sweet, followed by a subtle yet acrid bitterness upon swallowing. Mouthfeel is smooth and tingly, with effervescent carbonation and a thin, watery body. Aftertaste of fruity notes and harsh solvent/stewed leaves.
Eeesh - I'm almost curious to know what's in this but then again maybe not. It's pretty gross. Looks average enough, with a subtle fruity aroma that doesn't bode well. The flavour is mostly reminiscent of tutti-fruitti gum along with twinges of solvent and stewed leaves. Unpleasant off-notes lurk in the background. Watery, insubstantial body. The one thing it doesn't taste or smell of is bourbon; not even close. Horrid - I have a hard time imagining anyone wanting to have more than one of these. Do yourself a favour and give it a miss.
1,534 characters

Dead Crow Bourbon Flavoured Beer from SHS Drinks
Beer rating:
2.41
out of
5
with
14
ratings