Samuel Adams Hallertau Imperial Pilsner
| Boston Beer Company (Samuel Adams)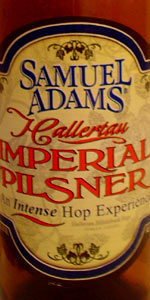 BEER INFO
Brewed by:
Boston Beer Company (Samuel Adams)
Massachusetts
,
United States
samueladams.com
Style:
American Double / Imperial Pilsner
Alcohol by volume (ABV):
8.10%
Availability:
Rotating
Notes / Commercial Description:
No notes at this time.
Added by Flyer on 06-18-2007
Reviews: 653 | Ratings: 788
4.95
/5
rDev
+21.9%
look: 5 | smell: 5 | taste: 5 | feel: 4.5 | overall: 5
Wow, just... wow.
Pours as a fantastically slightly hazy orange-blossom brew with a thick and supremely whitish-orangish head. Brew looks very appetizing. Cannot wait to dive into this.
Smell is glorious - mixture of floral and citrus aromas, a touch of pine, and possibly some apple thrown into there. It's all perceived though, but what an aroma. Instantly addictive. To solve the crystal meth scourge, simply start passing out these beers. The methheads would begin sniffing bottles of Samuel Adams Imperial Pilsner instead.
Taste is truly exceptional - I cannot describe it well enough - you can taste citrus, pine, pineapple, and a variety of other flavors. Truly complex and balanced at the same time. I can't even reach the depth of the flavor profile here and I finished the beer before I was able to discern every single flavor I could.
Mouthfeel was probably the only point that I could deduct points from. At times you could get a bittering hop kick - and the creamy head would lend it a smoothness. But the mouthfeel wasn't consistent. It'd be smooth, then bitter, then crisp and clear, then bitter again, then smooth. Might just be my confused mouth though.
Drinkability is outrageously high. I had to restrain myself from immediately fetching another bottle - with the high ABV. If Samuel Adams would make more of these (probably not possible), I'd buy a LOT more than the measly four-pack I got. And right now, I'll have to pace myself and see if I can bear to part with one of my remaining three bottles to share with my fellow men...
Verdict: Invest in these bottles. Drink. Repeat. It hides the alcohol very well - although the booziness may peek out once in a while - I can only recall it doing so once during this bottle though. Utterly amazing - definitely blew every other beer I've ever had out of the water.
1,838 characters
5
/5
rDev
+23.2%
look: 5 | smell: 5 | taste: 5 | feel: 5 | overall: 5
From the moment I first tasted this beer poured from the tap at the Sam Adams brewery in Boston, I knew I was in for a long, hoppy ride. The first thing I noticed is the dark, cloudy, orange'ish tint and thick head when poured into my Sam Adams special edition glass. Then, it hits you; the bitter sweet smell of the Noble Hallertau Mittelfrueh hops. To hop lovers like me, this was an exciting moment. According to the head brewer I spoke with, Sam Adams uses tons of this stuff (12 lbs per barrel) and with the cost of hops, he mentioned that Sam Adams must be losing money on this beer (avg $9 a 4 pk).
When the beer hits the lips, the burning and explosion of the hops can send you over the edge. The flavors are of citrus and spice (but only just enough) and stay with you long after each sip. After this beer of beers hits the back of the throat, the hint of sweetness from the malt balances the flavors out perfectly. It's true this beer has "drink by Jan 2008", and I actually first tried it when it was in its prime in fallwinter of '07. I recently bought out my local package store (eight 4 pk's) and while it may not be in its prime, it's still the most perfect beer I've ever placed my lips around. Seek out this beer and enjoy!
1,242 characters
5
/5
rDev
+23.2%
look: 5 | smell: 5 | taste: 5 | feel: 5 | overall: 5
Appearence: Orange/Amber: Loved the amber orange hue this brew gave off.
Smell: Citrus, grapefruit, floral hops.
Taste: Definite hops, crisp, dry, not like any pilsner I'd had in the past. The hops made my friend's dad buy a case!!!
mouthfeel: Creamy, It killed my premonitions of what a hoppy pilsner would feel like.
Drinkability: Smooth, tasty, crisp, and hoppy in a way that will smack you upside the head in a subtle way. Loved it!!!
438 characters
Samuel Adams Hallertau Imperial Pilsner from Boston Beer Company (Samuel Adams)
4.06
out of
5
based on
788
ratings.