Samuel Adams Hallertau Imperial Pilsner
| Boston Beer Company (Samuel Adams)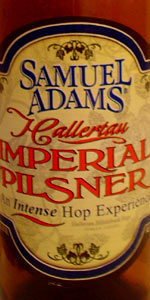 BEER INFO
Brewed by:
Boston Beer Company (Samuel Adams)
Massachusetts
,
United States
samueladams.com
Style:
American Double / Imperial Pilsner
Alcohol by volume (ABV):
8.10%
Availability:
Rotating
Notes / Commercial Description:
No notes at this time.
Added by Flyer on 06-18-2007
Reviews: 653 | Ratings: 788
2.76
/5
rDev
-32%
look: 4 | smell: 3 | taste: 2 | feel: 4 | overall: 3
Way too much alcohol can be tasted and smelled in this brew.
My first one came after a couple of Dales Pales Ales and my saturated palate enjoyed the flowery, less citrus taste. When I returned to this beer as a first drink of the day, it was nearly disposable. The alcohol tastes is far too much. The hops that follow up are okay.
I love hops, but this beer would have served better with more malt and more balance.
420 characters

2.76
/5
rDev
-32%
look: 4 | smell: 3 | taste: 2.5 | feel: 3 | overall: 2.5
Poured out of a reddish brown bottle into a pint glass.
A-Reddish brown body. Clear. Nice white medium head.
S-Pine like, but soft hop scent. Lets you know that these are NOBLE hops.
T-Very bitter. Rip your tongue out hop flavor. Definately a hop bomb here no doubt.
M-Light in the mouth because of how intense the hop profile.
D-For hop heads, most others that had a try didn't really care for it.
A bit one dimensional.
428 characters

2.76
/5
rDev
-32%
look: 4 | smell: 3 | taste: 2.5 | feel: 3 | overall: 2.5
The appearance of this beer is a nice dark yellow that is hazy with a great retaining head.
The smell is pure hops, I can't get past the plain hop smell long enough to get much of the malts picked out. I like the aroma though.
Tastes like Hallertau, which I figured. Unfortunatly I am not a fan of flavoring a beer with these hops, great aroma hop but not a good flavor hop. I like the piney citrus flavors you get from many of the other hops out there.
Mouthfeel is good for a pilsner, smooth going down and the hops do give a better feeling going down.
Unfortunatly I will not be buying this beer again, If you are going to make a hop bomb, I don't think noble hop are going to give you what you want, but maybe since it is a pilsner that is why they used these hops.
I like the attempt at this beer, I am just not a fan.
828 characters

2.75
/5
rDev
-32.3%
look: 3 | smell: 3 | taste: 2.5 | feel: 2.5 | overall: 3
12 oz. bottle, best before January 2008.
Poured a hazy golden amber. Thick 3 inch head settles to lots of sticky lacing. Strong scent of somewhat sour citrus hops and green grass. I detect a small hint of spice in there as well. Taste of bitter grapefruit, lemon, green leaf, and sweet carmel malt. Definitely hoppy. Alcohol presence is moderately known. Mouth feel is medium (not light or heavy). A little bit syrupy. Fair amount of carbonation. Overall drinkability is fair. Not my favorite, but is nice to see Boston Beer Co. come out with something different. Cheers.
572 characters

2.74
/5
rDev
-32.5%
look: 3.5 | smell: 4.5 | taste: 2 | feel: 2.5 | overall: 2
A - this beer pours a hazy dark tan with a dull white head atop, plenty of lively carbonation keeps the head alive for a while
S - the hop aroma explodes out of the bottle and is huge, elements of floral and piney hops combine for a huge hop-splosion with a slight background grapefruit usu. associated with hops
T - um... over hopped, the hops, though quality, are way too much, cant pick any other flavors that may be there, but to me its too bitter to be enjoyable.
M&D - as i said too bitter, Golden Shower blows this away, i love Impy Pilseners and IPA's and DIPA's, but this just wasnt that enjoyable to me
616 characters
2.7
/5
rDev
-33.5%
look: 4 | smell: 4 | taste: 2 | feel: 3 | overall: 2
They should rename this imperial to Totalitatian, because this is a "mother" of a pilsner...totally overwhelms my palate with bitter pine and grapefruit hops, it best described as hopjuice. For my palate, this is like the aged very expensive smelly cheese someone brings to your dinner party....
295 characters
2.62
/5
rDev
-35.5%
look: 3 | smell: 3.5 | taste: 2 | feel: 4 | overall: 2
A very cloudy/hazy golden beer with a slight orange tint. It had a small head that dissipated quickly.
A very hoppy/grassy aroma with a slight hint of fruitiness.
I can only taste the hops. It's has a very bitter flavor. I was expecting the hops to be the main flavor in the beer, but I was hoping it wasn't going to be too overpowering. I'm a little disappointed. No alcohol flavor at all, however, which was surprising.
The mouthfeel is really not that bad. It's very dry, but overall the best quality of this beer.
I couldn't drink more than one of these. This beer was a fun experiment, but I don't think I'll have it again.
632 characters
2.55
/5
rDev
-37.2%
look: 4 | smell: 4 | taste: 2 | feel: 2.5 | overall: 1.5
uhg! this is not good for me! TOO BITTER! my word! i will admit that i prefer malt to hops but good lord this is too extreme for me to even try to enjoy! and that bitterness just lingers the whole time on the side of my mouth. I will definitely not be having this one ever again. well balanced? seriously, holy cow I cant taste anything but bitter.
348 characters
2.55
/5
rDev
-37.2%
look: 4.5 | smell: 4.5 | taste: 1.5 | feel: 3 | overall: 1.5
I was really looking forward to trying this beer. Poured great looked great and the smell was out of this world. But the taste blew it for me. The bottles have drink by January 2008 and it is now almost April 2008 so I do not know how much the date was a factor but this beer was way too salty tasting for me. I tried a second sip and then just poured the rest the down the drain. Has anyone tasted this when it first came out and again more recently? Did it change at all?
473 characters
2.5
/5
rDev
-38.4%
look: 4 | smell: 4 | taste: 1.5 | feel: 3 | overall: 2
Cloudy dark orange pour in a lager glass. Big white nice head, with big hop aroma. Kind of grassy hops flavor with a thick gritty mouthfeel and an intense tree bark/chewed up aspirin tablet like bitterness. Too medicinal of a bitterness to be truly pleasant for me and killed an otherwise nice, unique beer.
307 characters
2.38
/5
rDev
-41.4%
look: 3 | smell: 2.5 | taste: 2 | feel: 4 | overall: 2
Very old bottle picked up at Universal Liquors in Holiday, FL.
Best by January 2008? I was in so much shock after seeing this on the label that I asked my wife "Are you sure it's already been January 2008?". 3 months past it's prime... oh well.
Beer pours to a very cloudy, rich honey-colored beer with a thick heavy foam - settling quickly to a soapy lace that barely clings to the glass.
Smell is aggressively hoppy upfront with a cloying caramel and rum raisin sweet odor and a sharp alcoholic nose.
Tasting: Thick and powerful noble hops come out immediately with a thick, rich caramel and toasted bready malt character... heavy laden with strong phenolic notes, lots of "plum and rum". Hint of burnt caramel at the end, finished with the everlasting nasal alcoholic burn.
The thickness of this beer would be perfect, if the beer wasn't so cloying and alcoholic.
I need a fresher bottle - I can tell that this beer could potentially be a favorite if it weren't so "hot". I've seen similar reviews down the line, leaving me to wonder "What the hell is wrong with the distributors? How long have we been getting stale beers?"
Next time I'll have the wife check for "best by" dates.
1,195 characters
2.29
/5
rDev
-43.6%
look: 4 | smell: 2.5 | taste: 2 | feel: 2.5 | overall: 2
I had this last year, and quite enjoyed it. THis year is a different story...
It had a ncie appearance, deep golden, hazy-blonde with a reddish tint, topped with a soapy white head due to the high level of hops.
The aroma was overtly pungent, displeasing, and somewhat solvent-like. My initial reaction was an over-use of hops.
Upon tasting, I got a similar flavor as I did in the nose: solvent, fusel-alcohol taste. I now wager it is from either over-sparging, or an over use of hops (too much alpah extraction), or a combination of the two. This was a great beer last year, but this time something happened in the brewing process to cause these off flavors.
The mouthfeel was killed by this, leaving the mouth feeling like I had just licked a 9-volt. The "hop" flavor that lingered on the edges of my tongue had a faint hint of how it should have tasted, but all was covered by the fusel-alcohol/solvent-like tastes.
I do not reccommend drinking this beer, unless you want to taste a common off-flavor for homebrew trouble-shooting or competition judging purposes.
1,075 characters
2.28
/5
rDev
-43.8%
look: 4 | smell: 3.5 | taste: 1.5 | feel: 4 | overall: 1
Poured a 12 oz. bottle in a pilsner glass (appropriate, no?). Very nice amber to peach color, quite hazy. One finger of foam, nice lacing.
Smelled pleasant. citrus with a bit of pine, maybe a bit grassy.
Unfortunately the HEAVY bottom hops overpowered the top hopping, making this the most bitter beer I have ever tried. I know it's "intensely hoppy" but I was hoping for more aroma and flavor, not just the bitterness.
Couldn't tell the feel of it. (see above)
Sorry to the purists, but I could not drink this. This beer may be true to style, but I couldn't drink it. Dumped 10 oz., and I consider that alcohol abuse.
624 characters
Samuel Adams Hallertau Imperial Pilsner from Boston Beer Company (Samuel Adams)
4.06
out of
5
based on
788
ratings.