Samuel Adams Hallertau Imperial Pilsner
| Boston Beer Company (Samuel Adams)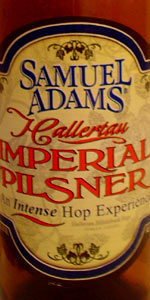 BEER INFO
Brewed by:
Boston Beer Company (Samuel Adams)
Massachusetts
,
United States
samueladams.com
Style:
American Double / Imperial Pilsner
Alcohol by volume (ABV):
8.10%
Availability:
Rotating
Notes / Commercial Description:
No notes at this time.
Added by Flyer on 06-18-2007
Reviews: 653 | Ratings: 788
2.38
/5
rDev
-41.4%
look: 3 | smell: 2.5 | taste: 2 | feel: 4 | overall: 2
Very old bottle picked up at Universal Liquors in Holiday, FL.
Best by January 2008? I was in so much shock after seeing this on the label that I asked my wife "Are you sure it's already been January 2008?". 3 months past it's prime... oh well.
Beer pours to a very cloudy, rich honey-colored beer with a thick heavy foam - settling quickly to a soapy lace that barely clings to the glass.
Smell is aggressively hoppy upfront with a cloying caramel and rum raisin sweet odor and a sharp alcoholic nose.
Tasting: Thick and powerful noble hops come out immediately with a thick, rich caramel and toasted bready malt character... heavy laden with strong phenolic notes, lots of "plum and rum". Hint of burnt caramel at the end, finished with the everlasting nasal alcoholic burn.
The thickness of this beer would be perfect, if the beer wasn't so cloying and alcoholic.
I need a fresher bottle - I can tell that this beer could potentially be a favorite if it weren't so "hot". I've seen similar reviews down the line, leaving me to wonder "What the hell is wrong with the distributors? How long have we been getting stale beers?"
Next time I'll have the wife check for "best by" dates.
1,195 characters
2.29
/5
rDev
-43.6%
look: 4 | smell: 2.5 | taste: 2 | feel: 2.5 | overall: 2
I had this last year, and quite enjoyed it. THis year is a different story...
It had a ncie appearance, deep golden, hazy-blonde with a reddish tint, topped with a soapy white head due to the high level of hops.
The aroma was overtly pungent, displeasing, and somewhat solvent-like. My initial reaction was an over-use of hops.
Upon tasting, I got a similar flavor as I did in the nose: solvent, fusel-alcohol taste. I now wager it is from either over-sparging, or an over use of hops (too much alpah extraction), or a combination of the two. This was a great beer last year, but this time something happened in the brewing process to cause these off flavors.
The mouthfeel was killed by this, leaving the mouth feeling like I had just licked a 9-volt. The "hop" flavor that lingered on the edges of my tongue had a faint hint of how it should have tasted, but all was covered by the fusel-alcohol/solvent-like tastes.
I do not reccommend drinking this beer, unless you want to taste a common off-flavor for homebrew trouble-shooting or competition judging purposes.
1,075 characters
2.28
/5
rDev
-43.8%
look: 4 | smell: 3.5 | taste: 1.5 | feel: 4 | overall: 1
Poured a 12 oz. bottle in a pilsner glass (appropriate, no?). Very nice amber to peach color, quite hazy. One finger of foam, nice lacing.
Smelled pleasant. citrus with a bit of pine, maybe a bit grassy.
Unfortunately the HEAVY bottom hops overpowered the top hopping, making this the most bitter beer I have ever tried. I know it's "intensely hoppy" but I was hoping for more aroma and flavor, not just the bitterness.
Couldn't tell the feel of it. (see above)
Sorry to the purists, but I could not drink this. This beer may be true to style, but I couldn't drink it. Dumped 10 oz., and I consider that alcohol abuse.
624 characters
Samuel Adams Hallertau Imperial Pilsner from Boston Beer Company (Samuel Adams)
4.06
out of
5
based on
788
ratings.