Dismiss Notice
Infinium
| Boston Beer Company (Samuel Adams)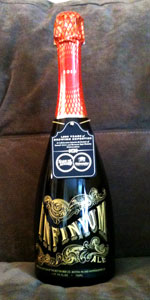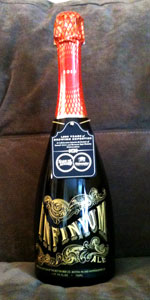 BEER INFO
Brewed by:
Boston Beer Company (Samuel Adams)
Massachusetts
,
United States
samueladams.com
Style:
Bière de Champagne / Bière Brut
Alcohol by volume (ABV):
10.30%
Availability:
Winter
Notes / Commercial Description:
No notes at this time.
Added by LtCracker20 on 12-04-2010
This beer is retired; no longer brewed.
HISTOGRAM
Ratings: 1,132 | Reviews: 516
3.3
/5
rDev
+1.9%
look: 3.5 | smell: 3.5 | taste: 3.5 | feel: 1.5 | overall: 3.5
Pours a very clear budweiser color. yellow and fizzy, check. Four fingers of head that almost overflows onto my counter, check.
smell of bananas, wha? Lots of them, that was a bit unexpected, sure I expected a bit, but this was very strong. underneath that, which was hard to get through, was the smell of belgian yeast, some feet and a hint of cinnamon and coriander.
taste is very strong on the banana, but finishes VERY clean, my first swallow, I had planned on reviewing the flavors, but the finish sticks out after the banana assault. after sipping this a while, I am beginning to notice that I feel like I have a sort of mucus buildup growing near the back of my throat. It is most unpleasant, and cant say this has really happened with a beer before, I wonder what would cause this... not sure where to take that hit, so putting it under mouthfeel...
Anyway, back to the flavor profile... lemon on mid-palate. After a few sips the banana seems to disappear and more of the lemon comes out. The alcohol is WELL masked, cant believe this is 10.3%.
This is pretty good. I am pretty impressed, though I didnt have much of an expectation going into it.
1,159 characters

2.98
/5
rDev
-8%
look: 3.5 | smell: 3 | taste: 3 | feel: 3.5 | overall: 2.5
Poured from a 2010, 750 ml bottle into a flute glass.
A: Crystal clear, soft light copper, steady stream of carbonation bubbles. Soapy white billowing head that took some time to settle, but did so into a weak cap with no lacing.
S: Dry and champagne-esque. Malty qualities, bready, grainy and stale biscuits. The hops are hopelessly lost here and this definitely resembles more of a dry wine or champagne than a beer. Some sweet passion fruit and orange at the end of the nose.
T: The malt qualities dominate the palate, and once again the hops are gone. Dry and piercing, biscuits again with some grassy notes and a distinct Pinot Grigio finish.
M: Thin and light bodied, though the carbonation deceives the palate into thinking this has more body than in reality.
The high ABV and overall dryness of the beer is good, but nothing you'd want to stick with for long. This is good to share as a celebration drink, not your go-to, obviously. I'm glad I was able to grab two bottles of this, but in all honesty, I wouldn't buy it again. I applaud the two breweries for the collaboration and I'm happy I got to try this. It's definitely worth a shot since this is a once-and-done beer (we think).
1,198 characters
4.12
/5
rDev
+27.2%
look: 4 | smell: 4.5 | taste: 4 | feel: 4 | overall: 4
Served in a wine glass
This beer pours a deep copper color with a decent fizz that settles down to just a thin layer that stays on the top throughout the drinking experience. The smell is of white grapes, caramel, honey and a bit of oak sour. It combines in a rather nice way that creates a sweet melange on the nostrils. The taste is fruity with some pear and orange. Caramel sugars are rather obvious on the palate as well. It's got the right amount of fizz, but I think the body is still a bit on the heavier side. This is still a really good drinking beer, and will be perfect for beer lovers on New Year's.
612 characters

3.79
/5
rDev
+17%
look: 5 | smell: 3.5 | taste: 4 | feel: 3.5 | overall: 3.5
Got a 750ml bottle at the West Des Moines Hy-Vee. The bottle is an appealing black/cobalt blue with gold lettering and a festive pink and orange wrapper.
The brew itself is a clear medium-copper producing a boatload of fizz in my perfect pour glass. The foam was thick and settled to a 1/4 finger that lasted almost the whole glass.
The aroma has a touch of citrus on top of an interesting hop/malt mix.
The taste, amazingly, like a dry champagne. Take that flavor and add in what seemed like a touch of wheat and a hint of peach for something I've never tasted before.
The body was perhaps a light-medium with the consistency of a decent IPA.
The aftertaste fluctuated back and forth from semi-dry to dry, every gulp had a different amount.
This was definitely an experience to try out, but with the $19 price tag I don't see myself picking up this one frequently, even if it was a regular brew. On a positive note the alcohol is well hidden. I got through about 1/3 of the bottle and wasn't feeling buzzed at all.
1,015 characters
4.15
/5
rDev
+28.1%
look: 4.5 | smell: 4.5 | taste: 4 | feel: 4 | overall: 4
A: Lovely pour... a very nice golden honey hue, topped with a head taking up nearly 1/4 of the glass. It doesn't take long to recede to just a collar and film, but it's a good initial appearance all around.
S: The aroma hits me not long after lifting the glass... I detect a rather fruity scent, along with some spicy notes. Some nice, sweet citrus aromas and some floral qualities. Not much for a pungent hoppiness... everything seems very 'pretty,' for lack of better words.
T: It's almost as if a pilsener has the assertive hopping removed and is replaced by fruity esters. On first contact, the flavour is a bit sweet, followed by a warm malt, a touch of spiciness, and a hint of alcohol on the finish, bringing with it a suitable warming. Maybe it's the influence of the alcohol flavour that gives it a bit of a vinous quality.
M: The sparkling carbonation makes for a lively drink. Had it been finished with more dryness, I would have been floored by it. Nonetheless, it is nice, crisp, and quite refreshing... granted, that could be a bit of a red flag, considering the alcohol content!
D: Aside from the little spot of alcohol noted on the finish, it's incredibly well hidden. It drinks ridiculously easily, though I would find myself on the fence about picking it up again at $20. I will admit that I enjoyed it enough that I do find myself interested in another... plus, it IS pretty much on par with other beers of the style, as far as cost goes. Perhaps it will be a beer of choice for the New Year celebration.
1,529 characters
3.86
/5
rDev
+19.1%
look: 4.5 | smell: 3.5 | taste: 4 | feel: 4.5 | overall: 3.5
750 ml bottle split into a Duvel tulip (I can't stand reviewing from flutes, they release too much of the nose for me). 10.3% ABV, "We recommend serving the beer at 40-42° F and enjoying it before July 2011."
A - After a difficult-to-remove cork a loud POP sounded followed by some serious gun smoke wafting out. I instantly expected a gusher. Great strong carbonation in the Duvel glass looks awesome as it endlessly billows through the crystal clear goldenrod beer. A strong off-white head has good retention and some sheets of lace left on the glass.
S - Nice collaboration of fruit and spice in the aroma initially. I really like the depth but it's very mellow to start with. Banana notes and spices meld together with a pinch of white grape. Hints of pale and pils malt finish with a touch of mineral. The more I smell it, the more I'm somewhat turned off by it. I begin to get old, dusty, earthy basement notes, not akin to a good funk. A little toasted malt too.
T - Sweet pale, pils, and Vienna malt across the board with a lingering toastiness after the swallow. The yeast is fairly prominent as it adds complex notes of light banana, white grape, and earthy spice. Some white pepper and perhaps clay. The sweetness becomes a little cloying though.
M - The mouthfeel is the only resemblance to champagne at all, and even then, it's still fairly different. Extreme carbonation has a great texture on the tongue and down the throat. It never gets over the top at any point surprisingly. It differs in the sense that, yes it's crisp but it's also medium-bodied and very sweet. No real dryness here. Again, the sweetness is a little bit cloying. The alcohol creeps up very stealthily.
D - This one is best shared with a group of people. It's definitely a nice and unique beer but it's a little too reminiscent of a spiked Samuel Adams Boston Lager (I realize they use that yeast in this) in the flavor. I wish it was a little more champagne-like. Is it worth the $20 price tag? If you've gotta try it, splitting a bottle with a few people would be the way to go. Maybe I'll pick up one more bottle for New Years, we'll see.
2,134 characters
3.55
/5
rDev
+9.6%
look: 3.5 | smell: 3.5 | taste: 3.5 | feel: 4 | overall: 3.5
Sam Adams' collaboration with Brewery Weihenstephan. Holy hell, that's a tight cork...
Poured into a fluted glass.
A- Poura a crystal clear golden yellow with a 4-finger rocky white head that does dissipate kind of quickly for its size. Lots of carbonation that keeps on rising. Ok on the lace, but the head fell to a thin cap way to quickly.
S- Almost a saison-like aroma. Little grassiness, followed by a a candied sugar smell. Hop presence is there, but it plays a backing role here. A little spicy with NONE of the ABV % present.
T- The sugary/fruity sweetness hits the hardest. Slight banana there as well. Grassiness comes through in the end. Some lemon/citrus in the end as well. Again, the ABV hides itself amazingly well.
MF/D- Light to moderate body with a very crisp carbonated bite. Drinkable in the sense that it's a lighter body and with good carbonation it goes down very nice. A little on the sweet side though, so more than a glass or two might be asking much.
Notes: Wasn't too sure what to classify this as, so I went with their description. While being an exellent brew, it's not amazing, and would'nt really search it out again given the price on it and not being great. Again, not bad in any sense, just not worth the hype. Good to try once. Feel free to request a change of style if you think there's a better fit.
1,342 characters
Infinium from Boston Beer Company (Samuel Adams)
Beer rating:
3.24
out of
5
with
1,132
ratings