Longshot Friar Hop Ale
| Boston Beer Company (Samuel Adams)
BA SCORE
82
good
185
Reviews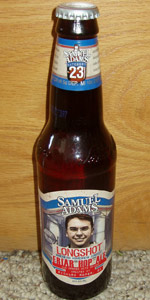 BEER INFO
Brewed by:
Boston Beer Company (Samuel Adams)
Massachusetts
,
United States
samueladams.com
Style:
Belgian IPA
Alcohol by volume (ABV):
9.00%
Availability:
Limited (brewed once)
Notes / Commercial Description:
No notes at this time.
Added by silentjay on 03-17-2011
This beer is retired; no longer brewed.
Reviews: 185 | Ratings: 240

4
/5
rDev
+10.5%
look: 4 | smell: 4 | taste: 4 | feel: 4 | overall: 4
Pours a nice clear amber honey color. Thin white head an ok lacing.
Aroma of a Belgian triple. Little bit of malt and some hops.
Taste is good. Solid Belgian yeast flavor that isn't too intense. Nice hip bite and a bit of flavor. Nice bit of maltiness.
Mouthfeel is malty a bit to start and finishes off dry. Nice carb.
Overall a tasty beer. Not super special but good. Would buy it if it was a regular. I think it deserves a little better than a B on here.
461 characters
3.12
/5
rDev
-13.8%
look: 5 | smell: 3 | taste: 3 | feel: 3 | overall: 3
A-Pours a very clear orange color with two fingers of white, thick head that leaves behind some thick lacing.
S-Clove-heavy Belgian yeast with some very light citrus notes.
T-Cloves upfront with some orange-y hops and a slightly bitter and peppery finish.
M-Medium bodied with moderate carbonation and a crisp mouthfeel.
D-Pretty easy drinking but largely unimpressive. When I think of a Belgian IPA, I think of a better balance of the styles rather than leaning heavily on one of the styles; this is essentially a slightly bitter Belgian ale.
547 characters
3.6
/5
rDev
-0.6%
look: 3.5 | smell: 3.5 | taste: 3.5 | feel: 3.5 | overall: 4
Poured from 12oz bottle into SABL pint.
A. Poured a 1 finger head. Decent retention. Moderate lacing. Color is a dark orange.
S. Smell is pretty heavy on the Belgian yeast. Not really picking up a lot of hop aroma. Compared to some other Belgian IPAs this is a little more heavy on the Belgian aroma than the IPA. Spices and yeast are the predominant smell.
T. Taste is also spicy Belgian yeast. Not a whole lot of hops going on in the flavor either. Good BSPA but maybe not so much a Belgian IPA. Flavors are somewhat mellow. Get some clove, banana, pale malt. Sweet and spicy.
M. Medium bodied. Medium carbonation.
O. Overall Friar Hop is an ok beer. There are definitely better Belgian IPAs out there. Pretty lacking on the hop aroma and flavor. Mostly a Belgian Strong Pale Ale to me. If I were reviewing as such, I would probably give the same score.
862 characters
4.05
/5
rDev
+11.9%
look: 4 | smell: 4 | taste: 4 | feel: 4.5 | overall: 4
12 oz. bottle,
A: Pours a burnt orange with a medium off-white head. Good lace and head retention.
S: Good amount of orange peel and coriander, smells like a strong wit with a hint of booze. Fruity, estery.
T: Apricot and orange dominant, with a hint of pine at the end. Coriander and white pepper form a distinct mid-palate.
M: Full-bodied, well structured, never cloying. Smooth and direct.
O: The winner for me of this Longshot set and one of the better Longshot beers I've ever had. Hope Jim Koch makes the decision to bottle this, except for this one-off, nice brew.
577 characters
2.05
/5
rDev
-43.4%
look: 4 | smell: 4 | taste: 1 | feel: 1.5 | overall: 1.5
Pours a clear copper amber hue with a bright off white khaki beige head forms fine even lacing. Aroma has a deep fruit layer with hints of cherry/apricort and an evident citrus note as well. No alcohol hits the nose very well hidden, and a bit of Belgian yeast phenolics going on. Flavor is extremely sweet, like toothache and diabetes inducing sweetness. Cloying spice levels makes you instantly want to brush your teeth, there's no way on earth this is a Belgian IPA I'm not getting any alpha hops. Just loads of citrus peel, spice addition bitterness that is just downright unpleasant on the palate...a touch of heat comes through as well in the finish. Carbonation overdone along with the spicing this finishes dry and spicy with absolutely disgusting levels of spice additions, so perfumey and floral. Drinkability is poor and overall horrible beer experience I hope this doesn't turn anybody off to craft beer because it's possibly that bad.
947 characters

4.2
/5
rDev
+16%
look: 4 | smell: 4 | taste: 4.5 | feel: 4 | overall: 4
I love trying the Longshot beers each year. This year's batch caught me by surprise: I wasn't paying attention.
Pours a nice amber/orange in color with a good head that reduces to a thin layer in my glass while leaving nice lace.
It has a very nice Belgian aroma of grain and dried fruit. Of course, the main aroma components are coming from the yeast. I don't smell any alcohol, which is impressive for a beer of this strength.
The taste is -- no surprise -- like a hoppy Belgian ale. It's got the classic Belgian yeast flavors, notes of biscuit and bread and some dried fruit flavors. But there are also some good citrus hop notes and a nice bitterness to balance the sweetness. No note of higher alcohol.
Good smooth body that has plenty of substance.
Overall this is a very fine beer and another winner from Longshot that Samuel Adams should make again. Seek this one out. It's my favorite from this year's batch.
922 characters
4.22
/5
rDev
+16.6%
look: 4 | smell: 4.5 | taste: 4 | feel: 4 | overall: 4.5
This beer poured a clear orange body with a nice frothy mildy dull white head.
Nose is really interesting because it's a mix of traditional Belgian spice, yeast and malt notes, but then has this spicy citric hop smell shining through. There's definitely some sweet smells like honey coming up as well.
Taste is thick and full bodied. At first sip it seems as if it's going to be a traditional Belgian triple, but then this rush of orange and coriander spice coming flowing in. Lots of citric hops too along with the orange peel flavor. It's very much a potpourri of spices. Very cool. Very nice chewy malt. There's a solid backbone, and it has a good balanced bitterness, but the spices really dominate this beer. The hops, although very much in your face, are extremely well balanced against the spice load. Ends with a nice lingering bitterness.
It really runs a fine line between triple, farmhouse ale and some of those big hoppy Belgians like DeRanke. Really an excellent beer. Great job Richard!
1,003 characters

3.01
/5
rDev
-16.9%
look: 3.5 | smell: 2.5 | taste: 3 | feel: 4 | overall: 3
Amber in color, very clear, a lot less carbonation and head than I was expecting.
Smells like candied sugar, with a bit of hops and spice.
Taste is syrupy sweet, with the sweetness broken up by decent amounts of clove-like spices and fresh American hop flavors. Finishes hoppy. The flavors don't really mesh too well, and the rather dank hop flavors and the spicy sweetness kind of melt into one.
Mouthfeel is lighter than expected for the sweetness level present.
It's a neat concept, but I'd rather a beer built on spices or one built on strong American hops. Not both.
576 characters

4.06
/5
rDev
+12.2%
look: 5 | smell: 4 | taste: 4 | feel: 4 | overall: 4
Pours a three finger cream head that fades slowly leaving a good lace. Nice crystal clear amber color. Light-medium carbonation and medium bodied. Sweet spicy and hop nose, flavor is spice, honey and hops, slightly dry finish. Higher ABV is hidden. $9.75 for a 6-pak from Bert's Better Beers Hooksett, NH. Best by Sep 2011.
323 characters
3.47
/5
rDev
-4.1%
look: 3.5 | smell: 4 | taste: 3.5 | feel: 3 | overall: 3
crystal clear amberish copper color with a small almost pure white fluffy head that quickly recedes yet leaves some decent lacing.
a bit spicy on the nose, with a definite candi sugar sweetness backing that up, and some herbal and citrus hops.
starts a bit spicy, goes very sweet, finishes herbal with some lemon pepper (citrusy yet spicy) on the finish. hot from beginning to end, with a syrupy sweetness that is a bit too heavy handed.
hot and syrupy with little carbonation on a medium bodied brew. fills the mouth with an oiliness that doesn't suit the flavor profile very well.
a bit too hot and sticky sweet belies the underlying spice. hops are not out in front, as I expected from the bottle description. nothing I'd clamor for again, though not terrible.
775 characters
Longshot Friar Hop Ale from Boston Beer Company (Samuel Adams)
3.62
out of
5
based on
240
ratings.