Samuel Adams Bonfire Rauchbier
| Boston Beer Company (Samuel Adams)
BA SCORE
80
good
236
Reviews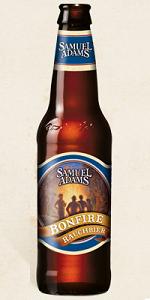 BEER INFO
Brewed by:
Boston Beer Company (Samuel Adams)
Massachusetts
,
United States
|
website
Style:
Rauchbier
Alcohol by volume (ABV):
5.70%
Availability:
Fall
Notes / Commercial Description:
No notes at this time.
Added by HoustonTX on 08-06-2011
Reviews: 236 | Ratings: 573
4.22
/5
rDev
+19.5%
look: 4 | smell: 4.5 | taste: 4 | feel: 4 | overall: 4.5
A - A very nice dark brown with Head of a nice half inch and it looks kind of creamy.
S - First smells were smoke and ash with a bit of sweetness but as it warms I can almost smell candied bacon with a slight ashy malt. My friend put it in my head that it had a "salami" tone to the nose.
T - Smokey for sure but not to the point of ash more like overcooked bacon. Smokey then bacon then a sweet finish like brown sugar goodness.
M - Light to medium I enjoyed sipping this one.
Overall I am quite impressed with this offering and even though I haven't had many of the style I can say this one is the best so far.
★
617 characters
4.22
/5
rDev
+19.5%
look: 4 | smell: 4.5 | taste: 4 | feel: 4 | overall: 4.5
Black looking body with deep ruby red notes on the edges... I see some greenish yellow colors as this pours from the bottle. Very interesting.
Roasty, very roasty, malts. A smooth earthy smokey character with slight notes of oaky peat.
The flavor is exactly as the nose had me expecting; but add in a surprising dry bitter finish.
The body is smooth and full. Good carbonation.
Overall, this is pretty nice rauchbier here. Very pleasant to drink. I enjoy it.
★
465 characters

4.25
/5
rDev
+20.4%
look: 4 | smell: 4 | taste: 4.5 | feel: 4.5 | overall: 4
I bought a 12-pack Sampler Pack of Sam Adams Harvest Collections in Fall 2011 from Woodman's in Janesville, WI for $12.99 as this is the only way to get the Rauchbier.
Pours a dark, cloudy brown color with a thin head that disolves quickly. Smokey malts are the most noticable scent. You don't have to search for the tastes as the smoked malts hit the taste buds right away. Has a great body and texture to go along with its unique taste. For whatever reason it's pretty hard to find a smoked beer as I've only ever had 2 out of trying over 200+ beers. This one is delicous and probably one of my favorite Sam Adams products.
★
627 characters

4.27
/5
rDev
+21%
look: 4 | smell: 4.5 | taste: 4 | feel: 4.5 | overall: 4.5
A-dark brown, slightly transparent. thin cream colored head
S-smells like campfire and autumn spices...a really decent mix. good strength.
T-comes in with a taste of campfire and dark malts. its a really decent taste. the after-taste is matching but shows some great autumn spices as well. i'm surprised at how well put together and balanced this is. the flavors seem to be of pretty high quality too, which i don't find too often in Samuel Adams beers.
M-medium and creamy carbonation with a semi dry finish
O-i've had a few rauchbiers at this point, and this is by far the best that i've had...and that is saying a lot because i happen to be a fan of the style. i don't know why, but i love the smokey taste of bonfire, and this beer captures it very well, while adding a bit more to the table. i'm down right impressed with Samuel Adams on this one, it might be one of my favorites from them!
★
901 characters

4.3
/5
rDev
+21.8%
look: 4 | smell: 4 | taste: 4.5 | feel: 4 | overall: 4.5
Poured into a pint glass from a 12oz bottle.
A - pours a medium copper, forming a 1inch off-white head. Light spots of lace on the glass.
S - rich smokiness from the smoked malts dominates the nose.
T - the smoked malts dominate the palate, not giving any presence to the hops. Not very complex, but delicious.
M - medium bodied, very smooth and clean, with average carbonation.
D - as a huge fan of rauchbiers, my review is a bit biased. This is definitely one of the better Sam Adams brews in my opinion. They really nailed the traditional rauchbier profile! Considering that we don't get very many smoked beers in my area, I easily welcome this brew!
★
659 characters
4.35
/5
rDev
+23.2%
look: 4 | smell: 4 | taste: 4.5 | feel: 4.5 | overall: 4.5
picked up the harvest collection first time I ever tryed a smoked beer an enjoying it with a nice flounder dinner...
Apperance is a light copper color with a small head.
Aroma is like smelling beef jerky after it comes out of the smoker. With a bit of a sweetness.
Taste the smokeness hits you right away the sweetness is the next in line but not to strong
caramel and toffee leave hints of being in the beer.
Mouthfeel medium bodied little carbonation.
Overall one of best smoked beers I ever had.
★
502 characters
4.35
/5
rDev
+23.2%
look: 4 | smell: 4 | taste: 4.5 | feel: 4.5 | overall: 4.5
Poured from the bottle into a globe style glass.
Looked a nice brown, slytly reddish color. Little head, that left quicly.
Smelled very smokey, with a sweet maltiness, and a little spice, the smoke was by far the most prevalant.
Tasted the smoke right away. There was a nice balance of a carmelly sweetness however. The more into the glass I got, the beer warmed, and the smoke really took control of the flavor.
Overall it was a very enjoyable beer. Not one I would have more then one of at a time, but I enjoyed this beer a great deal.
★
541 characters
4.42
/5
rDev
+25.2%
look: 4 | smell: 4.5 | taste: 4.5 | feel: 4 | overall: 4.5
SA's Rauchbier, finally in bottles included in the Harvest Collection. I have to say that SA's Fall pack is ALWAYS my favorite, even over the Winter pack and god knows I love my Holiday and Old Fezzi. On the the review!
Pours a dark ruby with a 1/2" light tan head that simmers down into a fizzy light cap. Smell of the Caramel and Pale 2 row dominate the nose, along with a mild hop presence and a soft touch from the smoked peat malt.
Taste is phenominal. I think this is one of the better SA offerings, and should be put into 6... wait, no 12.... errrmmm, I mean 30pk cases! Sweet Caramel and pale malts up front with the bit of smoke riding on top, finished with a slight bitterness from a noble I would imagine. The mouthfeel is alot thicker than most Rauch's, but makes me feel warm and toasty even in this god damn 90*+ temp here in Georgia. A spot on hit for SA in the Rauchbier Cat.
Overall, I want MORE MORE MORE!!!! I really want a Imp version of this, cranked up to 7% and loaded with smoke! Do yourself a favor, if your reading this and you haven't tried it, go get it immediately! If you like smoked beers and foods, you'll be glad you did! Cheers!
★
1,165 characters
4.44
/5
rDev
+25.8%
look: 4 | smell: 5 | taste: 4.5 | feel: 4 | overall: 4
Poured into pint glass
Copper color, 1 finger head, some lacing
Nice smoke taste, taste like hickory smoke
Smokey bacon taste without being overpowering
Light texture, finishes great.
My first rauchbier, I wish it came in 12 packs!
Available as part of Samuel Adams Seasonal 12 pack.
★
289 characters

4.52
/5
rDev
+28%
look: 4 | smell: 4.5 | taste: 5 | feel: 4 | overall: 4
Pours a very nice coppery-brown color with good head and decent lacing. Wonderful thick and hearty scent with some nice sweetness and a wonderful smokiness in the nose. Great flavor, a nice malty thickness with some nutty attributes and a wonderful hearty smoky flavor that goes great on a cool and rainy night on the back porch. Went down quite well, given the smokiness.
★
372 characters

5
/5
rDev
+41.6%
look: 5 | smell: 5 | taste: 5 | feel: 5 | overall: 5
poured in to a pint beer glass. Small head and copperish color. Smells of malts and smokey flavor to it. It taste just as the lable says malts and smokiness. mouthful is exceptional, the smokiness says it all!!! Overall an excellent beer to drink for all occasions
★
264 characters
Samuel Adams Bonfire Rauchbier from Boston Beer Company (Samuel Adams)
80
out of
100
based on
236
ratings.