Samuel Adams Bonfire Rauchbier
| Boston Beer Company (Samuel Adams)
BA SCORE
80
good
236
Reviews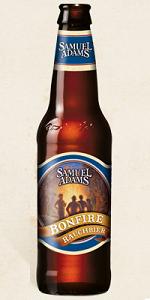 BEER INFO
Brewed by:
Boston Beer Company (Samuel Adams)
Massachusetts
,
United States
|
website
Style:
Rauchbier
Alcohol by volume (ABV):
5.70%
Availability:
Fall
Notes / Commercial Description:
No notes at this time.
Added by HoustonTX on 08-06-2011
Reviews: 236 | Ratings: 573
3.97
/5
rDev
+12.5%
look: 3.5 | smell: 4 | taste: 4 | feel: 4 | overall: 4
12 oz pour into a pint glass
The beer pours with little to no head. Lacing is minimal on the glass. I definitely could use more foam out of a rauchbier.
Nose is beechwood smoke and sweet malt.
Flavor is good, although it seems like they took their Octoberfest and added some rauch malt to it. The malt flavor is pretty blah, and only adds a sweet character to the mix without the grain flavors I want in a rauch. I'm a fan of the beechwood smoke, so it definitely wins points there. The smoke is well balanced and doesn't take over, although I almost wish it would in this beer just to boost the complexity a bit.
The body is great; carbonation seems nice for the style and drinkability is high.
Finish is of smoke and spice, seems like they only added enough hops to get the job done here. There's a strange lingering sweetness that distracts.
Overall a decent effort, but I could use more of everything. More smoke, more spiciness and a bit more bitterness from the hops, more real malt character instead of the subdued sweetness that poses in its place.
★
1,064 characters
1.81
/5
rDev
-48.7%
look: 3 | smell: 2 | taste: 1.5 | feel: 1.5 | overall: 2
Pours brownish-orange, with a light orange head that dissipates quickly.
Smells smokey; not appetizing at all.
Tastes... like hotdogs. Actually pretty gross.
This is the shortest review I've written. This beer completely rubbed me the wrong way. The fact that it probably won't rate as the worst beer I've reviewed is a testament to how bad some other beers can be, but this is in no way good. It tastes like campfire hotdogs. Good for hotdogs, bad for beer.
★
462 characters
3.97
/5
rDev
+12.5%
look: 3.5 | smell: 4 | taste: 4 | feel: 4 | overall: 4
12oz bottle served in a glass beer mug.
L - clear amber color with a off-white head that thinned to a light ring.
S - hickory smoked aroma with a hint of caramel malt.
T - hickory smoked taste upfront with some malty sweetness finishing smokey.
F - medium bodied with a smooth feel.
O - a good example of the style.
★
320 characters

3.65
/5
rDev
+3.4%
look: 3.5 | smell: 3.5 | taste: 3.5 | feel: 4 | overall: 4
Pours a clear copper color with a short soapy off-white head. Pretty color but the head is disappointing.
The aroma is of a light caramel malt with some metallic notes. The smoke isn't too strong but is noticable. It has a nice bacon aroma to it with a hint of char.
The flavor is dominated by the smoke. That being said, the smoke flavor isn't overwhelming. It is actually spot on for the amount of malt used. It is a light smoke flavor and doesn't bring the campfire, char, earthiness that others in the style do. The malt basically provides a base for the smoke. It has some light caramel sweetness and a touch of a metallic bitterness. Perhaps some tea flavors as well. I really like smoked beers so the flavor is a tad light for me but this is a good introduction beer.
The feel is light to moderate with fizzy carbonation. Fairly sweet on the palate with the smoke and some bitterness to balance out. Drinks very easy for a smoked beer and fairly clean. Some light sourness in the finish. Good balance.
A good drinkable introduction smoke brew. Enough smoke to enjoy but not enough to blow you away. Not sure if this will be a keeper.
★
1,144 characters
2.69
/5
rDev
-23.8%
look: 4 | smell: 2.5 | taste: 2.5 | feel: 2.5 | overall: 3
Let me start by saying Sam Adam's Rauchbier is a smoked ale. That being said, it should turn a few people off right away. I'm generally not a fan, but it was in the Fall Harvest pack, and I won't turn away new beer. It's a darker color, not anywhere near porter, but still darker than your usual ale. The first sip tastes of smoked wood immediately followed by heavy malt. The mouthfeel reflects this flavor; very heavy and coats your entire mouth. If you are a fan of the smoke variety, I do expect you will like this, but if you're like me you should let this one ride.
★
571 characters
4.44
/5
rDev
+25.8%
look: 4 | smell: 5 | taste: 4.5 | feel: 4 | overall: 4
Poured into pint glass
Copper color, 1 finger head, some lacing
Nice smoke taste, taste like hickory smoke
Smokey bacon taste without being overpowering
Light texture, finishes great.
My first rauchbier, I wish it came in 12 packs!
Available as part of Samuel Adams Seasonal 12 pack.
★
289 characters

4.12
/5
rDev
+16.7%
look: 4 | smell: 4.5 | taste: 4 | feel: 4 | overall: 4
Poured from a 12 ounce bottle into a New Belgium globe.
Appearance: Pours a dark woody brown with ruby-orange highlights and a 1-2 finger creamy light tan head. Excellent head retention with head pooling on top in the middle. Nice lacing.
Smell: Smoked bacon with maple. Wow, this makes me hungry for breakfast.
Taste: Smoke flavor up front followed by sweet malt and mild dried fruits in the middle before ending with a touch of hops. The smoke is definitely apparent throughout, especially up front, but it never overpowers.
Mouthfeel: Medium-bodied with a decent amount of carbonation.
Drinkability: High drinkability. Like it's name implies, this would be perfect around a campfire. That said, it's pretty nice on a hot and rainy August afternoon here in Southwest Florida.
Overall: Excellent beer overall. While this is my first Rauchbier, I must say this beer is really good. I'd be pleasantly surprised if they get much better than this. I'd say it would be worth getting the Sam Adam's Fall Mix Pack just for this one.
★
1,034 characters

4.3
/5
rDev
+21.8%
look: 4 | smell: 4 | taste: 4.5 | feel: 4 | overall: 4.5
Poured into a pint glass from a 12oz bottle.
A - pours a medium copper, forming a 1inch off-white head. Light spots of lace on the glass.
S - rich smokiness from the smoked malts dominates the nose.
T - the smoked malts dominate the palate, not giving any presence to the hops. Not very complex, but delicious.
M - medium bodied, very smooth and clean, with average carbonation.
D - as a huge fan of rauchbiers, my review is a bit biased. This is definitely one of the better Sam Adams brews in my opinion. They really nailed the traditional rauchbier profile! Considering that we don't get very many smoked beers in my area, I easily welcome this brew!
★
659 characters
4.12
/5
rDev
+16.7%
look: 3.5 | smell: 4 | taste: 4.5 | feel: 3.5 | overall: 4
Pours out a darker copper colored body, slightly hazy with a small white head that doesnt' last too long. Definitely a bit smokey on the nose along with the clean caramel lagered malts. Smokier still on the taste, it does taste like a bonfire. Well, its not as overwhelming as some smokes, I actually think its just about right. Caramel malt start with a touch of bitterness from the hops. A bit of toffee as well. Medium bodied, fairly sharp on the tongue.
I like it.
★
470 characters

4.15
/5
rDev
+17.6%
look: 4.5 | smell: 4.5 | taste: 4 | feel: 4 | overall: 4
BACON smokey nose!
Whoa, gorgeous chestnut color on the pour with off-white head, and a full bacon smoke nose that is quite assertive.
Palate offers a nice balance of caramelly sweetness akin to an Oktoberfest, but then the BBQ bacon-like smoke comes in for center stage. Medium bodied. Very drinkable.
Can't wait to pair this with various foods.
★
351 characters
3.85
/5
rDev
+9.1%
look: 3 | smell: 3 | taste: 4.5 | feel: 3.5 | overall: 4
Samuel Adams Bonfire Rauchbier
Part of the Harvest Collection 2011.
Body is on the lighter side of amber, solid white head.
Aromatics are a bit lacking. Some smokiness along with feint malt in the background.
The taste is a whole different story. Sam Adams has provided us with one juicy, succulent, and fully enjoyable Rauchebier. This is one Raunchy Rauchebier. Upfront a cradle of sweetness, with a solid base of earthy malt and some citrus hops provide way for what is to come. A strong influx of dominating smokiness, raw, unrefined, and peaty. Teriyaki beef jerky infused with a hint of spice and lots of smoke. Finishes zesty, meaty, and citrusy. A delicious endeavor to partake in. Would be absolutely divine with barbecue.
A style often underrepresented, this beer is an absolute home run. This smokey meaty Rauchebier has all bases covered. Smokey enough to make your eyes water.
★
894 characters
Samuel Adams Bonfire Rauchbier from Boston Beer Company (Samuel Adams)
80
out of
100
based on
236
ratings.