Samuel Adams Bonfire Rauchbier
| Boston Beer Company (Samuel Adams)
BA SCORE
80
good
237
Reviews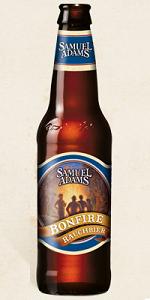 BEER INFO
Brewed by:
Boston Beer Company (Samuel Adams)
Massachusetts
,
United States
samueladams.com
Style:
Rauchbier
Alcohol by volume (ABV):
5.70%
Availability:
Fall
Notes / Commercial Description:
No notes at this time.
Added by HoustonTX on 08-06-2011
This beer is retired; no longer brewed.
Reviews: 237 | Ratings: 575
4
/5
rDev
+13.3%
look: 4 | smell: 4 | taste: 4 | feel: 4 | overall: 4
Pours a rich mahogany with off white thick head that slowly falls leaving decent lacing. I don't think I've ever seen a bee this dark brownish red, it looks pretty good.
It smells sweet, notes of cherry and wood with smoke becoming significantly more noticeable as it warms. 
Taste is sweet and smokey. Notes of bacon and smoked meat. Think sweet unsalted beef jerky. There is noticeable sweet malt in there to remind you this smokey concoction is still beer.
Mouthfeel is smooth but full.
This is my first rauchbier (other than half of one a few years ago) so I don't really have anything to compare it to, but it's pretty good. After a few sips it really starts to grow on me. I like it, and I'm definitely going to seek out other rauchbiers soon.
★
754 characters

3.1
/5
rDev
-12.2%
look: 4 | smell: 4 | taste: 2.5 | feel: 3 | overall: 3
Poured from a 12 oz bottle into a 16 oz taste activator shaker.
I'll just say I was anticipating this, along with the Harvest Pumpkin, to be impressive, unique, and complex beers that were enjoyable to drink even in large quantities. Especially so for this one, that is not the case.
It has a good medium to dark brown pour that has a nice head with good retention and nice lacing throughout.
It smells promising. It has a nice smokey hint that is accompanied by sweet and caramel malts.
Unique is certainly a word you could use to describe this beers flavor. It is completely overwhelmed by the taste of smoke. Like taking a big bite out of a piece of burnt firewood. There are some of those sweet undertones in there somewhere. And with each drink, the smoke flavor becomes less intense. When you burp, and you assuredly will, it'll taste as though you'd been drinking a Budweiser around a camp fire.
It has a good full body with quite a bit of carbonation.
Overall certainly not my favorite beer, and not all I cracked it up to be. I think maybe if I had gone into it without the presumption that this would be great, I would actually be a bit more impressed. It wasn't terrible but it wasn't great either.
★
1,218 characters
1.37
/5
rDev
-61.2%
look: 3 | smell: 1 | taste: 1 | feel: 3 | overall: 1.25
Tasted and smelt exaclty like buring firewood....Sam Adams Bonfire, no kidding. From the sam adams winter variety pack. Usually the variety packs are hit and miss. The winter pack was a great success. With the exception of "firewood Beer". I guess if you have this beer and take the name literially, you will not be dissapointed, especially if you happen to be a termite.
-Although it's been well over a year since I last tasted this "Gem", The taste is one that will not be forgotton.
★
486 characters
3.47
/5
rDev
-1.7%
look: 3 | smell: 3.5 | taste: 3.5 | feel: 3.5 | overall: 3.5
poured an amber color. smell was of a smokey malt sweetness. at first taste, the malt sweetness come to mind. after the malt flavor goes away, the smokey flavor of the malt comes in. leaves the mouthfeel with a hint smokeyness. not alot of a noticeable hops present, but still well balanced between hop, malt, smokeyness. overall, i thought this was a good beer.
★
362 characters
4.35
/5
rDev
+23.2%
look: 4 | smell: 4 | taste: 4.5 | feel: 4.5 | overall: 4.5
picked up the harvest collection first time I ever tryed a smoked beer an enjoying it with a nice flounder dinner...
Apperance is a light copper color with a small head.
Aroma is like smelling beef jerky after it comes out of the smoker. With a bit of a sweetness.
Taste the smokeness hits you right away the sweetness is the next in line but not to strong
caramel and toffee leave hints of being in the beer.
Mouthfeel medium bodied little carbonation.
Overall one of best smoked beers I ever had.
★
502 characters
4
/5
rDev
+13.3%
look: 4 | smell: 4 | taste: 4 | feel: 4 | overall: 4
got this in a seasonal fall pack from Sam.
A = light brown, almost amber color
S = Smoky, with a hint of sweetness
T = Not as sweet as it is described on the bottle. just a hint of caramel or toffee in this, but not enought to ruin the beer.
M = similar to most sams. easy to drink, with a good finish. Only after do you notice the sweet flavors.
O = good drinking beer to add to a fall collection. Can drink 1 or 2 by a fire. Could also drink 5 when tailgating.
★
464 characters
3.42
/5
rDev
-3.1%
look: 3 | smell: 3.5 | taste: 3.5 | feel: 3 | overall: 3.5
I'm not sure if they repitch the yeast to effect the smoke nature but this is overall a touch thinner than I anticipated for a rauchbier. I didn't sample the Sam's retired rauch bier so I have no basis to compare there. Rauchbier is a marzen or March beer and can be a bit higher in alcohol content.
★
299 characters
3.41
/5
rDev
-3.4%
look: 4 | smell: 3 | taste: 3 | feel: 4.5 | overall: 4
A: Heavy caramel, average carb., thin, quickly fading head with sticky lacing apparent
S: Freshly tanned leather and over-ripened fruits
T: Toasted marshmallow and roasted hot dog. Anonymous Roasty and Toasty notes dominate.
M: Medium-thick, like a good southern sweet tea.
Aftertaste: Marmalade on burnt toast
★
310 characters
1.42
/5
rDev
-59.8%
look: 3.5 | smell: 1.5 | taste: 1 | feel: 2.5 | overall: 1
Bottle poured into a standard conical pint glass.
A: Darkish amber. Head dissipated quickly, leaving a minimal amount of lacing.
S: Like a cheap cigar. Slighly sweet and acrid.
T: Worse than it smells. Like licking an ashtray. My wife describes it as 'being mouthraped by a hobo.
M: After the taste, I just wanted to forget that even tried this.
O: Horrible. I would rather not drink beer than ever drink this again.
★
421 characters
2.02
/5
rDev
-42.8%
look: 4 | smell: 2 | taste: 1.5 | feel: 3 | overall: 2
I must disclaim my inexperience with smoked beers-- in fact, this is the first that I've sampled. I'm normally a fan of IPAs, American Pales, and Hefeweizens, so this is new to me.
That said, I had a distinct dislike for this beer. It has some of the typical Sam Adams flavor notes and feel about it, but I couldn't acclimate to the smokiness. I love the outdoors and campfires, though, so I was tempted to give it a shot.
App: Nice dark copper-amber color with a soft tan head of moderate duration. Not a bad looking beer.
Smell: Distinctively smokey, damp next-morning campfire smell. Honestly, I hesitated a bit before taking a sip.
Taste: Toasted smokey malts, mild caramel. Dominated by the smoke flavor. Some have said this is complex, but to me the only prevalent flavor is smoke. If you don't like smokey beers, you won't likely care for this.
MF: Moderate carbonation typical of the brand, a tad thin for such strong flavors.
Overall: Again, I'm neither accustomed to nor apparently a fan of this style. The bottle was difficult for me to finish, and I'm glad there are only two in the sampler. If you're a fan of smokey beers, though, give it a try.
★
1,165 characters

2.88
/5
rDev
-18.4%
look: 5 | smell: 4.5 | taste: 2 | feel: 3 | overall: 2
Just tastes like they put a drop of liquid smoke in a normal sam adams. Kinda tastes like I'm drinking a literal bonfire or a grill cleaning brush. I expected a toasted taste instead.
★
183 characters
1.23
/5
rDev
-65.2%
look: 4 | smell: 1 | taste: 1 | feel: 1.5 | overall: 1
Oh Lord... Slinky to smooth, hoppy or saison, I drink 'em all. But this may have been a beer too far. When I cracked the cap, I thought "wait, is this some novelty 'Bacon Beer?' No. It was a beer that someone left work proud of calling their own... "Honey, I did it! A real gosh dignity Sam Adams beer!" "What does it taste like?" "Oh, it's your classic Stella Artois meets Beggin' Strips"
This beer was... Bad. Bad, bad.
That said, my dog loved it, but only after I cut it with a cup of tap water. Loki knows best...
★
520 characters
Samuel Adams Bonfire Rauchbier from Boston Beer Company (Samuel Adams)
3.53
out of
5
based on
575
ratings.