Longshot Derf's Secret Alt
| Boston Beer Company (Samuel Adams)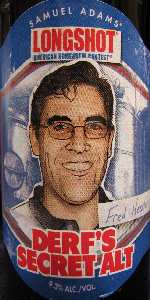 BEER INFO
Brewed by:
Boston Beer Company (Samuel Adams)
Massachusetts
,
United States
samueladams.com
Style:
Altbier
Alcohol by volume (ABV):
9.30%
Availability:
Limited (brewed once)
Notes / Commercial Description:
No notes at this time.
Added by AmericanGothic on 03-16-2012
This beer is retired; no longer brewed.
Reviews: 132 | Ratings: 260

3.05
/5
rDev
-18.9%
look: 4 | smell: 4 | taste: 2.5 | feel: 3.5 | overall: 2.5
Poured from a bottle into a pint glass
A - Pours a very dark cherry red, albeit rather clear. The head is two fingers and tan, and fades quickly
S- nice roasted malt aroma...caramel sweetness also comes through
T- overly, OVERLY sweet. The caramel taste is overbearing. There's a faint taste of alcohol in the back-end as well
M- body actually seems very thin. Huh.
O- looks nice...smells nice...but the taste is way too over the top. It's just too much
458 characters

2.98
/5
rDev
-20.7%
look: 3 | smell: 2.5 | taste: 3 | feel: 4 | overall: 3
A-dark amber with no head. Cream colored around the edges
S-smells like cinnamon and molasses. Strong and syrupy scent. Not too great. 
T-comes in with a really bitter taste of dark grains, winter spices, pumpernickel, and a little bit of hops. Definitely tastes more like a winter warmer than any other style. Matching after-taste with a touch of caramel.
M-bitter. Medium carbonation with a dry finish
O-it tastes so amateur. I imagine that the original recipe for this tasted much better but it fell apart while in the hands of Sam Adams. It's not terrible at all, but I was glad when I didn't have to drink more.
621 characters

2.96
/5
rDev
-21.3%
look: 4 | smell: 3 | taste: 2.5 | feel: 4 | overall: 3
Poured from bottle into a seidel.
A: Beautiful ruby-red body with thin brownish head.
S: Sweet malt and honey with a touch of alcohol. Not a very strong scent.
T: The orange flavor they mention is there but accompanied by a strong medicinal flavor that's hard to get past.
M: Strong point of the beer. Smooth and thick leaving a tart aftertaste.
O: Not something I'd buy a 6-pack of. The Dunkel that came with this one in the Longshot pack was better but I don't have notes for it.
486 characters
2.81
/5
rDev
-25.3%
look: 3 | smell: 4.5 | taste: 2 | feel: 2.5 | overall: 2.5
A: Pours a dark mahogany brown with a large amount of head.
S: Smells of rum and bread pudding, cinnamon, raisins and a faint waft of alcohol.
T: Bitterness up front, sugar and rum, a bit medicinal, and the alcohol follows it up strongly. A bitter reminder of hops stays on the back of the tongue. The smell is much nicer than the flavor.
M: A good deal of carbonation and a big richness to it.
Overall I think the alcohol and the bitterness are a bit too strong and the flavor suffers from it. It's one to be sipped and have only one. I wish the flavor matched the wonderful smells.
589 characters

2.75
/5
rDev
-26.9%
look: 3 | smell: 3 | taste: 2.5 | feel: 2.5 | overall: 3
Ba Review #172
Served On: 06/07/2012
Glassware: Samuel Adams Perfect Pint
Labeled ABV: 9.3%
Date/ Code: -
This was from the 2011 winners of the Sam Adams Longshot Contest.
Look: Poured a deep dark reddish copper color. Small tan head. Zero carbonation bubbles.
Smell: Nose was of booze, rich dark fruits, and a slight biscuit.
Taste: Upfront was some serious alcohol heat. Then some very pungent dark fruits. Then more booze. A slight sour note kicked in at the finish.
As a home brewer myself, I do appreciate what was accomplished here. I just can't say that I find the brew very enjoyable. Perhaps with some age would mellow out the harshness.
653 characters
2.73
/5
rDev
-27.4%
look: 3.5 | smell: 3 | taste: 2.5 | feel: 3 | overall: 2.5
This is a very dark alt, with with a bit of a reddish-gold tint when held to the light. Nose is unusually fruity, with ripe apricot notes, together with some sharp hints of alcohol. Taste: really sweet taste with a lot of yeasty fruitiness. I'd probably have identified this as aiming for a Belgian style in a blind taste test. The other notable is the hot alcohol notes. Way too strong for an alt, even the reserve sticke type, and it doesn't hit any of the points typical of the style. Not a pleasant drink at all. Puzzling how this one made it into the lineup.
563 characters
2.69
/5
rDev
-28.5%
look: 4 | smell: 2.5 | taste: 2.5 | feel: 3.5 | overall: 2.5
Part of the Longshot 2012 six-pack - $9.99 at Total Wine & More in Atlanta, Georgia.
Appearance: Pours out a clear, very dark amber-red body with a tallish, foamy, off-white head. A little smear here and there of lace.
Smell: Lightly sweetish, spicy, boozy nose with notes of dates and figs and citrus peel tossed into cooking brown sugar and grain spirits.
Taste: Bread crusts, brown sugar, and a little layer of molasses. Moderately sweet in a syrupy way. Slight grapefruit with a bite of chewing gum. Spicy hops but there're also some pops of clove buds. Medium-light bitterness. Ends with a kick of hot alcohol on the drying, malty finish. Singe of alcohol even well beyond the aftertaste.
Mouthfeel: Medium-bodied. Medium carbonation.
Overall: The secret in the Secret Alt is not the conspicuous alcohol presence, it's how this thing made it into the Longshot pack.
875 characters
Longshot Derf's Secret Alt from Boston Beer Company (Samuel Adams)
3.76
out of
5
based on
260
ratings.