Samuel Adams Porch Rocker
| Boston Beer Company (Samuel Adams)
BA SCORE
76
okay
238
Reviews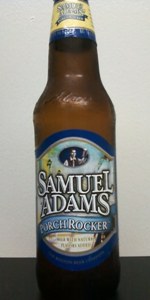 BEER INFO
Brewed by:
Boston Beer Company (Samuel Adams)
Massachusetts
,
United States
samueladams.com
Style:
Fruit / Vegetable Beer
Alcohol by volume (ABV):
4.50%
Availability:
Summer
Notes / Commercial Description:
No notes at this time.
Added by TMoney2591 on 05-19-2012
Reviews: 238 | Ratings: 1,565
3.68
/5
rDev
+11.2%
look: 4 | smell: 3.5 | taste: 3.5 | feel: 4 | overall: 4
Pours a pale helles like golden color with a bright white head forming thick, this one seems to do the style justice, even talking visually by itself. Aroma has citrus zest pale biscuit malts, really smells like lemonade, but there's still a beer in there somewhere. Flavor speaks better of the actual beer brewed here, refreshing hints of lemon zest with quality biscuit toasted malts and mild light herbal hops in the back end. Mouthfeel is light with moderate to strong carbonation flowing forth, a bit of bitter zest left behind on the palate but nothing too sweet or cloying in this beer. Overall, a quality refreshing beer that goes down smooth, bubbly drinking summer beer blended with lemonade.
★
702 characters

3.57
/5
rDev
+7.9%
look: 3.5 | smell: 4 | taste: 3.5 | feel: 3 | overall: 3.5
Poured from glass into pint glass
Appearance – Pours a clear straw color with a huge billowy white head. The head has big carbonation bubbles entrapped within which pop to give a medium to light amount of lacing.
Smell – The aroma is heavy in lemon with lighter hints of wheat. The lemon aroma is of a sweeter nature resembling that of lemonade. When mixed with the wheat and a light hop aroma it makes for a very nice aroma.
Taste – A sweet malt flavor of some wheat and lemon meet the tongue. The citrus lemon makes for a very lemonade like quality. While sweet upfront it sweetness even more toward the middle with heavier flavors of lemon. The sweetness is of largely white sugar giving the brew and even more lemonade flavor. As the taste advances beyond the middle however, it loses a bit of the sweetness (although it is still sweet) and becomes a bit more bready in nature. This sweet lemon and wheat flavor mixed with a very light grassy hop finish off the taste.
Mouthfeel – The body of the beer is very light and the carbonation is a bit below normal. Both give the beer a more lemonade like flavor.
Overall – It is refreshing, but not something I am typically looking for in a beer. It is much better then something like a Mike's hard lemonade, so if you are in the mood for something of that like take this instead.
★
1,346 characters
2.84
/5
rDev
-14.2%
look: 2 | smell: 3 | taste: 3 | feel: 3 | overall: 2.5
Poured into a Sam Adams 25th anniversary glass..
A: A clear / yellow tint, can see thru it pretty much 100%
S: Smells like a hint of lemon.. mild citrus here .. not too much going on.
T: First sip is sub par to me vs other recent Radlers Ive tried.. Second sip is a bit more complex and you can taste the lemons.. but still kinda.. Meh! was expecting so much more!! The flavor dissipated rather quickly.
M: Respectable, but nothing that holds your taste-buds for too long, quick and crisp.
O: Was expecting more flavor, got a pretty flatline taste.. drinkable beer however, just not very BAM! to the point where it stands out vs. the competiton. . . only way Id try it again would maybe be if it was on draught ever.
★
722 characters
3.86
/5
rDev
+16.6%
look: 3 | smell: 4.5 | taste: 4 | feel: 3 | overall: 3.5
Saw this at the liquor store and it caught my eye. Was reluctant to buy it but then decided to go for it anyways. I'm glad that I did.
A: Yellow beer with fizzy white head. Very carbonated.
S: Lemons. Fresh lemons.
T: Fresh lemon, sweet with a smooth lager finish.
If you are looking for a crisp, refreshing, summer beer on a warm day this one certainly hits the spot.
★
373 characters

4.2
/5
rDev
+26.9%
look: 4 | smell: 4 | taste: 4.5 | feel: 4 | overall: 4
Poured this into a Sam Adams glass. White billowy head that dissipates fairly quickly. Smell is strong lemon with a sutle sweetness.
The first sip goes down smooth with the next one even better. Nice traditional lagar smoothness with a slightly sweet aftertaste with very subtle tartness of lemon.
Well I could see myself with a six pack of this on a Saturday afternoon after a grass cutting session. Definately recommend for a summer beer!
★
444 characters
3
/5
rDev
-9.4%
look: 3 | smell: 3 | taste: 3 | feel: 3 | overall: 3
The beer pours a yellow color with a white head. The aroma is very heavy on the lemon with some wheat notes thrown in. The flavor is similar. This tastes more like lemonade than it does a beer, but there is a little bit of wheat and biscuit malt to make it somewhat beer like. Thin mouthfeel and medium carbonation. Not much to like here, but I guess it tastes about like what the brewery was going for.
★
403 characters
3.3
/5
rDev
-0.3%
look: 3 | smell: 3 | taste: 3 | feel: 4 | overall: 4
clear as day golden color with a thing wispy white head which fades away rather quickly.Bitter lemon peel and coriander on the nose. As the beer airs artificial tart lemon scent becomes abundant.
Not nearly as tart and lemon-like as other "shandy" beers. Thin crisp body with bright effervescence. Beer starts with sweet malts and a touch of lemon followed by a slightly tart lemon flavor with a lactic acid feel to it. Dry grainy malts coat the side of the tongue. A touch of citric and piney hop pop up at the end for balance.
The beer is pretty decent but has some off flavors on the finish of band-aids and wet cardboard but their faint and don't take away from the beer too much. In my opinion much more drinkable than other fruit beers. Sam Adams has allowed the fruit to still be the star without overpowering. Not my cup of tea but for what it is, pretty refreshing and well brewed.
★
894 characters
4
/5
rDev
+20.8%
look: 4 | smell: 4 | taste: 4 | feel: 4 | overall: 4
I poured this beer into a perfect pint glass, it has a nice golden yellow body with a quick dissolving head that leaves nothing. The smell is of fresh lemons and some hops. The taste is tart of lemon and with a little bit of hop on the back of the tongue. This beer is well carbonated and the mouth feel is great and overall a really good summer beer.
★
351 characters
3.49
/5
rDev
+5.4%
look: 3 | smell: 4 | taste: 3 | feel: 3.5 | overall: 4
Always looking for a good Radler after my time in Germany while in the service and I try them as often as I can. I thought the name rather odd as the idea behind a Radler is that it's a good summer beer while participating in an activity like bike riding vice sitting in a porch rocker. But to the beer:
Pours a hazy yellow with a quickly dissolving white head that leaves nothing on the side of the glass.
Has a distinct lemon smell, more Real Lemon than German lemonade though.
Very light mouthfeel with lots of carbonation and a very lemony aftertaste. A hint of hops though.
A pleasant beer to drink on a hot day. Still not as good as its Geman counterparts but a good effort by the boys in Boston.
★
707 characters
3.48
/5
rDev
+5.1%
look: 3.5 | smell: 3 | taste: 4 | feel: 3.5 | overall: 3
Always have loved SA and always will. They aren't afraid to try bold things and you gotta like that.
Im not a big lemonade beer fan but I thought what the heck when I saw this in the store and I grabbed two 6 packs for the cookout.
A: Looks straw yellow very clear.
S: Lemons and a ton of them upfront.
T: I actually liked the taste a lot. very tart at the end. Goes excellent with BBQ.
Overall I like it. Its very different and good for what it is. Way better than Shock tops and even better than Leinenkugel's summer Shandy.
★
532 characters

3.51
/5
rDev
+6%
look: 4.5 | smell: 3.5 | taste: 3.5 | feel: 3 | overall: 3.5
Pours a bright yellow with a one-finger head into my glass. Carbonation level looks good.
Sweet malt with a touch of lemon essence in the nose. The difference here is that the lemon isn't supposed to overpower the base beer.
Clean, crisp and "lemony". Actually, more lemon meringue than Mikes. It compliments the grainy texture of the malt. Otherwise, nothing much else of note.
Lingering lemon and grain. Very faint.
I like it. Can't say that I'd rate it very high but if you must sample this style, go with this over the Saranac example. Of course, I'm expecting the Shock Top example to fall flat. Radler, Shandy, call it what you want.
★
644 characters
3.34
/5
rDev
+0.9%
look: 3 | smell: 4 | taste: 3 | feel: 3 | overall: 3.5
Poured from a 12oz. bottle into a standard pint glass.
Pale yellow in color, with a decent two-inch head of airy foam.
Aroma-lemon custard, faint honey
Taste-Lemon zest/honey, very light-bodied. Becomes a bit cloying upon warming. Best served well-chilled. Very shandy-like. Not great by any means but kudos to S.A. for putting different style out there.
★
354 characters

3
/5
rDev
-9.4%
look: 3 | smell: 3 | taste: 3 | feel: 3 | overall: 3
Served in a Chicago Bears shaker pint glass.
Surprised to get this when I did today, and I'm a bit skeptical about it, despite my love of radlers (damn you, time in Germany!). Givin' it the ol' college try: It pours a clear pale straw topped by a finger or so of short-lived fizzy white foam. The nose comprises lemon peel, light cardamom, and what may or may not be cracked wheat. The taste leads off with a stark and somewhat artificial lemon flavor, followed quickly by a somewhat wheaty apparition that intertwines with the lemon for the duration, the two toning each other down a bit whilst working their conjoined way down the gullet. It's not necessarily bad, but not something that stands out as being particularly tasty, either. The body is fairly light, with a light moderate carbonation (bordering on fizzier) and a slightly watery feel. Overall, an okay neo-radler at best, something I wouldn't purposefully reach for again, but also something I wouldn't really spurn if offered to me in passing.
★
1,011 characters
Samuel Adams Porch Rocker from Boston Beer Company (Samuel Adams)
3.31
out of
5
based on
1,565
ratings.