Dismiss Notice
Honeymoon Wheat
| Coeur d'Alene Brewing Co.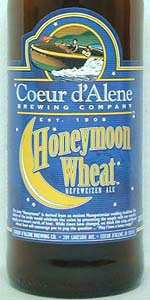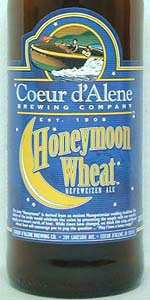 BEER INFO
Brewed by:
Coeur d'Alene Brewing Co.
Idaho
,
United States
Style:
American Pale Wheat Ale
Alcohol by volume (ABV):
3.50%
Availability:
Year-round
Notes / Commercial Description:
No notes at this time.
Added by BeerAdvocate on 08-12-2001
This beer is retired; no longer brewed.
HISTOGRAM
Ratings: 7 | Reviews: 7
Reviews by beerguy101:
3.26
/5
rDev
+19.9%
look: 4 | smell: 3 | taste: 3.5 | feel: 3 | overall: 3
Medium straw color, cloudy, small white foamy head. Aroma is grassy and grainy. Lighter bodied wheat. Slightly hopped and slightly malty wheat beer, Faint banana and clove aroma and taste. Mouth feel is full. Finish is smooth. Aftertaste is spritzy and fruity.
260 characters
More User Reviews:
2.36
/5
rDev
-13.2%
look: 3 | smell: 2 | taste: 2 | feel: 3 | overall: 3
Presentation: 12 oz brown long neck with no freshness date, blurb about the beer and the brewery on the label.
Appearance: Clouded gold colour with a faded orange hue, nice thick and foamy head that seems to want to stay around for a while which it does. Some sediment on the bottle of the bottle, with this sample the yeast was swirled and poured into the glass.
Smell: Mildly pungent tartness, perhaps a little lactic acid? Smells of a German Weiss or a Belgian Wheat. Wild lemon fruitiness with a raw yeasty and vague grain in the nose.
Taste: Light to medium in body, potent carbonation flows with the malt mouth feel that gets a little creamy. Creaminess builds to form a tart fermented wheat malt flavour. Husky grain stick to the tongue with a lemon and tart plum fruitiness to back it up. Hops are small and balance slightly so that the malt does not stay in favour for the whole time. Yeast is from middle to end of the dry powdery kind on the tongue, acidity sways from citric to vague lactic also.
Notes: A tart American Wheat beer, on the acidic side with a good dose of malt and yeast. More robust than most of its counterparts, though the acidity could be bothersome to novice beer drinkers.
1,217 characters
3.15
/5
rDev
+15.8%
look: 3.5 | smell: 3.5 | taste: 3 | feel: 3 | overall: 3
A quite attractive "Chill Hazed" gold color on the pour, the head is modest in size, frothy in texture, the lace fine sheets to coat the glass, both a brilliant white color. Nice "earthy" as I describe it, bread dough to the expert beer reviewers, also hints of malt and citrus. Front is malt sweet, the top lanky, with a sparingly hopped finish, the carbonation tolerable, the aftertaste dry and the sweetness lingers on and on and on, get the picture?
455 characters
2.79
/5
rDev
+2.6%
look: 2 | smell: 3 | taste: 3 | feel: 2.5 | overall: 2.5
Appearance- A golden hay yellow a little hazy but not much. This beer was flat no head, no lace, and no carbonation.
Smell- Slightly spices aroma. A little bit of wheat malt tones are present.
Taste- A little bit clove like and sweet in the taste but for the most part sweet and biscuit like.
Mouthfeel- Very thin for this style.
Drinkability- Average at best.
369 characters

1.86
/5
rDev
-31.6%
look: 3 | smell: 2 | taste: 1.5 | feel: 2 | overall: 2
On tap at the brewpub in Coeur d'Alene in August 2009. Couldn't put this review in with the rest of my backlog earlier, as this place was listed as closed for a period of time.
Pours a light yellow color with a single-finger white head and a touch of lacing as it goes down. The nose is slightly sweet without any other character there. The taste was a touch sweet but also fairly astringent and lightly medicinal. Really light body. Another bad beer from this plus, which was particularly offensive in this case as Amyliz4 and I were on our honeymoon and the name didn't really fit the quality we hoped for on the trip.
621 characters
2.83
/5
rDev
+4%
look: 3 | smell: 2.5 | taste: 2.5 | feel: 2.5 | overall: 4
I ordered a pint of Honeymoon Wheat Ale at the brewpub. Served in a pint tumbler.
Pours a pale gold/yellow color and is hazy. Virtually no head was served with beer, but I'm sure they are told to do it that way.
The smell is faint and non-descript.
The taste is a bit bland. There are some fruit (melon and banana) flavors, and a mild hop finish.
The mouth feel is thin and watery.
This is a drinkable beer, but it lacks character.
452 characters
2.76
/5
rDev
+1.5%
look: 3.5 | smell: 2.5 | taste: 2.5 | feel: 3.5 | overall: 3
I was served a three ounce sample at the Alehouse in Moscow, ID. There was some contention regarding the presentation of the samples. My buddy was served a beer claimed to be the Honeymoon Wheat that had the hazy body characteristic of a hefe weizen while mine was a clear golden color. After some discussion with the staff we were served new samples. We were convinced that my initial sample was from the residual in the hose from the Pale Ale while his was from the keg. With the correct beer to sample we proceeded with our adventure.
A: I poured a slightly hazy golden color with a generous white head that lingered and supported a decent lacing.
S: It had the aroma of honey, sweet light malts and white fruit (apricots, and pears).
T: It taste was dominated by sweet sticky fruits including pears and dates. It was smooth and had a light malt creaminess. There was a diluted lemon flavor that added a slight zip to the backside of experience.
M: Moderate body with a clean finish.
D: It is an easy beer to drink. I'm sure it is popular with the coeds and others who like their beers fruity and sweet.
1,111 characters
Honeymoon Wheat from Coeur d'Alene Brewing Co.
Beer rating:
2.72
out of
5
with
7
ratings