Domus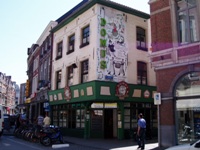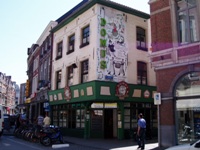 Brewery, Bar, Eatery
Tiensestraat 8
Leuven
, 3000
Belgium
+32 (0)16 20 14 49 |
map
domusleuven.be
Notes:
Reviews by TheLongBeachBum:
TheLongBeachBum from California
3.8
/5
rDev
-2.1%
vibe: 3.5 | quality: 3.5 | service: 4 | selection: 4 | food: 4
Domus was once one of the better known of the new wave of Belgium Brewpubs (Huis-brouwerij) and was a refreshing change when it opened in the mid-80's. It brewed some mighty strong and excellent beers, and was even a good enough reason to break your train journey and jump off at Leuven, as I often did – after checking the train stopped there of course!
I have been coming here since about 1996, and sadly I have noticed the breweries crown tilt, slip and eventually fall off. It is now a pale shadow of its former self I have to say.
I have read & been told that the problems with the Brewery stem from repairs that are not economic, through to stories of cash flow problems. Who knows the truth? But the once varied & adventurous range of regulars & seasonals has all but reduced to just one regular beer now, called (somewhat amusingly) Con-Domus. A 5% Pilsner that is rather good. Other 'Domus' beers do appear on occasions, but they are rumored to be brewed elsewhere, as indeed, some people tell me the Con-Domus is. It's hard to tell for sure.
The Café however, is still here and thrives, as it always does. It now relies more heavily on the slightly increased range of bottled beers that it sells, rather than its house beers. The list is some 50+, and contains a good range of beers, but is sadly lacking on the traditional lambic department I'm afraid – my only biased complaint. The interior is warren like, and wooden stairs lead to a second level at the front of the bar. Bare wooden floors and wooden furniture is everywhere. As you walk back through the complex, there are twists and turns revealing several aspects and dimensions to this comfortable and cozy bar. At the back there is a large eating area and access to the outside drinking area of tables & chairs. Food is rather good, quickly served (for Belgium) and reasonably priced; it does smaller plates if a snack is all you want. Can feel like a Restaurant a bit at lunch times though.
Our Last Visit was 15th April 2001, and the new brewer recognised us all ?! - for he was the brewer from the now defunct Villers Brewery & host to the most memorable Belgium Brewery Trip we have ever had some years earlier (but that IS another story!!!).
It remains a Superb Café though and well worth a visit, still one of the better BeerBars in Leuven. But it would be marvelous to hear that the Brewery is back to its former self and those great Domus beers are available once again. Fingers crossed!
Jan 07, 2003
More User Reviews:
YvesB from Belgium
3.9
/5
rDev
+0.5%
vibe: 4.25 | quality: 4 | service: 3.75 | selection: 3.75 | food: 4
Oct 28, 2015

desint from Belgium
4.2
/5
rDev
+8.2%
vibe: 4.75 | quality: 4.5 | service: 4.5 | selection: 3.5 | food: 3.75
May 26, 2015

indiapaleale from Maine
4
/5
rDev
+3.1%
vibe: 4 | quality: 4 | service: 4 | selection: 4 | food: 4
Overall Domus didn't really impress me all that much, it was just too big and lacked a lot of the character the smaller pubs and cafes have in Belgium. What Domus does have is a little brewpub brewing some okay beers, nothing too amazing.
On a nice day, which it was, you can sit outside in the courtyard which definitely beats sitting inside in the shadows.
Service was as good as can be expected on a busy sunny afternoon. Our waiter was not all that friendly but did his job.
Beer selection is pretty standard with a few highlights here and there but nothing too crazy.
We had some food which was pretty standard pub fare but satisfying. I guess I really found Domus to be a solid B+ but there are some A cafes in Leuven for sure...
May 29, 2009
philipquarles from Connecticut
3.93
/5
rDev
+1.3%
vibe: 4.5 | quality: 4 | service: 4 | selection: 3.5 | food: 4
My favorite bar in Leuven.
Really easy to find, just off of the Grote Markt. This place has lots of character, but not in the tacky "let's throw lots of pink elephants on the walls" kind of way. Lots of wood, a few oil paintings, and the occasional beer sign would be a nice summation of the interior. It's also nice that, when walking up to the entrance, the barrels in the huisbrouwerij are visible through the windows.
The staff is friendly and efficient. Very little waiting (which is very un-Belgian).
The selection is decent. Of course the two house brews (a third, Engel, is available from September to May) are decent and very cheap. I payed around $2.50 for a Con-Domus and a few cents more for the Nostra Domus. All of the commercialized Trappist breweries are represented, along with some other quality Belgian stuff.
The food is good and there is a lot to choose from.
A very nice place that I'll visit again next time I'm in Leuven.
Jul 18, 2008
banker from Belgium
3.83
/5
rDev
-1.3%
vibe: 3.5 | quality: 4 | service: 3.5 | selection: 4 | food: 4
Visited here a couple times during a week I spent in town recently. The food is excellent and they have a better than average beer list. This is supplemented by the three house beers mentioned by other reviewers. They are nothing spectacular but you can't go wrong for the price (the Con Domus was cheaper than a coke). I also had a Corsendonk Brown and a La Trappe Witte.
Its rambling wood interior is larger than it appears from the outside. There are various levels and it always seems to be full of patrons. Plenty of families in the afternoons and early evening and more students later at night. There is also an outside seating area. They have an menu in english too.
Definitely worth stopping by for a meal if you are in town.
May 23, 2006
Bierschenker from Belgium
3.88
/5
rDev 0%
vibe: 4 | quality: 4 | service: 4 | selection: 3.5 | food: 4
Situated in an old and historical group of houses close to the historical and touristy centre of Leuven. The actual café and brewery take in a large surface. Something that isn't always very visible from the outside because the café is long and narrow. It stretches over three streets and a little square (Josse-Jean-Hubert Vounckplein) where it's great to sit during hot summer evenings. It lies between the Tiense- and Muntstraat. The Muntstraat is the restaurant street of Leuven, similar to the Beenhouwersstraat (Rue des Bouchers) in Brussels.
The interior is made old as it is a recent bar. It does feel a bit like kitsch. What I do like is the Azulecho in the building at the Tiensestraat. A landscape depicting medieval Antwerp in the background, seen from the river Schelde. The central theme are two lovebirds from Antwerps nobility. Sailing on the river accompanied by musicians.
The brewery is on the other side from the square. Because it stretches over different buildings, the bar has different levels and floors. In the centre you will find the bar. The kitchen is not very divers, but very traditional and decent.
The home brewery is still active. There used to more brews but nowadays they have three homebrews: Con Domus, Nostra Domus and Engel. They do brew seasonal beers too. In total they have five other beers on tap and 46 bottled beers. If you don't know which homebrew you want, they have the 'proefbedje', three 20cl samples.
Overall this bar has an enjoyable atmosphere that will let you forget about time.
Ut Vivat, Crescat, Floreat!
Jun 03, 2005
GreenCard from Maryland
3.85
/5
rDev
-0.8%
vibe: 4 | quality: 3.5 | service: 3.5 | selection: 4.5 | food: 4
LBB's description of this "brewpub" is hard to disagree with, though I don't know much about it's former quality since today's visit was my first.
I would like to add, though, that they now offer a couple more beers brewed in a small brewery in an adjoining building. Very rustic equipment from what I could see from the windows. Anyway, I tried the aforementioned Con-Domus and it was pretty good. I was surprised to taste something with seemingly Pacific NW hopping style (Cascade?!). They also had Nostra Domus, Engel, and a seasonal specialty: Domus Tripel. I tasted the Nostra which was, I think, a stab at making a Flanders red or brown. Tasted all right, but smelled like it was laced with apple vinegar. Not quite the micro-organism component of a Petrus or a Rodenbach.
The food is great. I had the Vlaamse Karbonade with mashed potatoes and my girlfriend had a smoked salmon salad. Both were delicious and highly satisfying!
Leuven's a beautiful little town. Well worth a stop if you touring around Belgium, though maybe not if you're on a "beer tour".
And, I must say, this brewpub is still thriving. Almost every table was occupied at noon today.
Sep 12, 2003
Domus in Leuven, Belgium
Brewery rating:
3.42
out of
5
with
13
ratings