Bloemenbier
| De Proefbrouwerij (bvba Andelot)
BA SCORE
83
good
29
Ratings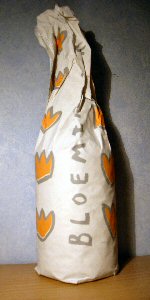 BEER INFO
Brewed by:
De Proefbrouwerij (bvba Andelot)
Belgium
proefbrouwerij.com
Style:
Herbed / Spiced Beer
Alcohol by volume (ABV):
7.00%
Availability:
Year-round
Notes / Commercial Description:
No notes at this time.
Added by paterlodie on 01-12-2005
Reviews: 12 | Ratings: 29
2.78
/5
rDev
-21.9%
look: 3.5 | smell: 3 | taste: 3 | feel: 1.5 | overall: 2.5
An amber, orange beer with lots of carbonation and a thick, creamy head.
Smell is fruity with caramel and has some flowery notes. A light oxidation is present.
Taste is mouth puckering sweet and has strong honey notes. Terribly sticky on the lips. Syrupy. The yeast adds some fruity and light character. The flowers presumably used in this beer add a delicate flowery, chrysanteneum I guess taste, that is pleasant and adds a nice depth to the beer, if it wasn't for the sweetness.
484 characters

2.98
/5
rDev
-16.3%
look: 4 | smell: 3.5 | taste: 2.5 | feel: 3 | overall: 3
A beauty gold reddish and a lot of persistent head. Fresh on nose, with hints of honey and jam. Consistent body, but it seems that they put too much stuff in this one. Caramel, syrup, jam, flowers (of course...) and an herbal end. Too much sweet and very difficult to pair with any food, I'm not very impressed and a little confused.
333 characters
3.23
/5
rDev
-9.3%
look: 3.5 | smell: 3 | taste: 3.5 | feel: 3 | overall: 3
Deep amber in color, with a white, creamy head, more than decent.
Sweet smell, obviously, honey and flowers. Very honeyed. White and yellow flowers. Pleasant, buta bit too sweet for my taste.
(Well, more than a bit, actually).
A bit less sweet in the taste, drinkable, good.
Not a great drinkability.
Sweet aftertaste, honey touch (orange honey).
Quite sweet, but after all, pleasant.
384 characters
3.25
/5
rDev
-8.7%
look: 3.5 | smell: 3.5 | taste: 3 | feel: 4 | overall: 3
Presentation: The second beer to be sampled at Café De Torre in De Haan during my visit here on Saturday 26th March, 2005.
Listed simply as Bloemenbier on the well laid out Beer Menu at Café De Torre in De Haan, I could find no mention of this brew at all anywhere in any of the beery literature either my friends or I had with us at the time.
Arrived in a brown glass bottle that was entirely wrapped in a white paper cover. The white paper was simple in its presentation, it had the word 'Bloemenbier' in gray text running sideways and up the side of the bottle wrapper, together with a vertical series of orange colored shapes that look like duck prints, but which reminds me of child like drawn flowers. In fact the wrapping hints at the fact that this beer is made with herbs and flowers. Listed at 7%.
Appearance: The beer was poured into a tall curved sided flute like Glass. Sharply polarized Amber looking body with some golden-red tinges when backlit. The head shot up the glass at first, vanilla colored, it soon rescinded back down the glass with little in the way of lacing.
Nose: Sweet, but honey like rather than sugary in nature. Herbal traits, light spicy feel to yeast and a perfume flowery finish.
Taste: Soft lashings of honey soaked malts and a floral finish. Bubblegum candy in the middle, like one of those sickly fruit flavored chewing gums so widely available. Not much bitterness in this one at all to balance, so it is sweet throughout. Sickly at times. Develops a spicy trait with a nice juxta-posed herbal zing with some flowery petal like perfume in the ending. Quick finish but the herbs do linger as does the Candy sugar feel on the cheeks.
Mouthfeel: The honey character bolsters the mouthfeel immensely. The carbonation is controlled and soft on the palate. Bold feel.
Drinkability: My notes are "tasty but weird and a little too sweet for me". The one bottle is nice, but as I am not partial to sweet beers, the one 33cl bottle did the trick. I yearned for some bitterness in this one, but there is none, that detracts from the Drinkability too for me.
Overall: It was soon time to head outside the Café De Torre and catch the Tram from De Haan back to Ostende, and I'm glad managed to sneak this one in before we left, but ultimately this one was just too sweet for me to return to it again.
2,362 characters

3.25
/5
rDev
-8.7%
look: 4 | smell: 4 | taste: 3 | feel: 3.5 | overall: 2.5
330ml bottle served in a tulip glass.
A: Pours a dark orange color which is a bit cloudy. Forms a big and bubbled persistent head. Many spotty lacings are left in the glass
S: Sweet, flowery and spicy too. Belgian earthy yeasts. Notes of honey, candy sugar and caramel. Cinnamon, vanilla and pepper
T: Very sweet upfront. Strong notes of caramel malts, Belgian yeasts, honey, cinnamon, pepper, vanilla. End is slightly bitter. In overall, too sweet in the mouth
M: Heavy, creamy and molasses body. Medium carbonation. Bittersweet aftertaste
O: Low drinkability due to its strong sweetness. Besides that, classic spiced belgian strong ale
642 characters

3.4
/5
rDev
-4.5%
look: 4 | smell: 4 | taste: 3 | feel: 3 | overall: 3.5
Pretty orange colour with a small off-white head that sinks to a film on the beer and leaves some nice lacing.
The smell stays true to the name with wild flowers and grassy notes with lots and lots of malty caramel sweetness and honey.
The taste follows the nose with lots of sugary sweetness, honey, malts and herbal flavours, the flowers are still present but more to the background and there is an unpleasant sweetness that lingers and sticks to the tongue.
Medium bodied and with good carbonation but there's a bit of a syrupy feel to it.
Overall this is an interesting beer but too sweet to be very good, a bunch of hops to balance out the sugary sweetness would have made this beer a lot better.
705 characters

3.41
/5
rDev
-4.2%
look: 4 | smell: 3 | taste: 3.5 | feel: 3.5 | overall: 3.5
This was a bottle purchased in La Piccola bar, Trastevere, Rome June 2009. The bottle was a stubby type much like the Duvel/Maredsous ones. No label, but it comes wrapped in a white paper adorned with orange coloured petals.
The appearence is a golden amber brew with haze and topped by a dense foaming off-white head. The aroma was hard to pick up through the dense head, perhaps some maltiness. The taste was quite sweet, but balanced by the malt to give a pleasent sensation. Needs to be served fairly cold, I'd say. Mouthfeel a bit syrupy. Overall good and nice for a once-off, but I would not fancy drinking more than one or two of these in a session.
657 characters
3.45
/5
rDev
-3.1%
look: 3.5 | smell: 3.5 | taste: 3 | feel: 4 | overall: 4
The appearance starts with the way this beer is packed. No Label but a paper around it witch says enriched with flowers and herbs. 7% alc and good till end of 2005. Well lets see, pours in fine with a nice amberbronze colour. Head is lightly tainted yellow and not great. Smell is honey and bit flowery. Some malt but no hops to be smelled. Taste is very sweet, spicy and flowery. Lots of honeytaste again. Ending of this flowerbeer is alcoholic and litle bitter. Too sweet in my eyes but for some( for sure the honey lovers) probably quiet tasty.
547 characters

3.83
/5
rDev
+7.6%
look: 4 | smell: 3.5 | taste: 4 | feel: 3.5 | overall: 4
Appearance : A nice shiny amber colour, with a small white cloudy head.
Many little bubbles
Smell : sweet aroma of peaches, syrup
Taste and mouthfeel : flavour of candied apples, peach and syrup. long intense sweet finish.
Drinkability : a good herbed spiced beer
265 characters
3.85
/5
rDev
+8.1%
look: 4 | smell: 4 | taste: 3.75 | feel: 3.5 | overall: 4
Brewed at De Proef, the same place that has given birth to some epic Mikkeller beers in recent years.
Novelty paper-wrapped 330mL bottle poured into a Teku glass. Best before 3rd July 2015.
A(4): Pours a cloudy orange with 1-2 finger head. No visible sedmiment or floaties to speak of. Foamy head with nice lacing remaining on the glass.
S(4): Flowery. And oh so very sweet. Could be mistaken for a cloudy apple juice in a blind testing. Sets the expectation that the brew will be extremely sweet on the tounge. No hops to tell of. Enticing.
T(3.75): Immediately very sweet. Sweet caramel malts. Apple juice, honey. Like a boozy appletizer. No bitterness to speak of. Trying to think of a brew that comes close - it's like a lighter De Dolle Stile Nacht, but sweeter.
M(3.5): Moderate to high carbonation. The sweetness translates into a somewhat syrupy mouthfeel.
O(4): On the sweet side, but an interesting concept. I first tried this about three years ago, in Brussels. Saw some people drinking it at the bar and asked for whatever they were having, on the basis of the bottle alone. The sweetness was an appealing trait then but my palate has matured since. Happy to have re-visited this, but won't be packing it in my suitcase again.
1,245 characters

4
/5
rDev
+12.4%
look: 4 | smell: 4 | taste: 4 | feel: 4 | overall: 4
330ml wrapped in paper bottle, best before november 2013
A- Rich and shiny dark orange, with lots of carbonation bubbles reaching the surface. One and a half finger soft-looking white head, that shows nice retention throughout the whole tasting while also leaving a bit of lacing on the sides of the glass. A bit murky on the second pour
S- Very sweet and somehow refreshing mix of caramel/honey malts and yeast, with a bit of a sugary feel to it. Some background herbal/flowery notes can be easily picked up. A slight spiciness brings some life
T- Pretty much what the smell suggested. Quite on the malty side but not at all heavy with caramel and honey malts in evidence. Kind of sugary as already mentioned, with a touch of estery spiciness from the yeast. Flowers definitely make themselves heard, with an herbal feel that also presents some sweet fruity notes (pear, candied fruits). Strong and quite persistent honey aftertaste. Quite syrupy as many mentioned, overall very sweet, but somehow not cloyingly so
M- Medium body with low-to-medium carbonation, definitely lower than expected from the appearance. Overall very soft on both tongue and palate, with a bit of syrupy feel
O- Not your ordinary belgian ale. You if like sweet beers, well... this one definitely is. I tend to like sweet beers and this was maybe a bit too sweet even for me. I still found it to be quite nicely balanced and easily drinkable. Has an highly refreshing flowery feel
1,461 characters

4.83
/5
rDev
+35.7%
look: 5 | smell: 4.5 | taste: 5 | feel: 4.5 | overall: 5
I'm a sucker for floral tasting brews and this one is exceptional in that genre. Golden amber, sweet and yet refreshing. Perfect for the lazy summer afternoon I enjoyed it on.
It apparently is scarce (I drank the last two they had at this small Bruges brasserie)
263 characters
Bloemenbier from De Proefbrouwerij (bvba Andelot)
3.56
out of
5
based on
29
ratings.