Dismiss Notice
Dismiss Notice
IJsbok (for SNAB)
| De Proefbrouwerij (bvba Andelot)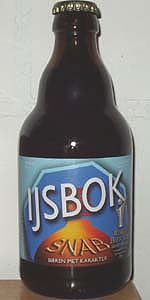 BEER INFO
Brewed by:
De Proefbrouwerij (bvba Andelot)
Belgium
|
website
Style:
Eisbock
Alcohol by volume (ABV):
9.30%
Availability:
Winter
Notes / Commercial Description:
No notes at this time.
Added by paterlodie on 06-11-2005
Reviews: 14 | Ratings: 24

3.92
/5
rDev
-5.8%
look: 4 | smell: 4.5 | taste: 3.5 | feel: 4 | overall: 4
Bottle courtesy of Jeffo. Served in a Glunz taster glass.
A - A finger-plus of tan foam that settles to a thick cap, leaving minimal lace. Transparent dark brown-orange body.
S - Molasses, brown sugar, rum-soaked cake, bread, maybe a hint of chocolate. Alcohol is well hidden, particularly for the style. Reminds me more of a doppelbock in some ways.
T - Taste is less sweet, with some phenolic alcohol notes. Similar to the aroma but more bread-heavy. There's a weird char and bitter alcohol note in the finish that I don't really care for much.
M - Meidum-full body, moderate and pleasant carbonation, some alcohol warmth, and a surprisingly dry finish.
D - A solid Eisbock that's lower in alcohol than I expected. If you're in Europe and you dig this sort of style this might be worth seeking out, but it's not something for which you should set up an international trade. That being said, I was sad we didn't have more of it to share.
★
943 characters
4.1
/5
rDev
-1.4%
look: 4 | smell: 4 | taste: 4.5 | feel: 3 | overall: 4
Got this at De Bierkoning in Amsterdam. Surprisingly they still had three bottles of this in June.
From a bottle into a tulip.
APPEARANCE: Pours a big medium-thick looking three finger beige head with great retention. Dark mahogany brown with a little carbonation evident. Head slowly recedes to a good foam cap that clings to the sides. A wisp and a thick ring remain until the finish leaving some splotchy lacing.
SMELL: Sweet caramel, toffee, as well as notes of bread. Slight hints of chocolate from the chocolate malts as well. A bit of spicy yeast and alcohol to provide a solid base.
TASTE: Caramel and toffee up front with some spicy yeast notes as well. Clove and thyme show up and some spicy alcohol though the middle, leading into some hop bitterness and slight hints of chocolate near the finish. Strong and very long lingering aftertaste has some sweet malts, spicy alcohol and bitter chocolate. Very tasty and well balanced brew.
PALATE: Medium body and some prickly carbonation. Not overly creamy or smooth, perhaps slightly watery, but goes down smooth with no bite or burn at all. Finishes slightly dry on the palate.
OVERALL: I can certainly see why this one wins awards quite regularly. A great strong bock that would be perfect for the winter months. I think the palate could be beefed up a little, but other than that, this is a world class brew in the style. I'm glad I found one of these all the way into June. Will try to get some more for the winter months next bock season. Recommended.
★
1,524 characters
4.04
/5
rDev
-2.9%
look: 3.5 | smell: 4.5 | taste: 4 | feel: 3.5 | overall: 4
A dark brown beer with a creamy head, that fades within minutes after pouring.
Smell is strong malty with chocolate and coffee notes. The alcohol is trying to find it's way into the smell. A typical German smell of a doppelbock, rich and heavy.
Taste is malty with chocolate(malt) and coffee notes. A medium maltbitterness of the roasted malts adds a nice depth to the beer. Together with the probably bottom fermented yeast it gives this typical German touch to the beer. Mouthfeel is dry and lingering maltbitter. The alcohol is warming. A beer for cold winternights.
★
571 characters
4.32
/5
rDev
+3.8%
look: 4 | smell: 4.5 | taste: 4.5 | feel: 4 | overall: 4
Nice lightbrown head staying well and a dark brown beercolor. Nose is great combination of sweet caramellic malts and yeasty (blackcherrie/berry)fruitesters. Furter giving almond and a hint of sourness all together very fine. Taste is full caramalty also but also giving chocolateroast, moderate sweetness before going into nice bitterness. Alcohol well hidden and a very good balanced brew alltogether. Good carbonisation makes mouthfeel good and very good drinkability for a winterwarmer, maybe even litle too easy.
★
517 characters
4.15
/5
rDev
-0.2%
look: 4 | smell: 4 | taste: 4 | feel: 4.5 | overall: 4.5
caught this at a really nice bar in amsterdam completely at random for a layover in my flight. didn't get go drink that much while there but i should did pick them with this one.
nice and dark amber with a slight mocha head... nose of apple pie and straw with a nice hint of chocolate. this is carried over into the palate nicely with a unnoticeable abv and a nice american brown ale malting character but with a completely mellowed lager feel and a nice ester quality that didn't come out syrupy but almost velvety. some coconut hints... a very easy drink.
★
559 characters
4.22
/5
rDev
+1.4%
look: 4 | smell: 4.5 | taste: 4 | feel: 4 | overall: 4.5
Pretty sure this is an Eisbock and not a Winter Warmer, but whatever. Mellow cherry-brown with a faulty parchment-colored head that does leave a small amount of lace. Wonderfully aromatic and herbal and spicy in the nose, but not too hot - wintergreen, orange, clove, cherry, and lemon call to mind cola, root beer, and Dr. Pepper. Banana and oak and a bit of earth lurk in the background.
Pleasantly hoppy and surprisingly dry, rather Belgian in character but with more of an emphasis on hops than on yeast. Autumn leaves, tobacco, grape must, and clove provide an earthy foundation to bright, vaguely tropical, heavily floral and citric bursts of hop bitterness. Some sassafras and chicory sound off as well. Almost refreshing but also a bit funky - probably a good cheese beer.
★
781 characters

4.45
/5
rDev
+7%
look: 4.5 | smell: 4.5 | taste: 4.5 | feel: 4 | overall: 4.5
Thnx PapaEugene for sharing this bottle. Poured into a Palm sniffer. The beers pours a hazy dark-brown-ruby, with a light brown head.
Smell: Maple syrup, figs, roasted malts, light coffee, cacao, and some very light alcohol
Taste: Starts with warming alcohol, then softens up. Light cacao, dark fruits, very light sour red fruits. Roasted coffee malts, which result in a nice bitterness in the aftertaste.
Mouthfeel: medium-bodied, medium carbonation, creamy.
Overall: What a beer, very nice, perfectly in balance. A real treat.
★
534 characters
4.05
/5
rDev
-2.6%
look: 3.5 | smell: 3.5 | taste: 4.5 | feel: 4 | overall: 4
Dipped into another one of my treats from paterlodie tonight - quite an appropriate beer for a cold December night in San Diego (it's gotta be down to almost 50 out there!).
Very dark brown in color with a thin, spotty, dark tan head that fades almost immediately.
Rich, malty aroma with carmely notes and dark fruity esters.
Flavor is molasses sweet up front, with dark plum/cherry fruitiness emerging mid-palate. The ending is a pleasantly grainy bitter balance to the sweetness of the beginning. These leave a nice aftertaste, though are soon overpowered by strong fusel alcohol flavors that emerge as the beer warms.
Moderately full mothfeel, but enough carbonation on the tongue and bitterness to keep it from being cloying. All in all a nice winter warmer indeed!
★
781 characters

3.88
/5
rDev
-6.7%
look: 4 | smell: 3.5 | taste: 4 | feel: 4 | overall: 4
Stubby bottle of 330 ml, at home, poured into a snifter.
Pured carefully after letting it warm up a bit, it gave me a very dark coloured beer, with a huge three fingers beige, creamy head, with good retention. It left a light lacing behind.
Smell is molasses, chocolate, toffee and a bit of alcohol.
Taste of dark chocolate, coffee, roasted malts. Alcohol is very well hidden.
Very thick body, full and creamy. Carbonation is average I would say.
Overall a very nice sipping beer, that becomes even better as it warms up.
★
522 characters
4.38
/5
rDev
+5.3%
look: 4.5 | smell: 4 | taste: 4.5 | feel: 4.5 | overall: 4.5
A - Pours a very dark mohogany brown with a rich dense head that leaves some very nice lacing.
S - chocolate, roasted malt, straw, metal and yeast
T - Quite dry and yeasy not malty like I expected. some roast malt and chocolate, and some spice and hops at the end. Not a hint of booze which is amazing for the strength.
M&D - This is smooth as silk and so easy to drink. Almost like it's a session beer. I could drink a few of these as it also leave a clean dry aftertaste
A really nice beer and different from what I expected. I would not be surprised if they changed the recipe as I got none of the sweetness that is in reviews from last year and before.
★
660 characters
4.03
/5
rDev
-3.1%
look: 3.5 | smell: 4.25 | taste: 4 | feel: 4 | overall: 4
Dark brown colour with a bit of red glow. A fluffy head of beige foam that fades fast and leaves no lacing. Very promising smell of chocolate, caramel and malt, quite a nose full. Taste is very rich as well: caramel, chocolate and malt again, with some nice hop bitterness added. Not as sweet as you might expect: quite dry and bitter actually. Tastes a lot more bitter than the IBU on the bottle claims. Hallertau mendoza, but in a good way. Alcohol is present (not manifest) and mixes well with the other flavours. Mouthfeel is smooth and the alcohol gives a comforting warmth afterwards. Recommended.
★
603 characters

4.8
/5
rDev
+15.4%
look: 4.5 | smell: 4.5 | taste: 5 | feel: 4.5 | overall: 5
Had this on-tap at t'Arendnest while in Amsterdam.
-Pours dark and cloudy, light tan foam head.
-Very sweet nose, candy and raisins.
-Very complex taste, yet balanced brilliantly between sweet raisins and candy sugar, and roasted malts.
-Medium mouthfeel, deceptive for a 9% abv.
-Probably the best dutch beer I have tasted, and can easily hold its own against the top of the belgian range. Overheard an other American at the bar describe this beer as "mind blowing" and I can't say he was too far off with the description.
★
523 characters

4.42
/5
rDev
+6.3%
look: 4 | smell: 4.5 | taste: 4.5 | feel: 4 | overall: 4.5
Shared this bock with rvdoorn on one of our beertastings.
A: Darkbrown/ruby color with a lightbrown head.
S: Roasted malts, dark fruits, maple syrup, some coffee and cacao.
T: Roasted malts, dark fruits and warming alcohol. Some fine notes of coffee and cacao.
M: medium-body,medium carbonation and creamy moutfeel.
Overall: Great beer. This is much more than just a bock.
★
378 characters

4.48
/5
rDev
+7.7%
look: 4.5 | smell: 4 | taste: 5 | feel: 4.5 | overall: 4
33cl bottle poured into a stubby, almost snifter type La Trappe glass. The back of the bottle says serve at 10-14 degrees C, and agrees with me on the glass-wear. Label says it's 9% abv.
Pours a extremely dark, almost opaque. Holding to the light you get a bit of the ruby/amber that you see in a dopplebock or an eisbock. Great half-finger tan head, and about half of that stays through the entire glass. It's not quite stout looking....but this thing is dark.
Smell is absolutely delightful. Tons of yumminess in the nose. Candied figs, raisins, cherry, molasses, and even a bit of chocolate malt that you get in an impy stout. Extremely unique smell.
Taste is just as complex. It takes you a more than a few to get a handle on it. Definitely on the "sweet" side, but very delicate. The sweetness just barely dances on your tongue with the hints of dark fruit, as well as something that's similar to a good hard cherry candy. A candy-like sweetness, but in a good way. That lasts for just a moment, and then the malt that you could pick up in the smell comes through, reminding you that this is indeed a bock. The malt is that of a good bitter chocolate, something you'd usually find in the aftertaste of a good foreign/export stout. This is a really cool beer. Exceedingly well balanced.
Mouthfeel is absolute velvet. It has all sorts of flavors to deal with but never deviates from its smooth character.
Drinkability: Entirely too easy to drink for how complex it is, and for a 9% beer. I need another one.
What an absolutely phenomenal beer. I just happen to see a single bottle of this sitting on the shelf of my local liquor store and thought "what the hell". I'm glad I did.
★
1,688 characters
IJsbok (for SNAB) from De Proefbrouwerij (bvba Andelot)
89
out of
100
based on
14
ratings.