Lozen Boer
| De Proefbrouwerij (bvba Andelot)
BA SCORE
84
good
78
Reviews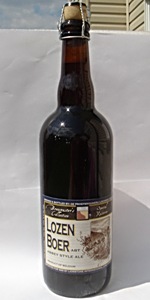 BEER INFO
Brewed by:
De Proefbrouwerij (bvba Andelot)
Belgium
proefbrouwerij.com
Style:
Quadrupel (Quad)
Alcohol by volume (ABV):
10.00%
Availability:
Year-round
Notes / Commercial Description:
No notes at this time.
Added by BeerAdvocate on 10-20-2005
Reviews: 78 | Ratings: 122

3.68
/5
rDev
-1.6%
look: 4 | smell: 3.5 | taste: 3.5 | feel: 4 | overall: 4
thanks to Yelterdow for breaking this out with the chimay grande reserve cheese... this is billed as a quad but I never felt it was a quad.... (this was selection was gleaned from the michael jackson beer club)
eyes...
light brown with a good head that is self sustaining. moderate stickiness and nice lacing adds to the look of this. It doesnt look like a typical quad but it does look good.
nose...
it reminded me of a good english bitter meshed with an american (west) pale ale... seriously. There was some good hop kick (very un belgian outside of Fantome) and a nice malt (kent? fuggle? hop in there also?). For a quad this had a VERY subdued (not bad) nose.
taste etc...
for a quad the mouthfeel was dead on... the taste was not of a quad, it was pretty straight forward malt and hops, not the complex belgian web I have been used to. I kept telling my friend dan "no way this is a quad"... it tasted like a wierd blend of an ESB (english) and a west coast american beer.. except with a little more alcohol.
verdict?
tasty beer, no doubt. as a quad? no way. But very tasty and it held up to some nasty cheese we had (Chimay grande reserve washed rind cheese)... it held up to that! so it may be too smooth for its own good ! Would I drink this beer again ? absolutely. As a quad ? absolutely not, the complexity is just not there imo . Try thier flanders red, much better !
1,395 characters
3.68
/5
rDev
-1.6%
look: 4.5 | smell: 4 | taste: 3.5 | feel: 3.5 | overall: 3.5
Presentation: 750ml tall thin necked brown bottle sealed with a silver cage, black steel cap and a simple thumbed cork which is plain looking except for a date of 10/05/09. Main label has a gray colored background with the words "Lozen Boer Abt Abbey Style Ale". Listed as "De 'Proef'-Brouwerij Brewmaster's Collection Special Reserve" on the top part of the label. The main picture is one of a chap walking a lone Cow down a quiet country lane, to the right of this the words "Legend of the Cow Smuggler" appear, not sure why. Listed at 10% ABV. No Freshness Date except for what I assume is the Best Before Date on the Cork.
Appearance: Pours with a quick rising thick creamy tan colored head. Moonscape texture on the surface with some nice spongy lacing and a mottled Belgian lace ring that holds its own with each drink. Finely dissolved carbonation sits well against the deep red polished mahogany body. Head retention is excellent throughout.
Nose: Chewy malts with some bonfire toffee and a crisp but baked warming alcohol feel. As it warms it reveals a sharp but low key vinous twinge.
Taste: Sweetish malt in the front hallway rises with maltose laden dark fruits, dark rum, raisins and a soft alcohol feel. Rum sugars seem higher that expected and the sweet malts have a young but darkened feel to them. Bitterness rises in the middle and back end and mingles with a yeast laden Belgian-esque latter third. Spicy tingle in the Abbey style ending.
Mouthfeel: The alcohol lingers in the background, amidst the chewy dark fruits and Devon toffee malts it builds a decent enough feel to this one. The conditioning is a little spiky and can lend a troubled youth feel to this one the tongue.
Drinkability: Now despite the strange feel to this one, and maybe some rough edges, it does drink rather easily. This is one of those beers that intrigues but looses nothing in the translation.
Overall: Not bad value for $4.99, but a tad middle of the road. Described as a Quadrupel, not sure I got with that description too much, but it doesn't bother me, it may feel depressed for those that expect the higher octane Quad characteristics though. More of a spicy Belgian Strong Dark Ale for me. Maybe a bit of time in the bottle will accentuate this one and help it develop. It reminded me of a low end Belgian Abt meets English Old Ale and young English Barleywine when sampled fresh though.
2,421 characters
3.53
/5
rDev
-5.6%
look: 4 | smell: 3.5 | taste: 3.5 | feel: 3.5 | overall: 3.5
Appearance – This one poured a dingy orangish-brown with a good, off-white head that kind of surprised me because the cork came out without the least bit of "pop".
Smell – This Quad still has a stiff darkish malt base. There's some Belgian yeast in there along with some dark fruits, especially raisins and dates, but not the big fruity explosion that you get with some examples of the style. The nose is still kind of tight, even after the ale warms.
Taste – The taste opens up a bit more. There's a strong bitterness to the malts that I enjoy but may surprise those seeking the typical style standard. The sweets actually step back from the nose. The yeast is solid but the booze is somewhat harsh. Not burning, but definitely in your face.
Mouthfeel – This really isn't much over medium-bodied and the bitter dryness almost felt kind of hoppy. I enjoyed the mild but efficient carbonation though.
Drinkability – This ale was a good drinker. But, I gotta say, when I think of Quads I think of greatness, and in that sense it missed the mark.
1,065 characters
Lozen Boer from De Proefbrouwerij (bvba Andelot)
3.74
out of
5
based on
122
ratings.