Saison Imperiale - Belgian Farmhouse Ale
| De Proefbrouwerij (bvba Andelot)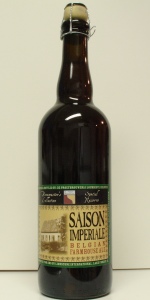 BEER INFO
Brewed by:
De Proefbrouwerij (bvba Andelot)
Belgium
proefbrouwerij.com
Style:
Saison / Farmhouse Ale
Alcohol by volume (ABV):
8.50%
Availability:
Year-round
Notes / Commercial Description:
Brewmaster's Collection - Special Reserve
Mixed Fermentation - Saison De Flandres
Added by clickpush on 05-04-2006
Reviews: 168 | Ratings: 214
4.4
/5
rDev
+15.5%
look: 4.5 | smell: 4.5 | taste: 4.5 | feel: 4.5 | overall: 4
Presentation: 750 ml poured into a Chimay chalice.
Appearance: poured a slightly cloudy reddish brown.
Smell: a great smell, fruity notes, sweet.
Taste: semi fruity taste, just a very slight bitterness.
Mouthfeel: Nicely carbonated, light to medium body, crisp and clean finish.
Drinkablity: Seems very drinkable, hides the high alcohol content very nicely.
Overall: I bought this beer on a recommendation from the store worker and I have been impressed. It is my first Saison's hopefully they are all this good.
531 characters
4.4
/5
rDev
+15.5%
look: 4 | smell: 4 | taste: 4.5 | feel: 5 | overall: 4.5
A nice, hazy mahogany-brown with a fairly decent-sized but not too persistent head. Aroma is strong and malty, and has an overtone of fruit, mainly apple. Flavor is rich and fruity, sweet but not cloying, with just a touch of hops and hints of caramel and nutty taste. Finish is smooth and very satisfying.
306 characters
4.43
/5
rDev
+16.3%
look: 5 | smell: 4.5 | taste: 4.5 | feel: 4.5 | overall: 4
Pours an effervescent amber/copper with 3+ fingers sand colored head. Superior head retention & lacing
S: Appleskins, dirt, mushrooms & mustyness
T: Appleskins, tartness, grapefruit & dryness up front. Hints of caramel, mushrooms, phenolics & tartness follow as this warms. I get acidic notes from the appleskins & puckery dryness as this continues. Finishes woodsy dry, with apricot, apple, & grapefruit & a hint of pear brandy
MF: Slick, medium-bodied with spritzy carbonation
Drinks a might ponderous, even on a dreary late summer's date here in the rockies. Very complex & dry, so that does slow me down a bit, plus the 8.5% abv, as well. One of the better Saisons I've had. This is retired??? What gives?? Get it if you can find it, Saison fans
755 characters
4.5
/5
rDev
+18.1%
look: 4.5 | smell: 4.5 | taste: 4.5 | feel: 4.5 | overall: 4.5
From a 750 ml bottle served in a craft pub glass.
A: Pours hazy chestnut with a lacy, persistent 2" white linen foam cap.
S: Ripe to slightly over-ripe fruit, plums, earthy hops, toast, alcohol, spice.
T: Fruit, light funk, plum and prune, darker malt flavors, subtle tartness, a hint of anise. M: Very creamy texture, medium body.
O: Darker than many saisons but the darker malt flavors play well with the yeast driven saison flavors.
441 characters
4.5
/5
rDev
+18.1%
look: 4.5 | smell: 4.5 | taste: 4.5 | feel: 4.5 | overall: 4.5
This beer pours a muddy copper color with a thick white head. The head fades slowly, leaving many thick laces.
This beer has a nice fruity aroma. Lemon and orange. It is also spicy. I smell some cloves and coriander. It has a pleasent grassy hop aroma also.
This beer has a spicy flavor. It is also slightly sour. I think the lemon flavor is very strong. It has a slight bubble gum flavor. The citrus hop flavor is very nice.
This beer goes down smooth, leaving a pleasent citrus like slightly sour aftertaste. This highly carbonated beer is very crisp and refreshing.
I think this beer would make a decent session beer. The only problem is that it is slightly high in alcohol.
Overall: I think this is a great beer. I have no complaints. If I see it again, I will buy it.
788 characters
4.5
/5
rDev
+18.1%
look: 4.5 | smell: 4.5 | taste: 4.5 | feel: 4.5 | overall: 4.5
11.2 oz bottle poured in to my chimay chalice.
A- Body is a cloudy dark amber color. Much darker than most saisons. Pours with a 2 finger, creamy, slightly off-white head. Head fades slowly to 1 finger but has perfect retention from there and plenty of lacing is left behind in the glass. Cloudiness has medium thickness and is dynamic as yeast sediment and the cloudiness can be seen moving about in the glass.
S- Smell is on the sweeter side with peach, maybe some mango, and apple and pear coming through first with a slight floral accent. Some yeasty funk can be found in the background.
T- Upfront is a mix of sweet and tart fruitiness. I can definitely detect apples and pears, and maybe some peach and mango also (as there is definitely an exotic presence here). This is softly accented by a floral hop presence and a slightly funky, yet bready yeast looms in the background along with a healthy dose of sweet caramel malt. The finish is more tart and bitter than the initial flavor and the floral hops and yeast really make their presence known here.
M- Low to medium carbonation and nice, smooth, yeasty body.
D- This is an awesome beer and is definitely not typical of the style. I've never seen one this dark before and the exotic fruit presence is a great spin on this style. It is a bit sweeter than most but still very good. The ABV is undetectable also.
1,373 characters

4.54
/5
rDev
+19.2%
look: 4 | smell: 5 | taste: 4.5 | feel: 4 | overall: 4.5
750ml bottle
A- Corked and caged 750ml bottle. Pours a dark brownish color with an off-white head. A little darker than most Saidons I've tried.
S- The aroma is surprisingly very malty with hints of spices, must, barnyard funk and yeast. The dark color was the first sign that this wasn't going to be your typical Saison, the aroma confirms this notion. I really like it! Fantastic!
T- The taste starts out with a good amount of malt and caramel flavors. Some spices start to come in along with some funk and earthy hops inthe finish. Like the aroma, the taste is fantastic!
M - The mouthfeel is somewhere between light and medium bodied with a good amount of carbonation.
D- Overall, I really enjoyed this one. It is another great beer from this brewery and something I will definitely pick up more of in the future. Highly Recommended!
843 characters
4.67
/5
rDev
+22.6%
look: 4 | smell: 4.5 | taste: 5 | feel: 4.5 | overall: 4.5
Lively carbonation with this one, and it's darker than most Saisons. Faint aroma of wild yeast, I think most of the fruity scents come from the malt. Some spices.
This is quite a twist on a Saison. Plenty of dark, fruity malt comes together with the wild yeast, which brings an earthiness to the whole thing. Something apple-like. I can't tell if they used spices in this, or if it is just their yeast. Mouthfeel has gone from prickly to lively to pretty smooth, the bubbles are small.
I love De Proef beers mainly for their wild yeastie beers, but I love this one for its "restrained" yeastiness.
606 characters
Saison Imperiale - Belgian Farmhouse Ale from De Proefbrouwerij (bvba Andelot)
3.81
out of
5
based on
214
ratings.