De Proef Signature Les Deux Brasseurs Ale (w/Jason Perkins)
| De Proefbrouwerij (bvba Andelot)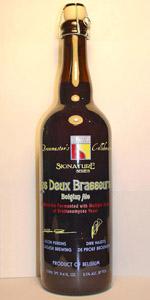 BEER INFO
Brewed by:
De Proefbrouwerij (bvba Andelot)
Belgium
proefbrouwerij.com
Style:
Belgian Strong Pale Ale
Alcohol by volume (ABV):
8.50%
Availability:
Rotating
Notes / Commercial Description:
No notes at this time.
Added by Patrick999 on 09-06-2008
Reviews: 140 | Ratings: 177
4.45
/5
rDev
+7.2%
look: 4.5 | smell: 4.5 | taste: 4.5 | feel: 4 | overall: 4.5
A: Gorgeous pale orange with massive three finger head, awesome lacing down the glass
S: Nice Brett tartness, spice, pear, honey, is that graham crackers?
T: Sourness but not at all over powering due to nice hop/malt balance. Get lots of honey, spice and fruit. Great stuff.
M: Nice creamy mouthfeel, which I was a bit surprised by given that it's a sour. Very refreshing from the tartness, course
D: Awesomely drinkable. Something about these well balanced sours goes down great
An impressive brew. Really glad I have more than one of these things. I'm already looking forward to next year's Signature.
608 characters
4.22
/5
rDev
+1.7%
look: 4 | smell: 4.5 | taste: 4.5 | feel: 4 | overall: 3.5
Poured from a corked bottle into my delirium snifter....
A: Has an awesome golden haze, slightly murky....you can tell your in for a treat...
S: Has a nose of fruit, funk, leather, lots of brett..
t: WOW, this is some serious brett! Barnyard funk, bandaids, peaches, medicine, apricots, all the flavors are there, and they work. By far the most complex flavor I've had to date, this is BRETT GONE WILD.
m: average body
d: I rate this average drinkability, because while refreshing, this is not something I could drink more than one or two glasses of due to the amazing combination of flavors. Well worth trying if you can score a bottle.
642 characters
4.45
/5
rDev
+7.2%
look: 4.5 | smell: 4.5 | taste: 4.5 | feel: 4 | overall: 4.5
Served in a big wine glass at 57 F/ 14 C.
Hazy golden-orange color, an inch of frothy off-white head, nice classic looking lace.
Crisp fruity smell, like fresh cut apple and lime, with mild but distinct Brett sharpness. Soft notes of lanolin, clove and cheese. Some pie crust, honey, and a bit of earthy hops.
Tastes like juicy fruit salad with a medium amount of refreshing acidity, grassy hop flavor, and a healthy dose of hop bitterness. There's enough sweetness for some balance to be achieved, and the bitterness ends up welcome and refreshing. A characteristic Brett note underlies everything. Long tangy fruity bitter finish.
Pleasant fully carbonated texture. Supremely refreshing and drinkable.
Quite interesting and enjoyable, a "wild yeast meets hops" story with a happy ending.
794 characters
3.9
/5
rDev
-6%
look: 4 | smell: 4 | taste: 4 | feel: 4 | overall: 3.5
750ml bottle courtesy of Tayner, thanks a bunch. Nice orange, cloudy, smells like a bit of graham cracker as noted on the bottle. Nice flavors, very fruity, watermelon, funky fruits and I didn;t notice much barnyard funk. Overall this is very interesting and makes me want to seek out the DeProef/Port collaborative beer.
321 characters
4.06
/5
rDev
-2.2%
look: 5 | smell: 4 | taste: 4 | feel: 4 | overall: 4
Heavenly looks of a brew with a King Kong head that lives forever and a gorgeous dark golden hue of hidden treasure proportions.Breathtaking aroma of manure, hay, and farm grass. Tastes reminiscent of a barnyard with fields of grass, hay piles, and some oranges laying around. Citrus notes toward the end of the drink and an aftertaste that brings you right back to your afternoon chore of feeding the pigs. This brew smells and tastes reminiscent of shit but is a wonderful characteristic of a this bottled barnyard.
517 characters
4.03
/5
rDev
-2.9%
look: 4.5 | smell: 4 | taste: 4 | feel: 4 | overall: 4
Nothing like sippin an 8.5 at a petting zoo. Horse manure and pig feed never smelled so appetizing. I sit on a bale of hay and say hey!, how can man harness microrganisms with such precise intent? Huge billowing head towers over the tulip similiar to a Duvel. A smooth carbonation blending lactic acids and barnyard, not as subtle as has been described. Tart tangerine brings a stimulating zest that stands out amongst the complex melody of funked summer fruits. A farmers gueze; sip elegantly in a pair of overalls.
516 characters

3.9
/5
rDev
-6%
look: 4 | smell: 4 | taste: 4 | feel: 4 | overall: 3.5
Pours a cloudy orange/brown color with a big foamy white head that falls fairly slow with nice lacing.
Very spicy aroma. Fruity, pears and pineapple maybe. Maybe a little sour.
Very tangy fruit taste up front with a nice spice to it. Bit of a hoppy finish.
Medium bodied and very smooth in the mouth with moderate carbonation.
Fairly drinkable but one 750ml bottle at a time was fine with me.
396 characters

4.88
/5
rDev
+17.6%
look: 5 | smell: 4.5 | taste: 5 | feel: 5 | overall: 5
Poured from 750 mL bottle into snifter.
A: Pours a cloudy yellow-orange (more orange with backlighting) with an inch thick frothy white head with good retention and excellent lacing left on the glass.
S: The brett is immediately apparent (bottle states that this is a "golden ale fermented with multiple strains of brettanomyces yeast"). Sour and citrus notes. Herbal floral aroma comes out as this warms...and with futher warming this transitions to more of a medicinal herb aroma.
T: Very complex and very well balanced! Smooth (in fact not sour at all as I was expecting from the aroma) earthy mineral notes. Graham cracker, farmhouse, pear, apple, and mild spicy hop notes arise. Creamy lemon citrus finish in the aftertaste.
M: Light body. Slight acidic tingle. And an interesting second or two of hoppy bitterness usually a few seconds after beer is swallowed. This is very fleeting though and quickly replaced with a creamy, smooth satisfying finish.
D: Drinks more like a saison, but I believe it falls under the belgian strong pale ale category. The high ABV is extraordinarily well hidden. This is tremendously easy to drink. Excellent on its own and I'm sure also good with lighter fare (bread and chevre)...nothing too strong or spicy to drown this beer out though! An outstanding brew.
Note: This beer is a collaboration between Jason Perkins from Allagash and Dirk Naudts at De Proef Brouwerij.
Note #2: Now that I've finished this one, I see that in the top ten belgian strong pale ales (per Beer Adovocates reviews) that De Proef Brouwerij has a whopping 4 beers represented and Allagash has one. No surprise then I guess that this is one hell of a brew.
1,670 characters
4.08
/5
rDev
-1.7%
look: 4.5 | smell: 4 | taste: 4 | feel: 4.5 | overall: 4
750 ml corked and caged brown bottle
Pours a light lemon honey color with a slight chill haze and a large 2-3 finger foamy bright white head that stays around a long time and leaves copious amounts of sticky lace
Smell is a sourdough bread with a slight barnyard hay funkiness and a touch of dirty gym shoes for good measure.
Taste up front was some light fruits, pineapple and pear mostly. This was quickly chased away by the flavor of some undercooked sourdough bread and slight sweet cracker flavor. toward the end I picked up the hops which are prevelent but at the same time married to a barnyard flavor that confuses my tongue. It sorta tastes like a chunk of sourdough bread soaked in a pilsner and topped with a shot of a good ipa. very interesting The warmer it gets the more tart the pineapple flavors seem to get, and the dirty barnyard hay comes through more as well.
there is plenty of carbonation in this one, light and crisp on the mouthfeel. finishes reasonably dry.
I drank the whole 750 tonight without much problem, but I think I would have preferred to share it with at least one other person as the farmhouse-esqueness started to get a bit much for me as the beer warmed, but it was much too complex to drink fast.
This one is worth trying, and I am going to sit on a few of these to see if the two strains of brett change it in any way as it ages.
1,380 characters
4.43
/5
rDev
+6.7%
look: 5 | smell: 4.5 | taste: 4.5 | feel: 4.5 | overall: 4
This is a collaboration under the De Proef banner between Dirk Naudts from De Proef and Jason Perkins from Allagash. According to the bottle, it is a "golden ale fermented with multiple strains of Brettanomyces yeast." Hey, sounds good to me.
A - Poured from the 750ml corked and caged bottle into a Hennepin glass. As I expected, cloudy golden body, copious head, and concentric rings of foam sticking to the glass. Settles to a lumpy ice cream cone-like cap. Beer doesn't look too much better than this.
S - Rush of pineapple wafted through the kitchen upon opening. The back of the bottle claims there will be a subtle pineapple note, but I thought it was pretty strong. In the glass, the pineapple settles down and other aromas reveal themselves. Very interesting notes...pear and apple, tropical fruits, yes, but there's an herbal note I'm struggling to identify, possibly a lemon balm. On second thought, it could be the Saaz with which this is dry-hopped. Excellent hop aroma, something like a spicy perfume. As for the multiple Brett strains, to me this ale does not take on too much barnyard aroma, just a well-integrated note of fragrant leather.
T - Mostly balanced between typical Belgian golden ale sweetness and Brett sour. Good wave of grainy, gritty Hallertau bitterness comes in and cleans things up on the back end. It has some cidery qualities, along with the aforementioned pineapple. some vanilla. Light, bready malt bill from the pilsner malts. Alcohol not too noticeable, but seems to muscle through more as it warms. I don't say this too often, but I think I prefer this one fairly chilled.
F - Medium-bodied with copious carbonation, but it's that pillow-soft carbonation I love. High marks here.
D - The 750ml bottle is not going to be too much of a problem. However, there's a lot going on here; you'll want to take your time with this. It's a difficult beer to peg, as it seems to be some kind of BSPA/American Wild Ale hybrid, with a dash of Imperial Pilsner thrown in. This is simply outstanding, a real winner. Delicious.
2,062 characters
De Proef Signature Les Deux Brasseurs Ale (w/Jason Perkins) from De Proefbrouwerij (bvba Andelot)
4.15
out of
5
based on
177
ratings.