Nice Lacing Belgian Rye IPA
| De Proefbrouwerij (bvba Andelot)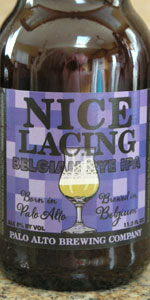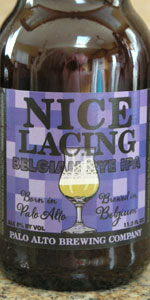 BEER INFO
Brewed by:
De Proefbrouwerij (bvba Andelot)
Belgium
proefbrouwerij.com
Style:
Belgian IPA
Alcohol by volume (ABV):
8.00%
Availability:
Limited (brewed once)
Notes / Commercial Description:
No notes at this time.
Added by dgfair on 07-31-2012
This beer is retired; no longer brewed.
HISTOGRAM
Ratings: 10 | Reviews: 6
None found.
More User Reviews:
4.28
/5
rDev
+8.6%
look: 4 | smell: 4 | taste: 4.5 | feel: 4.25 | overall: 4.25
This review had been laying around for a while (probably at least 6 months) - don't think I just had this now!
Poured into a stemmed tulip: Hazy & rusty orange body with straw highlights under 2 fingers of fluffy beige head, some lacing.
Smells of tropical hops with pineapple, orange, grapefruit, even a little banana. Slightly peppery & herbal with a little bite, nice estery yeast, a little caramel.
Taste is orange flesh & a little pith up front, some sweet orange "drink" flavor, pineapple, with a moderate alcohol that wraps things up nicely & leaves a kind of sweet ginger aftertaste.
Medium-bodied with soft effervescence, tingles & roughs up with the bitter then smooths over with the sweet.
Gotta say I'm pretty impressed - maybe a little on the sweet side but I don't mind that in the style. Wasn't sure of the freshness but if there is some age it works in its favor.
885 characters
3.55
/5
rDev
-9.9%
look: 3.5 | smell: 3.5 | taste: 3.5 | feel: 4 | overall: 3.5
Bottle courtesy of bbothen, thanks again!
Pours a cloudy orange color with a nice white head.
Aromas are interesting, grainy, spicy, with a floral hop note.
Taste starts out with spicy rye grain flavors up front. Light creamy sweetness, yeasty, crisp and dry, with a mineral and floral hoppiness on the finish,
Mouthfeel is good, smooth, full bodied, with snappy carbonation.
Overall a decent and interesting beer. Worth a try.
432 characters


3.53
/5
rDev
-10.4%
look: 4 | smell: 3.5 | taste: 3.5 | feel: 3.5 | overall: 3.5
Brewed with Palo Alto Brewing Comoany.
A: beautiful deep golden orange color, with you guessed it, nice lacing. Pure white head that doesn't dissipate much and leaves nice clumps of foam all over the tulip.
S: sweet sugary malt upfront with a slight bit of rye coming through toward the end of the whiff. Some hops present, surprisingly grassy with a hint of lemon. Nothing too interesting on the nose, sadly.
T: the westmalle yeast definitely kicks in right away. Some sweet malt backed up by a bitter earthy hop flavor. The rye comes through in the finish and serves to accentuate the bitter hop at the end. Not a lot of dimension but still pleasant.
M: very full and creamy in the mouth. Perfect carbonation level. Dry on the finish for such a sweet hoppy beer.
O: nice for a one time try, but probably wouldn't need to revisit. Wish the hops would have shown through a bit more to balance out the sweetness present.
934 characters
3.78
/5
rDev
-4.1%
look: 4 | smell: 3.5 | taste: 4 | feel: 4 | overall: 3.5
This is an interesting belgian ipa. There is quite a bit of hop spiciness to it with a sugary and yeasty thing in there as well. I mean, it is a Belgian ale after all. Kind of chalky though, a bit. It is nice, but could stand to be more rounded and smoother also. A nice offering, but for the style, there are many more out there I would visit again before going back to this one (if I ever did at all).
403 characters
4.6
/5
rDev
+16.8%
look: 4.5 | smell: 4.5 | taste: 4.75 | feel: 4.5 | overall: 4.5

3.99
/5
rDev
+1.3%
look: 3.5 | smell: 4.5 | taste: 4 | feel: 4 | overall: 3.5
B+
33cl into a tulip. Pours a hazed butterscotch copper, yellow cream green tinged head subsided slow, nice lacing :)
Sweet aroma is a plethora of pulpy fruits including mango, pineapple and tangerine. upbeat & clean
Has the sweet brief intro as if a tripel then a sharp dry twang redefines the flavor into honey and rye. The mild bitter in the finish is more herbal than of hop. Mouthfeel is shy of medium, creamy.
cheers
jd
428 characters

4.04
/5
rDev
+2.5%
look: 4.25 | smell: 4 | taste: 4 | feel: 4.25 | overall: 4

4.09
/5
rDev
+3.8%
look: 3.5 | smell: 4.5 | taste: 4 | feel: 4 | overall: 4
Funnily enough, I'd say this beer's weakest point is its appearance, at least relative to all of the very pretty beers in the style. It doesn't look bad, exactly. It's a medium gold beer with a one and a half finger high creamy white head. Nice, but I expected the bubbles to leap up the side of the glass or something. There's some ok lacing. Not bad, just nothing special for a Belgian IPA.
On the other hand, the aroma is excellent. There are contributions from fresh, bright hops, rye spice and an earthy Belgian yeast. The electric tangerine of the Citra folds into the rest of the flavors much more smoothly than expected. The spiciness of the rye brings the sugar cane malt sweetness to life, while the Belgian yeast pulls everything together.
Taste-wise, it could be a touch drier, but it's still quite nice. The hops bring a fresh, mild bitterness. The yeast comes close to tamping down those malt sugars but doesn't quite get as much I'd like. Still, the aftertaste isn't cloying, and a pleasantly dry bitter note lingers.
Mouthfeel is a touch heavy and oily, but I'm kinda intrigued by the beer's creaminess. It's a rounder beer than most Belgian IPAs that I've tried, if that means anything.
Anyway, it's a very good beer. I quite like Belgian IPAs, but this isn't just your average good example of the style. The Citra and rye give it a unique character, and it comes together surprisingly well. Palo Alto does good work.
1,440 characters
Nice Lacing Belgian Rye IPA from De Proefbrouwerij (bvba Andelot)
Beer rating:
3.94
out of
5
with
10
ratings