Empire Lager
| Carlton & United Breweries, Ltd.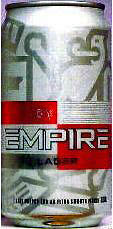 BEER INFO
Brewed by:
Carlton & United Breweries, Ltd.
Australia
fosters.com.au
Style:
Light Lager
Alcohol by volume (ABV):
4.60%
Availability:
Year-round
Notes / Commercial Description:
No notes at this time.
Added by brewdlyhooked13 on 08-08-2003
This beer is retired; no longer brewed.
Ratings: 8 | Reviews: 8
Reviews by Kulrak:

2.23
/5
rDev
+31.2%
look: 2 | smell: 1.5 | taste: 2 | feel: 1.5 | overall: 4
This beer poured a sort of golden amber color, with a decent amount of head, but that's about all there is to it. It doesn't seem to have any noticeable smell, malt flavor, hop flavor (despite the 'late addition of willamette hops for smooth finish', whatever that means, late hopping doesn't really affect the finish much, unless you put ALL the hops in late) or any other flavor. This is the beer that people that don't like beer will love. That said, it is pretty easy to drink (as is water).
495 characters
More User Reviews:
2.71
/5
rDev
+59.4%
look: 3 | smell: 2 | taste: 3 | feel: 2.5 | overall: 3
This beer is actually not that bad, I don't care what any of you say. Yeah, it's pretty flavourless, and yeah it's an overpriced nightclub beer - rather than Crown Lager for clubs, I think it's more Carlton's answer to Tooheys Extra Dry. It's better than Extra Dry, and though there's no hop or yeast character whatsoever, it doesn't have the metallic aftertaste of just about every other common Australian lager, including Crown. I drank this out of the bottle, I didn't buy it, I'd never tasted it before and didn't know how much it cost, and I was pleased. I would say it's CUB's best, which although isn't saying much, it doesn't deserve the beating it gets. I'd never actually BUY one, but I wouldn't be offended if someone I didn't like bought me one. By the way - this beer would be far better in the bottle than any other serving style I think, so try it thus.
868 characters
1
/5
rDev
-41.2%
look: 1 | smell: 1 | taste: 1 | feel: 1 | overall: 1
This tastes like any other lager from CUB. It actually would be interesting to do a blind taste test of CUB lagers, i seriously reckon they'd all taste the same. "Late Hopped for an extra smooth finish"...wow, amazing, thats a revolutionary technique. Funny how i can't taste any hops, and funny how the finish manages to be fizzy and adjuncty rather than smooth. A stupid beer.
378 characters
1.78
/5
rDev
+4.7%
look: 2 | smell: 1.5 | taste: 1.5 | feel: 2 | overall: 2.5
Well, what can i say about this so called "late hopped" lager.. It's a nightclub beer- no, really it is. The nightclub where i work has been running promotions about it for the last couple of weeks. For some od reason though it tastes like every other CUB beer, except it's probably a little smoother for that added extra "throw down" effect. I'll drink one over other CUB products, but i'll never touch one of these again unless i'm in a tasteless mood.
454 characters

1.21
/5
rDev
-28.8%
look: 2.5 | smell: 1.5 | taste: 1 | feel: 1 | overall: 1
I really don't know where to start with this beer. It really is nothing special. My bottle shop guy gave me a couple of these to try so that I could review it for him.
Empire pours nice enough, light yellow colour, fine white head. The label states that it is late hopped so I was expecting a bigger and perhaps more noble hop aroma but it wasn't forthcoming. Instead it was a light sweet aroma somewhat similar to the taste which was indeed quite sweet with no easily identifyable hop or malt caracteristics. In fact malt flavours were almost non existant. Empire left a sweet, sticky, oily feel in the back of my mouth. I could not drink this beer as a matter of personal choice.
684 characters

1.06
/5
rDev
-37.6%
look: 2 | smell: 1 | taste: 1 | feel: 1 | overall: 1
i gave this 2 for appearance for the bottle it comes in, which is kinda cool, not the beer within, which is yet another CUB shocker. if you want to know how i think the beer tastes, look at what i said about VB or carlton draught. its no different. i think they just get different guys to piss in the tanks for each of their beers.
why did they bother? i think this is just supposed to be crown lager for the hip nightclub crowd. pity anyone who wastes their hard earned on this.
482 characters
2.48
/5
rDev
+45.9%
look: 3 | smell: 2.5 | taste: 2.5 | feel: 3 | overall: 2
This paleish offering does not add anything to the miasma of beer products from CUB.
It is plain ,lacks any character and interest.
It is drinkable , which on rfeflection is not much of an endorsment for a product that is designed to be drunk.
It is an exercise in marketing really.Appealing to the young "night clubbers"I suppose.
Surely CUB , rather than make everyone of their products taste the same , through in a handful of something to the brew to make it different.
They must realise that people dont drink their beer for taste , they drink it for image .
Please CUB do something different
603 characters

1.16
/5
rDev
-31.8%
look: 2 | smell: 1 | taste: 1 | feel: 2 | overall: 1
Appearance: Pale yellow with a white head that doesn't make much effort to hang around.
Smell: Small amount of sweetness and not much else
Taste/ Mouthfeel: Not much to write home about except for that it was hard to finish with the amount of adjunct. I felt like yelling "hello hops where are you?" no bitterness present at all. Some sweetness present.
Drinkability/Overall: I have only ever had one of these in my life which I didn't pay for and that will do it. It's a great beer if you don't like beer or hops or malt and are trying to look cool or like you don't have a tongue. It appeals to posers in nightclubs I guess but not to any respectable beer drinkers taste.
689 characters
Empire Lager from Carlton & United Breweries, Ltd.
1.7
out of
5
based on
8
ratings.