Carlton Draught
| Carlton & United Breweries, Ltd.
BA SCORE
60
poor
36
Reviews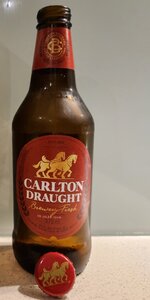 BEER INFO
Brewed by:
Carlton & United Breweries, Ltd.
Australia
fosters.com.au
Style:
American Adjunct Lager
Alcohol by volume (ABV):
4.60%
Availability:
Year-round
Notes / Commercial Description:
No notes at this time.
Added by brewdlyhooked13 on 06-04-2002
Reviews: 36 | Ratings: 91
2.66
/5
rDev
+23.7%
look: 3 | smell: 2 | taste: 2.5 | feel: 4 | overall: 3
Carlton Draught
Stork Hotel, Elizabeth St, Melbourne
Sept 7 2005 @ 3:20pm
I think that in order to appreciate good, craft-brewed beer, you need to occasionally calibrate your palate to reacquaint yourself with the local macrobrew. Here, at the Stork Hotel, just meters from the suburb of Carlton, I'll finally review Carlton Draught.
Carlton pours a dark straw colour, and the white head lasted a lot longer than I expected it to for such a macro. Now on to smell… this might not be the most objective smell review ever, as this is a smoky bar. As I put the beer to my nose, I only notice a cooler, smokey-scented air. I certainly can't make out any malt or hop flavour, or any adjuncts, or anything, and the bar's not THAT smoky, so I'm just leaving it that this is not a very nose-provoking beer.
Upon first introduction to your mouth, the taste is crisp and clean. But wait, there's more. Next comes the metallic taste. I'm not sure how Carlton United does it, but they inevitably get the same taste in the beer. Being Australia and all, I'm surprised that they'd go to the trouble of importing pennies from the United States to throw into the fermentation tanks, but evidently that's what they do. The aftertaste is not at all unlike the sensation of touching your fingers to your tongue after rifling through a pocketful of change. Anyways, mouthfeel isn't that bad, and perhaps that's why it sells so much. The beer is light, thirst-quenching, well carbonated and mostly drinkable. It's that damn copper-oxide aftertaste that gets in the way. Maybe THAT'S why it sells so well: It's not that bad while you're drinking it, but as soon as you swallow you become cognizant of that patented CUB metallic aftertaste and need another sip to wash away the copper taste.
In my 9 months in Australia, I've drank plenty of Carlton, I've always thought it's less-than-good, but somehow…maybe socially…I find myself coming back for more. God help me.
1,974 characters
2.6
/5
rDev
+20.9%
look: 2 | smell: 2 | taste: 3 | feel: 2 | overall: 3
If you are in Australia this beer comes under the same banner as Victoria Bitter, Carlton Cold Etc... For all those who don't come from Australia.. This beer is basically cheap canon fodder.
A = Dark Amber
S = Bitter grass smell.
T = Chemical taste that then gets drowned out by bitterness.
M = Moderate carbonation. Bitter aftertaste is a bit unpleasant at times.
D = Cheap Canon fodder. Good at the footy.
423 characters
2.09
/5
rDev
-2.8%
look: 3 | smell: 1.5 | taste: 2 | feel: 2.5 | overall: 2.5
This beer is dark gold to red with a weak insipid head.
It has the characteristic CUB tinny water smell
It is mildly bitter in taste but little depth of character.
It is not to be recommended , however it is better "on tap", best suited to a quick 3 or 4 before the football
278 characters
1.59
/5
rDev
-26%
look: 2.5 | smell: 1 | taste: 1.5 | feel: 2 | overall: 2
800mL longneck, consumed with corn chips following several other superior beers. Served in a completely inappropriate Tripel Karmeliet glass which I like drinking out of.
Appearance: Dirty gold colour, heaps of thin lacing, very little head retention except for a thin ring.
Smell: Entirely chemical. Any trace of organic produce has been smothered with the overpowering smell of organic chemistry.
Taste: Pretty bad. Much easier if you don't think about it. Thankfully, it's fairly insipid: the only other flavours are sulfury and unnatural. Pungent but watery, overall not nice.
Mouthfeel: Very thin. Fairly easy to throw back, ideally when totally inebriated. Much like the beer consumed before it, Carlsberg Elephant, only that beer had a nicer smell while you were drinking it. Little carbonation, combines well with salty food. Remember, it's cheap.
Drinkability: It all comes down to price. My girlfriend drinks it because the label at the pub has horses on it, and all the others have masculine logos, like an outline of NSW (Reschs), or a stag (Tooheys), or a pair of malting shovels (James Squire). I have no idea why my best mate drinks it, because I have introduced him to some heavenly beers and he still goes for this stuff. I think it might be because he's from Melbourne, and Carlton's a Melbourne suburb as well as a beer consumed by many in that city, and he is trying to hark back to those halcyon days before he moved to Canberra at age ten. How many Carltons he consumed before this time are known only to him, as are his reasons for drinking this O R D I N A R Y beer. Price is all it comes down to - you'd drink this over New, I suppose, if in an RSL club with $2 schooners. But why would you drink this in a place that charges the same for this as for Coopers or Squire on tap? Total bloody mystery.
1,838 characters
2.98
/5
rDev
+38.6%
look: 3 | smell: 2.5 | taste: 3 | feel: 3 | overall: 3.5
Golden beer with white head.
"Bright" smell, but I can't identify much
More bitterness than some others I had in australia, but still not too much
Not much special on the mouthfeel, a little thin and unimpressive
Easy enought to drink, but I didn't get another...
267 characters
2.07
/5
rDev
-3.7%
look: 1.5 | smell: 2 | taste: 2 | feel: 2 | overall: 2.5
Poured deep golden yellow colour, with almost no head. A very unremarkable start.
Slight yeast on the nose, unoffensive, but standard.
Very watery. Almost no discernible characteristics on the palate. Some bitterness, with a malty back-note, but very dull overall. So yeah, I guess it goes down easily.
Wow, thoroughly uninspiring. Bland, but offensive at the same time. It's almost impressive that someone can brew a beer this bad and sell it.
They obviously put all their money into the advertising campaign (which is great!), rather than into producing decent beer.
580 characters
2.65
/5
rDev
+23.3%
look: 2 | smell: 2 | taste: 3 | feel: 2.5 | overall: 3
pale yellow, not too fizzy looking beer. appearance is definitely not its strong suit.
unoffensive, unobtrusive aroma. well, there isnt much i could pick up, so i guess that means it isnt bad...
taste is pretty much malt accented, but not to the point of being sweet. also lacks the off/metallic twang that many other aussie macros hang their hats on. and due to that, probably better than most.
while this would never be mistaken for a craft brew, it has some qualities that i think arent too bad. for a quick fix, and if nothing else is available, this is easily passable.
577 characters
2
/5
rDev
-7%
look: 2 | smell: 2 | taste: 2 | feel: 2 | overall: 2
Pale Yellow Amber color with a small white lasting head. Bitter sweet, very metallic, with a chemical aroma. Clean, crisp and bitter in taste. Run of the mill mass produced alcohol that happens to be beer. Not much aroma, not really any flavour. I imagine a fresh tap pour to be better but this can stuff was really poor.
321 characters
1.58
/5
rDev
-26.5%
look: 2 | smell: 1.5 | taste: 1.5 | feel: 2 | overall: 1.5
Dark golden colour with a light head and decent carbonation.
Smells of grains. Not much else.
There is a bit more going on palate wise but nothing to exciting. More of a bread taste than a grain taste with a touch of fruit/floral hops. Round mouthfeel with a little drying sensation at the end.
Nothing special, but good when hot. Ruins food.
351 characters

1.46
/5
rDev
-32.1%
look: 2 | smell: 1 | taste: 1.5 | feel: 1 | overall: 2
stoutbots really nailed the qualities of this beer. i can polish off one or maybe two of these at the footy simply coz i cant get anything better. that gives it a little bit of drinkability, but its still rubbish overall. i just think carlton smells and tastes like what should come out of your body cavities before, not after you drink it.
340 characters
1.16
/5
rDev
-46%
look: 2 | smell: 1 | taste: 1 | feel: 2 | overall: 1
The appearance of this lager from Carlton United is usual at best, filtered and filtered anf filtered some more. No head from the bottle
The Smell, Urgh smells of urine trough cakes that too many drunks have wizzed on.
The taste is very biter, no real flaour to mention from the bottle, and way too carbonated for my tastes.
Mouthfeel, what mouthfeel ?
as for drinkability, only try this stuff if it's a stinking hot day there is no other beer left, and it's for free.
472 characters
Carlton Draught from Carlton & United Breweries, Ltd.
2.15
out of
5
based on
91
ratings.