The Claddagh Irish Pub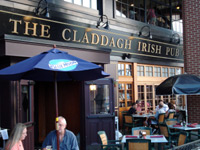 PLACE INFO
Type:
Bar, Eatery
1 Levee Way
Newport
,
Kentucky
, 41071-1652
United States
(859) 581-8888 |
map
claddaghirishpubs.com
Notes:
No notes at this time.
Added by BeerAdvocate
Ratings: 13 | Reviews: 10
Reviews by LucienDeRubempre:

3.1
/5
rDev
-13.2%
vibe: 4 | quality: 3 | service: 3 | selection: 3 | food: 3
As is the story with many places in the newer Newport, the food here just doesn't deliver compared to the nice atmosphere and great location. It's like pub food trying to be fancy and failing because it is so poorly cooked and prepared. My soda bread was great, until I felt a crunch and realized it included eggshells, and while the waitress was kind enough to tell the cook she didn't offer to take it off the ticket. They have a few rotating taps, Brooklyn Pennant on one when I was there, and plenty of bottles, but where is the cask ale? Not a bad place, but not good either.
580 characters
More User Reviews:

3.44
/5
rDev
-3.6%
vibe: 3.75 | quality: 3.5 | service: 3.5 | selection: 3.25 | food: 3.25

3.75
/5
rDev
+5%
vibe: 3.75 | quality: 3.75 | service: 3.75 | selection: 3.75 | food: 3.75

3.7
/5
rDev
+3.6%
vibe: 4 | quality: 3.5 | service: 4 | selection: 3.5
Visited this place tonight (March 26, 2011) with some friends and had a few pints.
There are two different bars in the facility, both of which are decorated differently. We were sitting in what was called "The Nautical Room." Large, polished wooden beams hung above and the entire bar and dining area was decorated with ship items, giving off that old naval feel without coming off as too hokey or fake. The tables are made of dark polished wood and there's plenty of stone about as well as a fake fireplace to add some flair. Even for a rather up-scale (almost chain restaurant feel) dining/bar facility, this has a nice faux-Irish charm to it with all kinds of Irish memorabilia and Guinness signs hanging about the walls without going overboard into novelty. The place's location is also key to its atmosphere; it has a great view of the Newport Levee and the Ohio River into Cincinnati. Very cool stuff, although the chilly winter weather kept us from going out onto the patio.
I didn't try the food, but looking on the menu, it looks okay. There's some standard pub fare, but the restaurant is constantly changing their dishes to integrate more authentic Irish food, which is refreshing. Prices are a little steep, but it may be worth it.
Beer selection is about what you would expect: Guinness, Harp, Bass, Smithwick's, etc. There was also Boddington's on tap as well as Bud Light and Blue Moon to please the macro drinkers. I'm not sure exactly what their bottled selection was since I couldn't see the coolers. The Harp tasted pretty good and fresh, and my friends said that their beers were okay as well.
Our bartender was quick to check on us if we needed anything and was very courteous, even though the check was a little more than I expected ($5.75/imperial pint).
This isn't a bad place if you're looking for a place to enjoy a solid pint of Guinness or Harp in a relatively authentic Irish pub setting. It's sort of strange having it located in the middle of the Levee mall, but it's a solid establishment overall.
2,034 characters
4.22
/5
rDev
+18.2%
vibe: 5 | quality: 4 | service: 4 | selection: 4.5 | food: 4
This is one of the most attractive Irish pubs I've ever been in -- and I've been in lots of them all over the world. The dark woods of the tables, floors, walls and other furnishings are polished and lovely. There are two bars in different parts of the pub; they are quite different, but both are attractive. Add some tasteful tile work on the floor and some classic Irish signage, and you've got some great atmosphere. If this weren't enough, the ambiance is accentuated by the fact that the pub is located in the newest hippest part of Greater Cincinnati. It's right on the hopping and chic Newport Levee, on the Kentucky side of the river, but with probably the best view of the Cincinnati skyline anywhere. Oh, the foods pretty good too, mostly basic pub fare with the Irish regular lineup. The beer selection on tap includes traditional Guinness, well poured by the bartender, Harp lager, Smithwick's ale, but also some regional selections brewed in the American Midwest, and a couple other European regulars for a nice selection of brews. Overall, a great spot to enjoy a lunch, dinner, or late-night celebration. I've been twice, and I'll definitely return.
1,164 characters

3.33
/5
rDev
-6.7%
vibe: 3 | quality: 3.5 | service: 3.5 | selection: 3 | food: 3.5
Well, if you're in the mood for Irish EVERYTHING... go here. Otherwise.... it's just another Irish pub.... However, rather up-scale. It's clean, polished, and has lots of hardwood and stone decor. Located in Newport on the Levee, it is a bit pretentious and geared toward the mainstream crowd.
If you're looking for GOOD BEER, all you'll find here is Guiness and Harp... I didn't notice if they had a bottle selection for the BMC crowd.... but I would suspect that they do (keeping with the "main-stream" theme).
Typical Irish grub but served in an up-scale way.
My opinion is that this place is overpriced for what you get.
627 characters

3
/5
rDev
-16%
vibe: 3 | quality: 3 | service: 4 | selection: 2
This place was part of the massive complex that was Newport on the Levee and I was a bit dubious from the outset. Sorry, but drinking in the mall without any apparent purpose just was not my bag.
Coming in, the m.d.s. was directly to the left with the bar straight back. The restaurant area was off to the right, but one look at the tap handles was all that it took to put me off. It was all of the standard imports that one might expect at an "Irish Pub" in the U.S. - Guinness, Harp, Bass, ad nauseum. I had a quickie, then turned 180 degrees and headed out.
561 characters
3.68
/5
rDev
+3.1%
vibe: 4 | quality: 4 | service: 3.5 | selection: 3 | food: 4.5
All in all this is a typical Irish pub. You can expect to find Guinness beers on tap. The majority of the brew there is obviously from Ireland. Seems to me that either they specialize in it or just sell a bunch of mixed beer drinks. There is a section of the menu that is devoted to Guinness and ___ beer. You'll find Black and tans, Black and velvet, Black and red, etc...The service was nice, our waitress actually gave a real recommendation. She told us that she didn't care for the way the restaurant prepared one of its dishes-the shepherd's pie I believe. The food is great, though a bit pricey. Atmosphere is also nice, especially the patio outside, nice view of the river and Cincinnati on the other side. Definitely a place to check out, I'll definitely be going back there.
783 characters
3.93
/5
rDev
+10.1%
vibe: 4.5 | quality: 4 | service: 4 | selection: 3.5 | food: 4
This isn't terribly different from the other Claddagh's. However, the thing that really makes this stand out to me is the patio. The patio provides a fantastic view of the river and the Cincinatti skyline. What a nice way to enjoy lunch on a spring afternoon. Service and food were acceptable. The one selection they had that I haven't seen at the other Claddagh's is Murphy's Red.
Overall, what you would expect from the psuedo-Irish pub scene. But stop in and have a pint and enjoy the view from the patio.
512 characters

3.13
/5
rDev
-12.3%
vibe: 4 | quality: 3 | service: 4 | selection: 1.5 | food: 4.5
This is a nice upscale feaux irish pub. It has a friendly, inviting atmosphere. Our waitress was kind and attentive. The menu is full of irish inspired quisine. Fish & chips, and shepard's pie are joined by irish nachos? and burgers. The quality of the food is good, but the prices are little high.
The beer list is limited. Guinness, Murphy's and Harp seem to be the three irish pub staples of the midwest. With the addition of more and better irish and english beers, I'd be happy. If you want a good beer selection, there are lots of better choices in Newport.
566 characters
3.48
/5
rDev
-2.5%
vibe: 4.5 | quality: 3.5 | service: 3 | selection: 3.5 | food: 3.5
This is a great place to sit and watch the mighty Ohio river flow and offers a nice scenic view of Cincinnati. Inside they have gone all out to make this Pub look authentic with gaslight, stone walls, mosaic floors, beautiful wood back bar and bar. The only drawback being that it is indeed fabricated in every sense of the word but hey I'll take it. They pour a great Guiness and therefore a great black and tan. The selection is that of all the Cincinnati area Irish Pubs. The distributor must be providing a block deal. The food is not bad and the service is fine if it isn't a crowded night. The price certainly tops out my price range but I figure you are paying for the ambiance.
685 characters
3.86
/5
rDev
+8.1%
vibe: 4 | quality: 4 | service: 4 | selection: 3.5
This is a very nice replica of an upscale Irish pub. Lots of dark wood, floor mosaics, stone walls and a nice stone fireplace, and outdoor seating on the top floor of Newport on the Levee. Good selection of Guinness products from the stout to Harp. The Guinness perfect pour is practiced here. In addition to the nice Irish tap beers there are lots of bottled selections. No typical macro stuff was obvious to me. Though I did not try it, the food selection looks to be authentic and awesome. A bit pricey, but the service is great and the lady publican was knowledgeable and efficient. Definitely worth a stop to check it out and kick back with a couple of 5 buck perfect pours. Lots of Guinness graffiti adorns the walls.
723 characters
The Claddagh Irish Pub in Newport, KY
3.57
out of
5
based on
13
ratings.