Pizza Port Carlsbad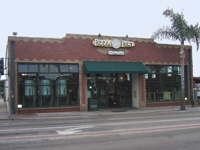 PLACE INFO
Type:
Brewery, Bar, Eatery
571 Carlsbad Village Dr.
Carlsbad
,
California
, 92008
United States
(760) 720-7007 |
map
pizzaport.com
Notes:
No notes at this time.
Added by xlperro
Reviews: 143 | Ratings: 238
4.35
/5
rDev
+0.5%
vibe: 3.5 | quality: 4.5 | service: 4.5 | selection: 4.5 | food: 4
Pizza Port, Carlsbad has a couple things I really like: good beer and good pizza. I'd been here a couple times in the past but before my BA epiphany. I enjoyed it then and love it now.
The surfer/Cali beachside bar atmosphere doesn't jump-start me (hey, I'm from Indiana and saw "Jaws" as a kid). The bar is on the left side with picnic bench seating on the right two-thirds. A small row of video games are in the back right corner and a large-screen projection TV dominates the front right corner by the picture window.
The beer selection is excellent and the quality is superb. I had Ballast Point's Yellowtail Pale Ale and the Pizza Port Oatmeal Porter. I also sampled the Palapa Pale Ale and Wipeout IPA, both of which were on cask, the Sharkbite Red and the Carlsbad Chronic. All were quite tasty. They also had a number of others house beers and other craft brews on tap, including their Red Square Russina Imperial Stout.
The staff at the bar were very friendly and helpful, offering free samples of the various beers prior to my making a final decision on the brew of choice.
The food was pretty good; unique pizzas, California-style variations on otherwise usual pizza. I had a combination veggie and Canadian bacon, onion, green pepper, and pineapple pizza. The beer buddies are great snack food and they offer a line of salads as well.
This place is a super brewpub. I could have camped out there in order to try more of the brews offered. I can't wait for December's Strong Ale Festival.
1,505 characters
4.4
/5
rDev
+1.6%
vibe: 4 | quality: 4.5 | service: 4.5 | selection: 4.5 | food: 4
The most surferish of the three Pizza Ports. I have been to all three and I have been to this one more often than the others and it feels the most like a southern California surfer hang out.
I really enjoy all the Pizza Ports and the beers at all three are exceptional.
This place is one big open area. The bar is on the left with a decent amount of stools. The rest is picnic tables and benches. Many surf boards hang from the walls and ceiling. Just like the other two PP's they play surfer videos on the tv's unless there is some major sporting event happening. There are a few video games on one wall. There is also a decent sized outdoor seating area. There are tv's outside as well. A space next to the outdoor seating is usually where the Real and Strong Ale Fests are held.
The food is the same as the other two Pizza Ports. I find the pizza unique good and very California. The beer buddies are good and try the beer battered pizza crust. They also have salads and a few other items.
The beers are exceptional. This place has the Frank's IPA. Sometimes on cask. The Wipeout IPA is great too. I tried their Dopplebock and was very pleased. Great beers for the beer lover. Also a selection of other beers from craft breweries. They do have wine for the non beer drinker.
The service is line up and order food and then head to the beer line or drink line if you are under twenty one. The staff is friendly and very helpful. The bartender this week was very knowledgable about their beers. I like it when an establishment has informed their employees about their product. It is frustrating when they are just a tap puller and have no knowledge of the product.
A great family establishment and a great place to hang with your buddies. Enjoy.
1,767 characters
4.03
/5
rDev
-6.9%
vibe: 4 | quality: 4.5 | service: 4 | selection: 3.5 | food: 4
The pub is very easy to find. Exit I-5 at Carlsbad Village Drive & it is about 1/2 mile on your left as you head towards the beach.
As you enter, it is a one floor building that has heavy "Surfer Dude" orientated décor. Surf boards hang everywhere from the ceiling; all colors, shapes & sizes. Old photographs of beaudacious wave-riders continue the theme. The one room appears to amplify noise. Loud talk, the calling of names for Pizza collections & general banter, can give the bar a boisterous feel when first entered. This gives the place a rather happening feeling.
Tables separated by small booth like barriers run down the right hand side, these seat 4 people - just. To your immediate right is a small wooden floored raised area that has some bench like Tables & Chairs. The centre has a collection of long bench like tables, giving it somewhat of a beer hall feel.
At the back of the building is the in-house Pizza kitchen. Dominated by a double Pizza Oven, one of those that has slow but continually moving belts though a long Oven. You place your order to the left hand side, & later when your number/name is called, you collect it to the right hand side. They come in 3 sizes & a myriad of combinations. The Pizza's are top notch quality & reasonably priced. Close by the Pizza pick-up point is a door that leads to an outside area that has seating & makes a very nice outside, albeit fenced, drinking area.
The Brewery is on the left hand side, & leads to the most important part, the Bar. This is located in the back left hand corner. You have to go here to get served. I actually prefer this to waited service, so I enjoyed this aspect. Service was quick & courteous as well. You can take your beverage of choice and sit down at one of the many Tables, or stay at the Bar if you wish. Choice is excellent. I never counted the beers on offer, but there were at least 2 banks of 6 Taps. Colorful hand-made signs are stuck above the bar like large fridge magnets – these detail the current tapped offerings. The beers were awesome, especially the IPA's. The quality of the house beers was exceptionally high & it would not be folly, or false praise, to say that some of these beers are world class.
The Pizza Port holds Beer Festivals occasionally; these are exceptionally well organized & executed. I have done both the Belgium Beer & Real Ale Festivals this year. I will definitely be there for there next one; a Winter Beer Festival in December I believe.
*Highly Recommended*
2,517 characters
Pizza Port Carlsbad in Carlsbad, CA
3.88
out of
5
based on
6,424
ratings.