Yard House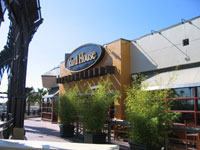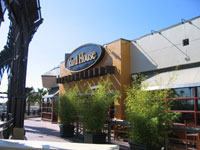 PLACE INFO
Type:
Bar, Eatery
1875 Newport Ave
Costa Mesa
,
California
, 92627-2863
United States
(949) 642-0090 |
map
yardhouse.com
Notes:
No notes at this time.
Added by WVbeergeek
Ratings: 23 | Reviews: 15
4.08
/5
rDev
+9.1%
vibe: 3.5 | quality: 4 | service: 4 | selection: 4.5
The Beer Liner
I stopped in the Costa Mesa Yard House while on a short trip to Orange County. I had been here once before and wasn't initially impressed, but thought I'd go back and give it another try. This time my visit was mid week, late afternoon and during happy hour (4-6pm) when their beer prices are much more reasonable. HH Pints - domestic $3.25, Craft/Import - $3.50, Goblets - $4. Craft beers went to $5.50/pint after 6pm.
The YH is an impressive place. It's big, with an open kitchen at one end and large windows running the length of a singular, large, triangular shaped room. The place is dominated by the stainless steel bar that sits in the middle of the room, like an ocean liner, dividing an otherwise open floor plan. Both large and more intimate booths line the walls, while tables fill the spaces between the massive bar and the booths. At the bar, yard glasses hang from the ceiling, but rarely come down, and the lineup of tap handles is a sight to be seen.
The draft beer selection is quite large, although once you eliminate the macros and other beers that you can find most anywhere, the selection is not quite what I would consider world class. What I did like was the selection of local CA beers that are often difficult to find on tap on the East Coast. These included:
Stone's - IPA, Arrogant Bastard, Pale, Ruination & Smoked Porter
Bayhawk's Amber, Blonde, Chocolate Porter, Hefe, Honey Blond and OC Lager
Bear Republic's Racer 5 IPA
Green Flash's West Coast IPA
Humbolt's Hemp Ale, IPA, Pale & Red Nectar
Lost Coast's Alley Cat Amber, Apricot Wheat, Downtown Brown, Great White & Raspberry Brown
I started with a pint of the Deschutes Black Butte Porter, followed by Green Flash's West Coast IPA and then the Humboldt IPA. Each was distinctive, fresh and thoroughly enjoyable.
The "big beer" drafts included Ayinger's Celebrator, Bornem Double, Delirium Tremens, Gulden Draak, Maredsous 8, N. Coast Pranqster, Piraat, the Spaten Optimator and a few others.
As for food, their pizza will run you about $12, Seafood entrées $15-$25, Steak, Ribs and Chops $22-$30, Burgers $10, other sandwiches $10-$16, Entrée salads $9-$15, Appetizers ~$10 give or take a few bucks.
Two things that I found unique and interesting were the draft beer floats, and the blended beer offerings. The floats were made with vanilla ice cream and either Lindeman's Framboise or Young's Chocolate Stout. The blended beers included several unique blends made mostly with Guinness and one of the following: Sea Dog's Blue Paw Wheat, Blue Moon or Lost Coast's Great White. Another unique blend was a mix of Young's Chocolate Stout and Lindeman's Framboise that they called a Youngberry Chocolate.
The LA Cavaliers were playing the Nets on most of the flat screens surrounding the bar, while the music was primarily 70's and 80's classic rock such as Led Zeppelin, Neil Young, Super Tramp, Yes, Floyd, etc. The service was prompt and professional and the other patrons at the bar were mostly friendly and amiable.
Overall, the Yard House is a pretty decent place.
3,086 characters
3.83
/5
rDev
+2.4%
vibe: 4 | quality: 4 | service: 3 | selection: 4.5 | food: 3.5
I was sent to work in Costa Mesa yesterday, which meant I got a chance to check out Costa Mesa's Yard House. Best of all, my lunch break was during happy hour.
Located in Triangle Square on the second floor, it offers plenty of beer, good music, and a great change of scenery, even though I was at Brea's Yard House the other night (though this one has many more taps). You walk in with the restaurant and bar to the right of you. I sat at the bar for a few beers and a bite to eat. Cheeseburger sliders were offered at $5.99, a very good happy hour special. But I came more for the happy hour beers, at $3.25 a pint. My beers were poured nicely, although not promtly because of the demand for beer during the time I was there. My food was good, and so was the beer; I had a Summerfest as my "appetizer" and a Rogue Hazelnut Brown to go with my meal.
(The $$$ rating indicates the regular prices, not the happy hour prices.)
928 characters
4.18
/5
rDev
+11.8%
vibe: 4.5 | quality: 4 | service: 4.5 | selection: 4 | food: 4
I visited this establishment three times in three days this month. It is easy to find off of Rt 55 south adjacent to the first traffic light you hit as the freeway ends in Costa Mesa. It is on the second floor of a commercial building that includes a parking garage. There is an outdoor area with a nice view of distant features however it appeared to be used mostly by those waiting for tables. Very nice oval shaped stainless steel bar with quality wood finishes throughout. The open kitchen area is on the left hand side as you enter. After passing the hostess bar is on the right hand side. Be sure to check out the overhead conduit encasing keg lines that lead back to the kegroom along the back wall. The equipment is impressive and looks very well cared for. Nice beer selection however too many macros. Food was excellent each visit. Waitresses were somewhat knowledgable and the service was very good. Nice offerings from North Coast ,Stone, and others. I was disappointed that they did not have any Alesmith since it is fairly close. All in all this is a great place that has good brew and a nice atmosphere. During my Friday evening visit it was very crowded however I was able to snag a table after a 15 minute wait.
1,228 characters
4.08
/5
rDev
+9.1%
vibe: 3.5 | quality: 4 | service: 4 | selection: 4.5 | food: 4
A great selection of beers and the food is pretty decent too. I wasn't paying too much attention to the prices because I'm on the company dime while I'm here, but the tap selection was really great. Some local California brews, German and Belgian beers, much more but I didn't look too long because I was thirsty and the waiter was standing over me. I had a Delerium Tremens and a Maredsous 8 which were served in goblets at a very nice temperature. I didn't get a chance to try any other beers and I was in the mood for strong Belgians so I stopped at 2. But the tap menu looked extensive. The food was quality and about what I'd expect for a larger chain restaurant. I would say this is a place to go when you really want a good tap selection and a decent meal.
763 characters

4.08
/5
rDev
+9.1%
vibe: 4 | quality: 4 | service: 4.5 | selection: 4 | food: 3.5
EDIT: I inadvertently put this review of the Costa Mesa site under the Irvine site. So now i have put it here and deleted from Irvine. (Thanks for the heads up Rumrunner). Originally reviewed on 2-14-06.
Lots of folks bag on this place, but i'm going to have to give it a thumbs up. Yeah it is rather corporate and yuppy but it doesnt pretend not to be. The beer lines may be long, but i didnt have any bad beers. Many times I want to go out with my gal and when we settle on a good restaurant, they most likely dont have good beer. Well, i'm able to take my girlfriend here for a nice dinner and have good beer. Isnt that what we as BA's want? Good beer at more than just the beer bars?
Given that, the bar in the center has about 100 brews on tap with about 40 that would please any BA. I had an arrogant bastard, maudite, pirrat, maredsous and a racer 5. It was a bit hard to select my pint because of the solit selection. Many macros for sure but also a good representation of micros.
I would have given the food rating a 4 but my rib eye was medium when i asked for rare... still tasty though as was the seared ahi appetizers and my gf's entre of new york steak. There were many couples and groups in the bar/dining area. It was pretty crowded with a friendly vibe. The ambiance was dimmed lights, laughter and scents of good food. Have the peach cobber, it's damn tasty.
The service as excellent. Given how crowded it was, we were really attended to. The waitress bumped into our table and spilled some of my maudite. She apologized and brought me another chalice of it, fricken cool!!!
I'll be coming here again. The happy hour prices look great as the price for a coors light is the same as a maudite. Let the masses support my habit i say. After dinner we walked across the street to the goat hill where i had a pint of fullers london porter, but that's another beer fly.
1,895 characters
3.94
/5
rDev
+5.3%
vibe: 3.5 | quality: 4 | service: 4 | selection: 4
High tech, modern feel with a huge stainless steel bar dominating the area. Behind the dining area is a large glassed in keg room where they keep all the beer. Apparently this place has over 3.5 miles of tap lines, and employs a full time person maintaining them. Beer selection was good - a nice selection of imports, local offerings, and nation wide micros. I thought it was a bit odd that you had to sign in for a seat with a hostess even in the bar area, but it was busy. So we just sat at the bar instead. The crowd is a bit pretentious - mostly nicely dressed people out to impress each other. And unfortunately most of them were drinking bud light and kamikazes instead of good beer. I suppose their dollars allow the Yard House to stock the more obscure stuff though, so we can't complain too much. Also had a nice selection of ciders on tap.
850 characters

3.75
/5
rDev
+0.3%
vibe: 2 | quality: 4 | service: 3.5 | selection: 4.5 | food: 3.5
Had to stop in here to see if they had Sierra Nevada Harvest Ale on tap (they didn't), but pretty much knew that I wouldn't like it as much as the Goat Hill Tavern I had just come from. Very slick, futuristic, yuppy, and corporate atmosphere. More of a restaurant than a bar. Very clean and orderly. I expected to see robots coming out with trays. The bar was in the middle of the restaurant and was, again, very clean and orderly. They had close to 150 taps and a nice beer menu. Lots of good W. Coast micros and a few Belgians. A few too many macros, but they bring the bucks I guess. Prices were slightly higher than across the street at the Goat (5 bucks a pint). I'm betting they keep very clean tap lines and the beer I had (Hop Rod Rye) tasted great. Service was fine, although the poor fellow wasn't too keen on beer. Food was a little pricey but looked good. The onion ring tower I had was decent. Great beer selection, but not a place I would hang out at much.
970 characters

4.03
/5
rDev
+7.8%
vibe: 3.5 | quality: 4 | service: 4.5 | selection: 4 | food: 3.5
After stopping at Hi-Time down the road, my good friend Jim and I hit the Yardhouse for a bite and a brew before venturing off to the Goat Hill Tavern.
The whole Yard House is very slick and corporate with some copper panels leading out of a giant stainless steel reefer room. Cool stainless steel and black marble dominate the rest.
Service here was great and very attentive to our needs. The food was slick and tasty (all Asian inspired fare) and for once at a Yard House.. I only saw 2 tap handles devoted to Budweiser and 2 to Bud light! There were a few more inspired choices here than I've ever seen at one of these location, so that's the reason for the bump up in selection score.
Could this be a change of pace for the corporate resturant/bar chain? Let's hope so!
785 characters
3.78
/5
rDev
+1.1%
vibe: 2.5 | quality: 3.5 | service: 4.5 | selection: 4 | food: 3.5
This place is just like any Yard House. A corporate family feel. A centered oval bar. Tv's for sports and a medium lighted establishment. A very family style corporate restaurant/bar.
The food is good here. Not great but good. The menu is varied so there is something for everyone. A bit expensive.
They have about 180 taps. Sadly many of the selections are repeats. Also a few that I wanted to try were out. Macros to craft brews. Could have a better selection of stouts and porters. This establishment did have a better selection of imports than the Irvine location. Piraat ale and a few other european brews.
I say get rid of the repeats and add a few more import or locals.
The service was close to excellent. They were very attentive and friendly. Big bouncers watch the doors. Is Costa Mesa a rough and tumble town after dark? It does not appear so but then again I do not live there.
Anyway this is a good replica of the cookie cutter life style that society wants us to adhere to. Many good brews but not much to stir the visual senses. Good food. A very family oriented establishement.
I would rather go to the Goat Hill Tavern but if I want a bite and a brew then this location serves that want better.
1,230 characters
3.88
/5
rDev
+3.7%
vibe: 4 | quality: 4 | service: 3.5 | selection: 4 | food: 4
The Yardhouse (a chain) has about 140 beers on tap. They have a very good selection of micros & euros; however, they are a bit limited in their selection of 'bigger' beers (e.g. Stouts, Imperial IPA's, Strong Ales). One of the advantages that the Yardhouse has going for it is that a beergeek with a family can bring everyone there. The food's good & the menu is varied & it's perfectly fine to have kids there.
411 characters
3.71
/5
rDev
-0.8%
vibe: 3 | quality: 3.5 | service: 4 | selection: 4
As you drive down the 55 Freeway South, it eventually transforms into Newport Avenue, at this point you see a Shopping Mall on your right hand side and the Yard House is visible on the upper floor. Mall parking is available underground and is quite handy if you are planning to spend some time here.
Although very close to where I live, I had never been here before and my first visit was for the Southern California BA Social on Saturday 26th July 2003. I soon met up with EyeChartBrew and Xlperro who were sat at the Bar.
After having been to other Yard Houses, the Costa Mesa outlet holds little surprises. An oval bar, resplendent with many Taps forms the focus of the décor. Wooden floors, some chrome and above average quality fittings, with some tables in booths, firmly stamp the YH corporate look on the interior.
We opted to sit at the Bar, and the service was pretty good, but it was very quiet on our visit. The Beer range is quantitative, rather than qualitative, as there are well over 100 Taps. It has a "never mind the quality feel the width" selection of beer that is impressive, but once scrutinized, offers few special beers. I only had three beers whilst here, two of which I had not tried before, but they proved hard to select from a large list of otherwise "average" beers. Or maybe it is getting hard to satisfy my quest for untried beers these days? Maybe. However, it is fair to say that the list does contain a lot of macro offerings readily available elsewhere, and once these are removed from the list; there are not that many interesting beers to go at. The atmosphere is rather clinical at times, it was quiet when we there, but its cathedral like interior lends a church like aspect. I found it to be rather bland and desperately needing an injection of character.
I opted to forego the food here; I found it to be rather expensive, as with most Yard Houses, and not really that good considering its price.
I joked that I could have probably written this BeerFly Review having visited one of the other Yard Houses, and without even visiting this place. Now that I have been to the Costa Mesa outlet, I realize that I was actually right. If you are in the area, pop in for a beer or two. But for a better range of beers, as opposed to sheer numbers, the Goat Hill Tavern (just over the road) beats the Yard House hands down.
Last Visit: 26th July 2003.
2,406 characters
2.66
/5
rDev
-28.9%
vibe: 2.5 | quality: 3 | service: 2 | selection: 3
The yard house in costa mesa is rather uneventful. amazing amount of taps, but mostly filled with macro, which i imagine is what the serve the most of. it was packed away in a shopping/entertainment complex that was rather dull. the atmosphere in side was pretty typical of a medium class joint trying to be high class. wood/polished floors, nice table coverings.
the service was rather interesting. someone would come by, and this happened about three times before we actually caught someone, and ask if we had been helped and then said that they would be right back to help us and never come back. the one bar keep that did end up serving us was pretty cool. told us some dirty jokes that made me choke on my beer, which would be pretty hard to do, except they were very dirty jokes. funny guy. there was only one bartender who knew something about beer, and thank god he was helping us, as he say the BA t- shirts in effect and had been to the sight. all the other bartenders i quized just offered a sample with little knowledge about any of it.
was going to try the food, but after seeing that a nice restaruant 6 dollar burger, cost 10 bucks there, decided against iteye chart had the clam chowder and it cost him something like 6 bucks. and that was the cheapest thing on the menu.
over all, go there if u are on a date or with the family, but not if your going out for some drinks with the boys/girls
1,417 characters
4.38
/5
rDev
+17.1%
vibe: 4.5 | quality: 4.5 | service: 4 | selection: 4.5 | food: 4.5
Well, this restaurant puts it together pretty well. With Great food and service, Classic Rock, and over 100 taps this place was amazing. I have never seen anything like it before, and especially to see a place that was so modern, and able to put together a tap house quite like that. It was amazing!!!
No bar food here, in fact their firebrick pizzas left quite an impression on my memory, they were delicious. Complemented the bornem double, and arrogant bastards on tap perfectly. This place keeps on winning for me.
Every waitress we had there looked amazing, and not only that they had some serious beer knowledge. One of our waitresses name was BJ, and all I can say is that was the best BJ I ever had. The bartenders were more than willing to serve up as many free samples as long as you were willing to buy a beer, and tip them at the end. Overall great service, and embiance.
The selection seemed never ending with huge lists of Californian micros on draft not to mention all of the imports they carried. However, I am sad to announce that their number one seller contiues to be Coors Light, can you believe it 100 and some beers and the number one beer they sell is Coors Light. That makes me sick!!! They deliver three different sizes of beer, which include pints, half yards, and whole yards. I usually wet with pints in order to try more beers,but one night I was feeling adventurous, so I asked for a yard of Bornem Double. I sat and waited as everyone else recieved their pints, and I got worried of the whereabouts of my 64oz. of Bornem Double sweetness. About five minutes later, the bar manager came to the table holding a pint of my brew, and said I am sorry sir we do not sell yards of this beer. I asked why, and he delivered a response about how the last time somebody ordered a higher octane beer in the yard. He said the two guys ordered their yards and ten minutes later they were up on their tables swinging their yard glasses like light sabers. That was the day they had to make that rule and that any broken yards would have to be paid for. So, I opted for a yard a first time experience with Shiner Bock, and it was great. Drinking out of a yard glass is quite the experience, I definitely had a great time.
For this place to exist only in Southern California, makes me jealous of them. It's not fair why can't this place replace all of the Applebee's and TGI Friday's throughout the world. Then I would be a happy man.
2,460 characters
Yard House in Costa Mesa, CA
Place rating:
78.3%
out of
100
with
23
ratings